Thondimuthalum Driksakshiyum, the highly anticipated Malayalam film directed by Dileesh Pothan, has garnered immense attention among movie enthusiasts. With its intriguing storyline and exceptional performances, this film has not only captivated audiences but also made its mark at the box office.
In this article, we will delve into the box office collection and budget report of Thondimuthalum Driksakshiyum, shedding light on its commercial success and production expenses. So please sit back and join us as we explore the financial aspects of this remarkable cinematic venture!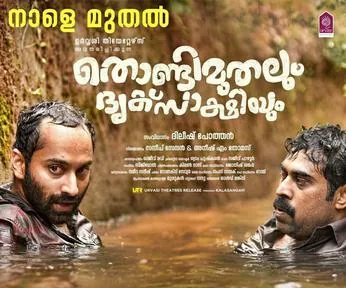 Thondimuthalum Driksakshiyum Box office Collection
---
Much awaited movie Thondimuthalum Driksakshiyum, directed by Dileesh Pothen, has opened at the Kerala box office very well. This Fahadh Faasil starrer has released over 110 screens across Kerala and and has excellent advanced bookings. As per the earlier report, the movie has 1.52 Crore from the Kerala box office with 1.22 Crore Net. This is the best opening for a Fahadh Faasil movie in Kerala. After three days, the share of the film reached 2.30 Crores, and the gross was approximately 5.00 Crores. 
At Kochi multiplexes, the movie has opened decently. It has collected 8.05 lakhs with close to 90% of occupancy. Because of good WOM, the film has more collection on the second day. With over 91% occupancy, the film 9.92 lakhs on the second day.
Worldwide Collection
| Days | Gross Collection |
| --- | --- |
| 47 Days | 28.10Crores |
Kerala Boxoffice Collection
Date
Day
Collection
Gross
29-June-2017
1st Day Collection
1.52 Crores
1.52 Crores
01-July-2017
3rd Day Collection
4.32  Crores
05-July-2017
7th Day collection
8.07 Crores
19-July-2017
21st Day collection
14.35 Crores
16-August-2017
47 Days collection
17 Crores
Final Gross
18.40 Crores
Kochi Multiplex Collection Report
| Date | Day | Collection | Gross |
| --- | --- | --- | --- |
| 25-June-2017 | 1st Day Collection | 8.05 Lakhs | 8.05 Lakhs |
| 26-June-2017 | 2nd Day Collection | 9.92 Lakhs | 17.97 lakhs |
| 12-July-2017 | 13 Days Collection | | 1.00 Crore |
You may also like other movies box office collection
Thondimuthalum Driksakshiyum Budget Report!
---
Thondimuthalum Driksakshiyum, the critically acclaimed Malayalam film, was made on a modest budget of Rs. 3.5 crores. This low-budget gem managed to captivate audiences and critics alike with its gripping storyline and stellar performances. Directed by Dileesh Pothan, known for his realistic approach to filmmaking, Thondimuthalum Driksakshiyum is a testament to the fact that a compelling narrative doesn't always require extravagant production values.
Thondimuthalum Driksakshiyum Audience Review
---
Join our Facebook community to stay up-to-date on all things entertainment. We'll keep you informed and entertained, from breaking news to exclusive interviews.