Nadira Mehrin, an accomplished Indian actor, model, news anchor, and TV personality, has made significant strides in breaking down barriers for the transgender community in Kerala's entertainment industry. As a trailblazer, she utilized the government's transgender quota to gain admission into an academic course, earning her first post-graduation degree and making history as the first transgender person in Kerala to do so.
In 2021, Nadira defied norms again by enrolling for a second post-graduation course, becoming the first transwoman to do so under the Kerala government's transgender quota. Currently, in 2023, Nadira has gained widespread attention as a contestant on the Asianet channel's popular reality show, Bigg Boss (Malayalam season 5).
In this article, we'll take a closer look at Nadira Mehrin's wiki/bio, age, boyfriend, family, and more to get a better understanding of the woman behind the Bigg Boss persona.
Nadira Mehrin Wiki/bio
Nadira Mehrin, born on Friday, September 17, 1999, in Manacaud, Thiruvananthapuram, is 22 years old as of April 2023, and her zodiac sign is Virgo. She completed her Bachelor's degree in Journalism and Mass Communication from A.J College of Science & Technology, Kerala, and later pursued two Master's degrees, one in Political Science from University College, Thiruvananthapuram, and another in Theatre from Sree Sankaracharya University of Sanskrit, Kerala.
Physical Stats & More:
Physical Stats
Approx
Height
173 cm (in centimetres)
1.73 m (in meters)
5′ 7″ (in feet inches)
Weight
68 kg (in kilograms)
149 lbs (in pounds)
Eye Colour
Black
Hair Colour
Black
Family:
Family
Parents
Father: Name Not Known
Mother: Name Not Known
Siblings
Not Known
Martial Status
Unmarried
Husband/Spouse
N/A
Children
N/A
Nadira Mehrin Sex Transformation
Nadira Mehrin, a transgender personality, has lived a life full of struggles, which she recently opened up about on the popular reality show, Bigg Boss Malayalam 5. Her revelations left the other contestants emotional as they learned about the challenges she has faced throughout her life. From being sexually attacked by her peers at the tender age of 13 to being subjected to inappropriate comments and questions from strangers asking for her 'rate', Nadira candidly shared her experiences on the show during the 'Ente Kadha' task, where she narrated her struggles from childhood.
"When I was in class VIII, eight of my classmates attacked me. They attempted to remove my clothes to see my sexual organ. I rushed to the staff room to complain. But, instead of consoling me, they asked me to behave like a man," she said.
During the 'Ente Kadha' task on the show, Nadira Mehrin also shared that she had to leave her home with just Rs. 70 after revealing her sexuality to her parents. She went on to become a part of the transgender community, but the journey from her birth name, Najeeb, to her current identity as Nadira, was not an easy one, and she faced numerous struggles along the way.
"One night, a car approached me, and a stranger asked me, 'Are you Nadira?'. I said yes and he invited me to the car. He introduced himself as a movie director or producer. Further, the talk changed and he asked me my 'rate'. I reacted violently and he apologized. I was stubborn that I will not leave the car without the police reaching the spot. They took me to the police station, but they changed the story there. They said that I rushed into their car and asked for money, the police officer hit me with the Lathi and pushed me to the lock-up," she said.
During her time on Bigg Boss, Nadira Mehrin proudly shared that she has achieved several significant milestones, including being the first transgender person to earn two post-graduate degrees and appearing in a few films. She also expressed her desire to inspire others who are still confined within the confines of their homes by participating in the reality show.
Nadira Mehrin

Bigg Boss Malayalam 5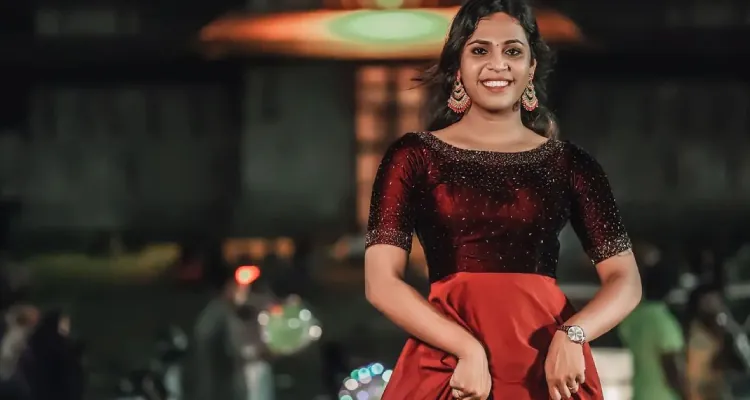 Nadira Mehrin made her debut on the Asianet channel's reality show, Bigg Boss Malayalam season 5, in 2023. Throughout the show, Nadira has proven to be a formidable contestant who actively participates in all the games and discussions. During the "My Story" segment, she shared her life story, which included the difficulties she faced when transitioning from Najib to Nadira.  She revealed that she was kicked out of her home, beaten with a police baton, and detained in a cell.
Nadira has demonstrated resilience despite receiving eviction nominations twice. During week 2, Aniyan Midhun, Reneesha Rahiman, and Sajna/Firoz nominated her, but she was immune from eviction.
In week 5, she faced another nomination from Vishnu Joshi, Anjuz Rosh, Cerena Johnson, and Reneesha Rahiman. However, she was not nominated for eviction in weeks 3 and 4.
Feel free to explore our collection of wiki/bio pages on other famous personalities as well:
Nadira Mehrin Facts/Trivia
She adheres to a non-vegetarian diet.

Despite reporting incidents of assault, bullying, and eve-teasing at the police station, they failed to file an FIR and even supported the assailants.

She believes education is the key to empowerment and aims to change people's perceptions about the transgender community. During an interview, she shared that she enrolled in a master's program to inspire other transgender individuals to pursue further education.

She faced discrimination in the film industry and expressed that directors and producers often prefer casting cisgender individuals to play transgender roles.

She served as the All India Students' Federation (AISF) general secretary candidate while studying Political Science at University College, Thiruvananthapuram, in 2018 and became the AISF vice president in 2022. In an interview, she shared that she has had a passion for politics since her school days, and although there are political parties with transgender members, they are not supported to contest elections.

She joined the Queerythm LGBTIQ Community's board of directors in 2019.

In 2019, she started earning a living by opening a juice stall called 'Aanoruthide Kulukkikada' near Tagore Theatre.

In 2020, she delivered a speech on 'celebrating differences' at the SAMANWAYA Fest.

In 2021, she launched the online campaign 'Kaleidoscope' to raise awareness about transgender issues in India. In an interview, she stated that the campaign aims to promote dignity and provide mental health support to the community.

In 2022, she shared her experience of being asked to leave a hostel at midnight after requesting a fan repair that was necessary for her hormone treatment through a Facebook live session.The incident occurred at Priyamvada, a women's hostel in Kaladi, the center of Sri Shankaracharya, the University of Sanskrit. The hostel warden asked her to find alternative accommodation if she had any problems.

She worked as a resource person for the Kerala government, educating people about Sexual Gender Minority.

She educates individuals about Sexual Gender Minority.
Stay up-to-date and engaged with the latest news on Topmovierankings.com – from trending topics to breaking stories, we've got you covered!