Are you eagerly anticipating the second season of HBO's smash hit series, House of the Dragon? The magical storytelling and incredible performances in the first season enthralled millions of viewers worldwide. If you're among them, you must wonder when the House of the Dragon season 2 release date will be announced. Well, we've got you covered! In this article, we'll provide all the latest news and updates regarding the much-anticipated return of House of the Dragon.
Is House Of The Dragon Season 2 Renewed?
According to premiere dates, House of the Dragon has been renewed for a second season on HBO, which is unsurprising given the show's record-breaking premiere on August 21, 2022.
Fire reigns. #HouseoftheDragon has been renewed for Season 2.
Fire reigns. #HouseoftheDragon has been renewed for Season 2. pic.twitter.com/6CxhzC7SKv

— House of the Dragon (@HouseofDragon) August 26, 2022
Francesca Orsi, executive vice president of HBO programming, said in a statement,
"We are beyond proud of what the entire House of the Dragon team has accomplished with season one,"Our phenomenal cast and crew undertook a massive challenge and exceeded all expectations, delivering a show that has already established itself as must-see-TV. A huge thank you to George, Ryan, and Miguel for leading us on this journey. We couldn't be more excited to continue bringing to life the epic saga of House Targaryen with season two."
House Of The Dragon Season 2 Release Date
Speaking to Vulture, HBO Max's chief content officer Casey Bloys revealed:
"Don't expect it in '23, but I think sometime in '24.
It's far too early to make decisions. From March to June 2023, HBO will return to Cáceres, Spain, to film scenes for season 2 of King's Landing, according to a report in the Spanish newspaper Hoy. Using the release dates for season 1 as a guide (reported filming began in April 2021 and debuted in August 2022), it seems likely that the next season will not be released until 2024.
According to Variety, HBO and HBO Max Content CEO Casey Bloys has stated that it is "likely" that HOTD will return in 2024, but only after the Emmys eligibility period. According to the source, the best estimate, for now, is summer 2024. Unconfirmed is the precise date. The exact date is still unconfirmed.
How Many Episodes Will House Of The Dragon Season 2 Be?
The second season of House of the Dragon is anticipated to contain ten episodes, the same number as the first season.
George R. R. Martin stated on his blog that he is "thrilled" that the show has 
"10 hours every season to tell our tale, it is going to take four full seasons of 10 episodes each to do justice to the Dance of the Dragons, from start to finish".
House Of The Dragon Season 2 Cast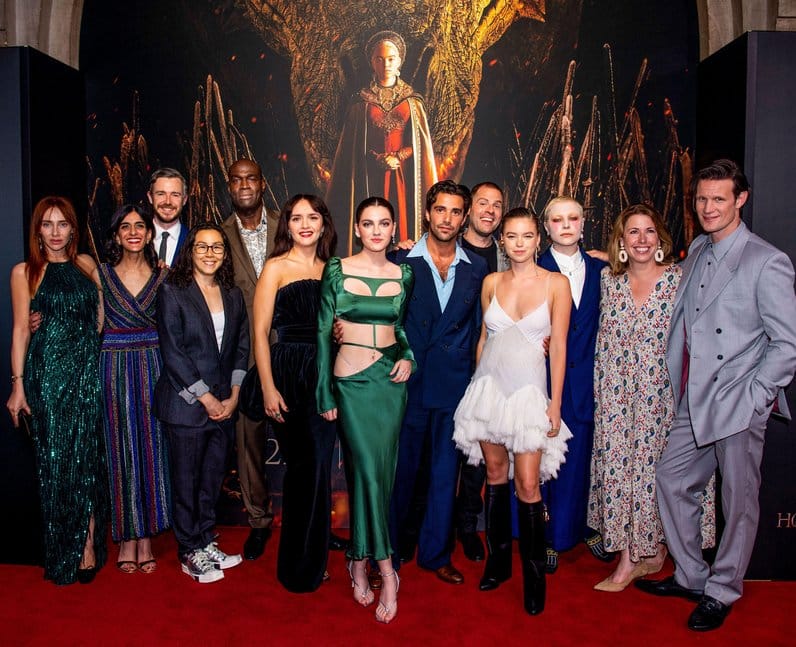 Numerous characters in the first season of House of the Dragon were either killed off or grew older over the course of 10 episodes, resulting in a high turnover of actors. The following House of the Dragon cast members is expected to return for season two. Expect more information in the months ahead.
Matt Smith

as Prince Daemon Targaryen

Olivia Cooke

as Queen Alicent Hightower

Emma D'Arcy

as Princess Rhaenyra Targaryen

Rhys Ifans

as Otto Hightower

Eve Best

as Princess Rhaenys Targaryen

Steve Toussaint

as Lord Corlys Velaryon

Fabien Frankel

as Ser Criston Cole

Sonoya Mizuno

as Mysaria

Graham McTavish

as Ser Harrold Westerling

Matthew Needham

as Larys Strong
Where To Watch House Of The Dragon
House of the Dragon Season 1 is available to stream on HBO Max.
Is There A House Of The Dragon Season 2 Trailer?
Not just yet! In the interim, please view this behind-the-scenes episode for the tenth and final episode of House of the Dragon's first season.
Check out other upcoming web series below links: