Who is the best actor Mohanlal or Mammootty? Every Keralite or Malayalam movie fan goes through this ageless debate at least once in their life. As we all know, Malayalam cinema revolves around these two stalwarts for the last 3 decades. Both of them got lucky enough to act in numerous films in the golden era of Malayalam cinema and did excellently well to utilize the opportunity to showcase their talents. It is not a simple thing to stay ahead in a competitive industry for a long time.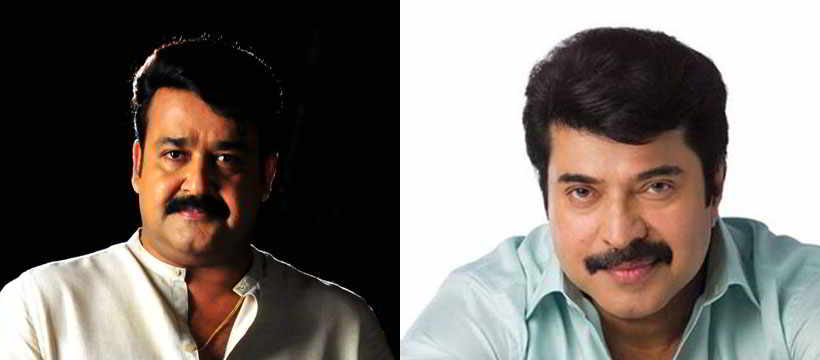 As we have debate over best actor or actress in every industry, in Malayalam it is mainly involved with Mammootty and Mohanlal. Fans of these two great actors always argue with each other to prove who is the best. I think this debate became a hot topic among the college goers in 1990s as these two actors were at the peak at this time. I have encountered with hot and spicy debates on this unresolved arguement. Even though both of them passed their prime, it is still a relevant subject of discussion among the well-wishers.
Diehard fans of both Mohanlal and Mammootty have interesting theories to demonstrate how good their favorite actor is.  Some of them are funny and some are silly
Mammootty fans arguments
1. Mammotty has the most number of National awards as Best actor.
2. Most melodious performances are delivered by Mammootty in Thaniyavarthanam, Valsalyam
3. Mohanlal can't do the powerful roles such as Chandu in 'Oru Vadakkan Veeragatha', Patel in 'Videyan', Pazhasi in Pazhasiraja.
4. Mohanlal don't have a successful film series like 'CBI diary kuruppu'
5. Mammootty delivered masculine performances in many films than Mohanlal did.
It goes on..
On the other hand Mohanlal fans argue on the basis of his versatility
1. Mohanlal also got National award for 3 times (one is Special Jury mention)
2. Mammootty cannot dance or do comic scenes like Mohanlal.
3. Mohanlal can do any roles and he is flexible and down to earth person.
4. Mohanlal is a trend setter. Eg: 'Poda mone dinesha' dialogue
5. Mohanlal got more state awards than Mammootty and they explain how the eminent film personalities praised Mohanlal at various occasions.
Arguments never end until some amicable intervention is there.
For neutral fans, both of them are great actors and they appreciate the performances based on films. What do you think? Who would you vote for the best actor ever in Malayalam. Mohanlal or Mammootty