The highly-anticipated film "Ravanasura," starring the superstar Ravi Teja, will have its premiere in theatres on April 7 of the current year. The Telugu actor and actress went to Twitter in order to announce the official release date of the film that directed by Sudheer Varma
Nothing beats the excitement of a good crime thriller to look forward to watching for many of us. Thrillers also engage the intellect. For the first time, Mass Maharaja Ravi Teja attempted a complete crime thriller, and the film Ravanasura is directed by Sudheer Varma, a specialist in making thriller films. While the title piqued our interest, the tagline "heroes don't exist" made us wonder whether Ravi Teja is the good guy or the bad guy.
The makers released a teaser today, which featured Ravi Teja in a multi-shaded character. The teaser begins with a criminal chasing a girl, followed by a girl lying lifeless on the ground with blood all over her body. Jayaram, an experienced officer, is assigned to solve the murder case. "Prathi Criminal Vaadu Chesina Crime Meeda Vaadi Signature Vellipothaadu… "Look For That Signature," he says.
Ravi Teja is introduced as an attorney. However, the series of shots depicts various variations in the character. When he gets into action, he gives a malicious smile, serious gaze, and roars with glee. Sushanth is finally introduced. "Sita Ni Theeskellalente Saripodu… Ee Ravanasurunni Daati Vellali…" warns Ravi Teja. Megha Akash, Faria Abdullah, Anu Emmanuel, and Pujitha Ponnada are shown in back-to-back frames. Ravi Teja's character is brutalised in the final block.
The teaser mentions a quote, "Truth Is Scarier Than Fiction." This crime saga appears to be scarier than we anticipated.
Ravi Teja's character has many facets, and he nails it with his flawless performance. Ravi Teja is well-known for his exuberance. He delivered an outstanding performance as Ravanasura. Seeing him perform like that on screen is a treat for the eyes. Sushanth has little screen time in the teaser, but he makes an impression. As an investigator, Jayaram makes his presence known.
Ravi Teja tweeted the following accompanying a new poster for the film: "Welcoming you all to the exciting world of #RAVANASURA from April 7th 2023″
@iamSushanthA
@sudheerkvarma
@AbhishekPicture
@SrikanthVissa
@RTTeamWorks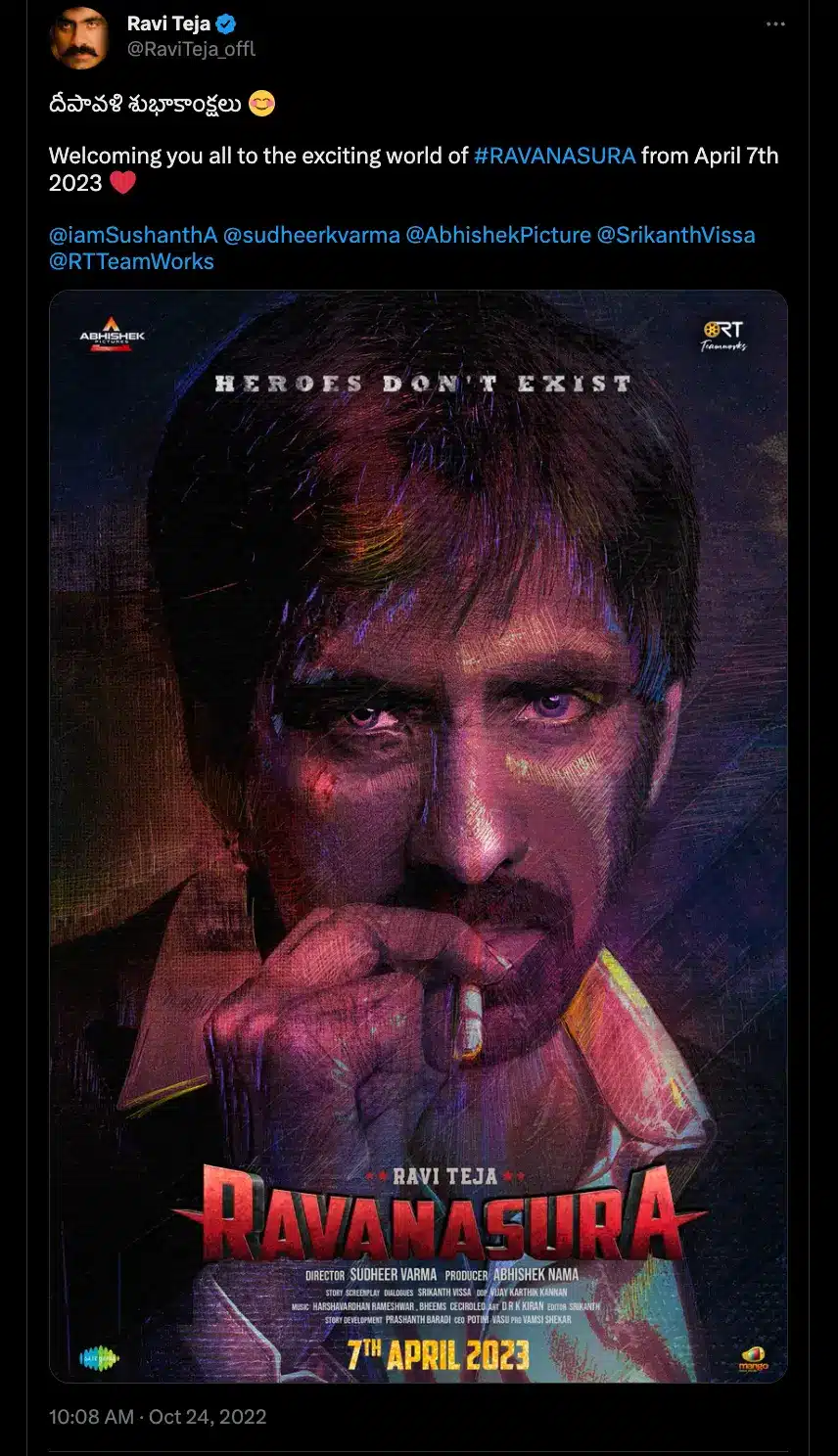 The actor, who is best known for his roles in the box office hits "Kick," " Sambho Siva Sambho," " Don Seenu," and "Krack," is currently portraying a character as a lawyer in the film "Ravanasura."
The movie also features actors Sushanth, Anu Emmanuel, Megha Akash, Faria Abdullah, Daksha Nagarkar, Poojitha Ponnada, Rao Ramesh, Murali Sharma, Sampath Raj, Nitin Mehta, Satya and Jaya Prakash.
Srikanth Vissa wrote the script for "Ravanasura," which is described as an action drama. Vijay Kartik Kannan is responsible for the film's cinematography, and Harshavardhan Rameswar and Bheems are responsible for the film's musical composition.
Together with RT Teamworks, the movie was directed by Abhishek Nama under the banner of his production company, Abhishek Pictures.
Ravanasura: Release Date, Trailer, Songs, Cast
| | |
| --- | --- |
| Release Date | 7 April 2023 |
| Language | Telugu |
| Genre | Action, Thriller |
| Cast | Ravi Teja, Anu Emmanuel, Megha Akash, Sushanth, Faria Abdullah, Poojitha Ponnada, Mandava Sai Kumar, Daksha Nagarkar |
| Director | Sudheer Varma |
| Music | Shravan Jakkula |
| Writer | Srikanth Vissa |
| Production | Abhishek Nama Pictures, MSK Films, RT Teamworks |
| Producer | Abhishek Nama |
Ravanasura Movie Trailer
Ravanasura Posters and Photos