The Kardashian family is no stranger to pregnancy rumors, and the latest speculation surrounds Kourtney Kardashian. Fans have been buzzing about whether the reality TV star is expecting her fourth child. Kourtney already has three children with her ex-partner Scott Disick, so news of a potential pregnancy has piqued the interest of many.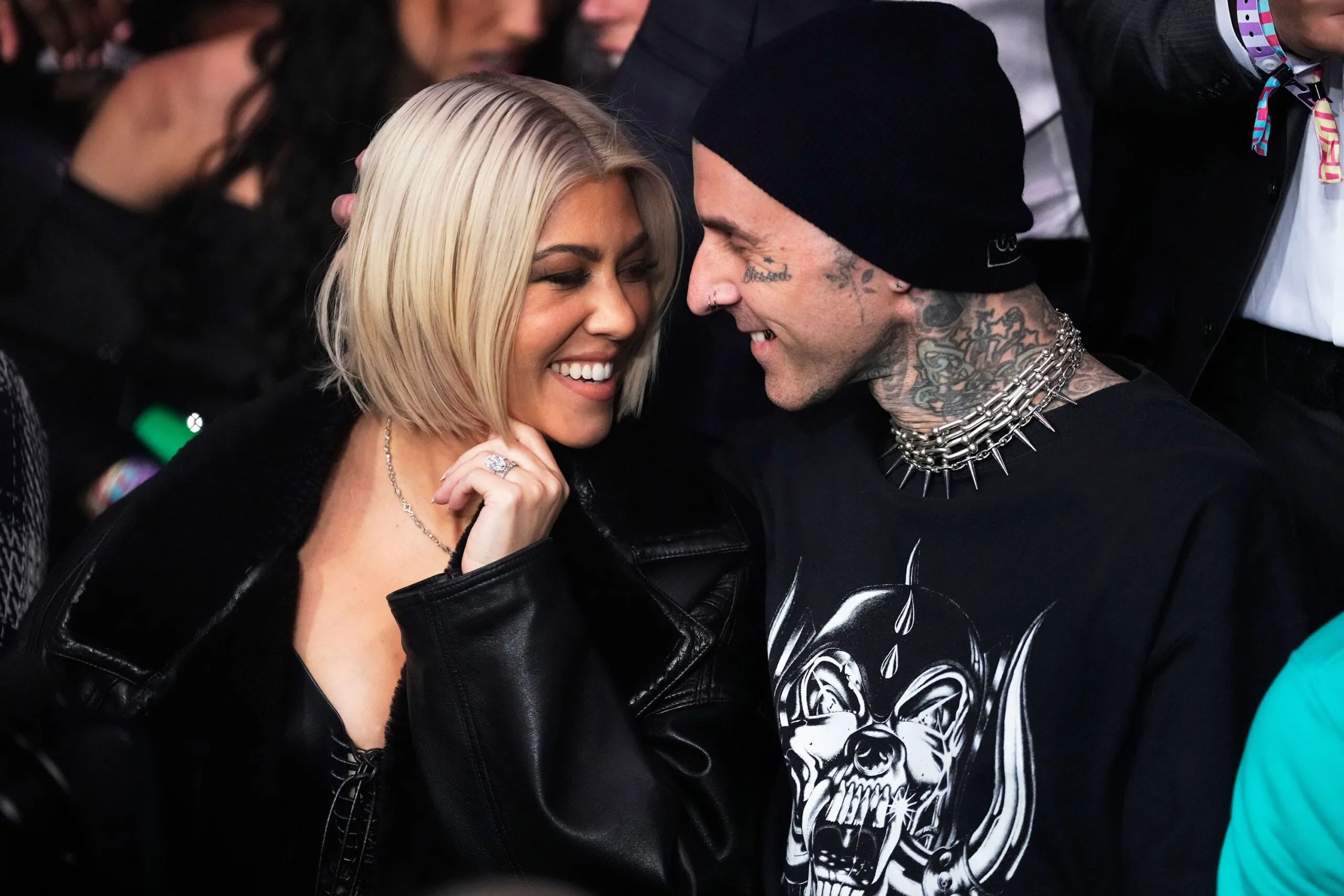 While there hasn't been any official confirmation from Kourtney, various sources have reported that she may be pregnant again. So, what's the truth behind these rumors? In this article, we'll examine the evidence and try to determine whether Kourtney Kardashian is pregnant or not.
Is Kourtney Kardashian Pregnant?
---
Kourtney Kardashian, the beloved reality TV star and mother of three, has recently delighted her fans with the exciting news of her fourth pregnancy. The joyful announcement was made uniquely and heartwarming during a live performance by her husband, Travis Barker.
In a video shared on Kardashian's Instagram page, the 44-year-old star can be seen holding a handmade sign and jumping excitedly in the audience. Barker, the talented drummer of Blink-182, also shared the video on his social media platforms, spreading the joyous news to their combined fan base.
Fans quickly noticed a connection between the sign and a Blink-182 music video. The simple black capital letters on Kardashian's sign, which read "Travis, I'm pregnant," mirrored a scene in the music video where a devoted fan held up the same character as Barker walked past. This delightful parallel added charm to the announcement, with fans appreciating the meaningful connection between the couple's real-life moment and the music video.
Kardashian shared a fan's post on her Instagram story highlighting the resemblance between the two signs, further emphasizing the sweet coincidence and showcasing her appreciation for the fan's observation.
You Can Also Take A Look At Other Celebrity Pregnancy Rumors We Have Covered:
Kourtney Kardashian's Pregnancy Journey
---
While Kardashian and Barker have not shared further details about the pregnancy, Kardashian has previously opened up about their fertility journey. According to E-news, during the season three premiere of "The Kardashians" on Hulu, she discussed their experience with in-vitro fertilization, expressing that they have chosen to step back from the process. Believing in a higher plan, Kardashian's faith remains strong, stating, "We would love a baby more than anything, but I believe in what God has in store for us. If that's a baby, I believe it will happen."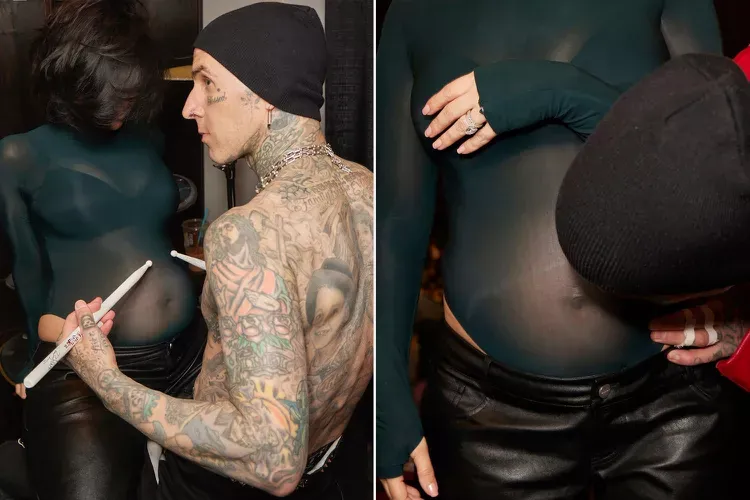 Kourtney Kardashian's Children
---
Kardashian shares three children, Mason (13), Penelope (10), and Reign (8), with her ex-husband Scott Disick. Barker, too, has children from previous relationships, including Landon (19) and Alabama (17). Additionally, he embraces the role of stepfather to Atiana Cecelia De La Hoya, the child of his ex-wife Shanna Moakler from a previous relationship. With their expanding family, Kardashian and Barker continue to embrace the love and support from their blended family as they prepare to welcome their fourth child.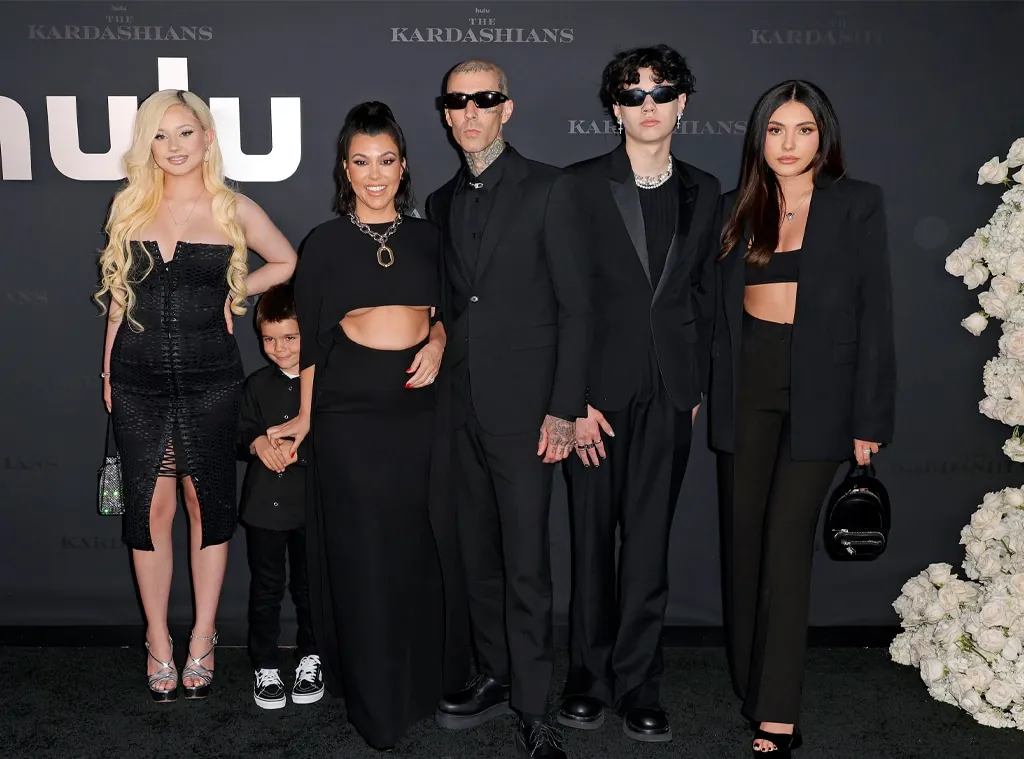 Kardashian and Barker's Love Story Continues
---
Kardashian and Barker's love story has been filled with joyous moments, and their recent wedding celebrations have further solidified their commitment to each other. As they embark on expanding their family, fans worldwide eagerly anticipate further updates and share in the couple's joy. With their shared love and devotion, Kardashian and Barker will surely cherish every moment of this new chapter.
Conclusion
---
In conclusion, Kourtney Kardashian's pregnancy announcement has brought immense excitement and happiness to her fans. The creative and heartfelt reveal during Barker's performance, the music video connection, and the behind-the-scenes glimpse have made this announcement all the more special. As Kardashian and Barker eagerly await the arrival of their fourth child, they are surrounded by the love and support of their blended family and devoted fans.