According to rumors and a report, Aishwarya Rai and Abhishek Bachchan's happy marriage is currently facing some difficulties. However, the actor's reaction to a photo of hers gave some hope to their fans!
Aishwarya Rai and Abhishek Bachchan's Marriage Is In Trouble?
Social media is abuzz with speculations about the marital status of Bollywood's favorite power couple, Aishwarya Rai and Abhishek Bachchan. The speculation has been ignited by Abhishek's conspicuous absence from recent events, such as the NMACC launch, where Aishwarya and their daughter Aaradhya were the only ones present.
Gossipmongers and fans alike have taken to social media to speculate about the state of the couple's marriage, with some going as far as to suggest that there may be trouble brewing between them. Such rumors have left the public wondering if there is any truth to these claims or if it's just mere hearsay. Regardless, the speculation surrounding the couple's relationship status continues to escalate.
Abhishek Bachchan's absence with his wife and daughter at NMACC raises rumours about problems in his marriage
Recent rumors circulating the internet suggest that Aishwarya Rai Bachchan and her daughter Aaradhya have been living separately due to undisclosed issues with her in-laws, particularly her mother-in-law Jaya Bachchan and sister-in-law Shweta Bachchan. These alleged issues are said to have caused a rift in Aishwarya's relationship with her husband Abhishek, resulting in her separation from him.
Adding fuel to the fire, Abhishek was conspicuously absent from a recent NMACC event where Aishwarya and their daughter were in attendance. These events have sparked intense speculation regarding the state of their relationship and whether or not there is trouble brewing between the couple.
It is crucial, however, that we do not jump to conclusions based solely on hearsay and surface-level appearances. It is important to wait for an official announcement from the couple before making any assumptions.
Aishwarya Rai and Abhishek Bachchan have been married since 2007 and are parents to their daughter Aaradhya, who was born in 2011.
Abhishek's reaction to Aishwarya's photo dismissed rumours about trouble in their marriage life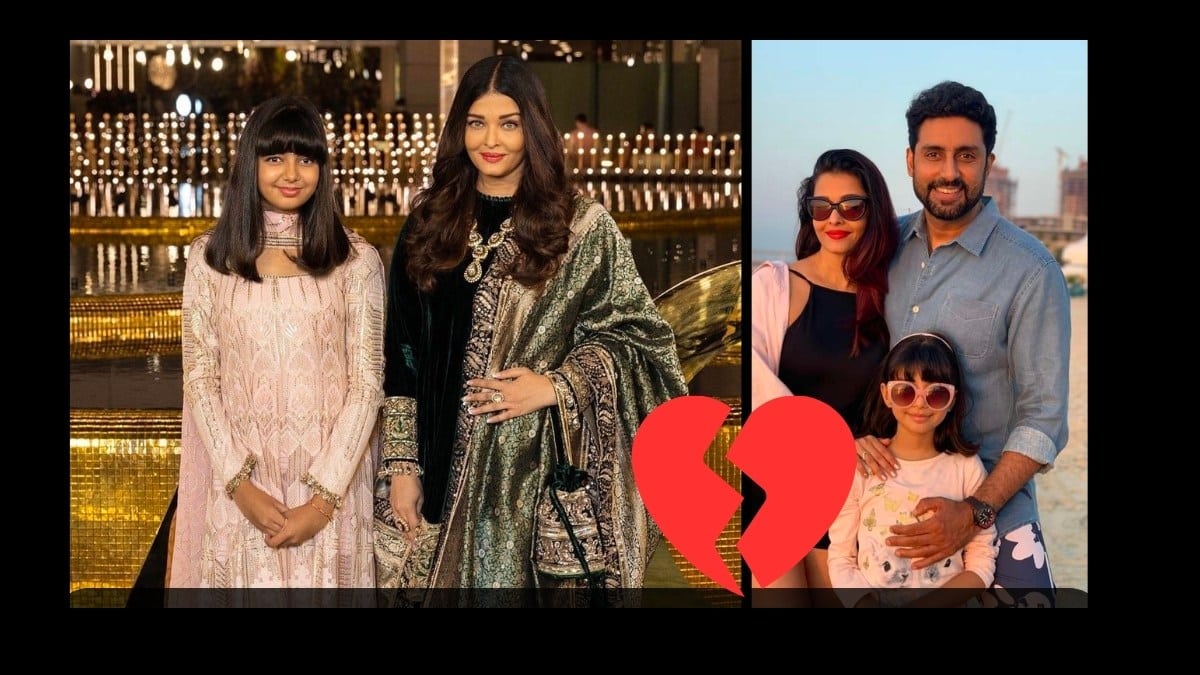 Abhishek's recent response to a tweet featuring his wife Aishwarya and daughter Aaradhya appears to contradict rumors about their marriage troubles. Following the surfacing of pictures from the NMACC event on April 1, 2023, a Bachchan family fan shared a stunning picture of Aishwarya and Aaradhya on Twitter. The picture captured the mother-daughter duo in a breathtaking pose. The fan captioned the tweet with "My fav people" and tagged Abhishek.
In a move that silenced rumors, Abhishek responded to the tweet with a comment that dismissed any notions of marital discord. His response put an end to the speculations and suggests that the couple is still going strong.
He wrote:
"Mine too."
When Aishwarya and Abhishek talked about their fights
In a previous interview with Vogue, Aishwarya Rai and Abhishek Bachchan were asked if they have fights in their relationship. Aishwarya candidly admitted that they used to fight "every day." However, Abhishek quickly clarified that what Aishwarya referred to as "fights" were merely disagreements, not actual fights. This suggests that disagreements are a normal part of their relationship, as is the case in most marriages.
Abhishek Bachchan further elaborated on their healthy disagreements, stating that they have a strict rule of not sleeping on a fight. He also emphasized the importance of being able to apologize, even if the husband believes he is right. According to Abhishek, it is crucial to learn to say sorry as soon as possible to maintain a healthy relationship.
In addition, he offered advice to other married men, saying that they should accept the fact that their wives are always right. This advice may be humorous, but it also highlights the importance of mutual respect and understanding in a marriage. By acknowledging and accepting each other's perspectives, couples can maintain a strong and healthy relationship.