Arun Srikanth Mashettey, better known as Achanak Bayanak Gaming, a famous YouTuber and gamer, has moved into the Bigg boss 17 house to begin a new journey. Arun has over 288K YouTube followers and is a very authentically Hyderabadi personality. Fans from the area are very excited because this is the first time a personality from Hyderabad will be on the show.
Supporters from Hyderabad are especially thrilled because Arun Srikanth Mashetty's presence will make sure that Hyderabadi culture and language are shown interestingly on national television. Arun has already made a significant impact on the show, impressing even the host Salman Khan. But who exactly is this intriguing character? Let's dive in to find out more.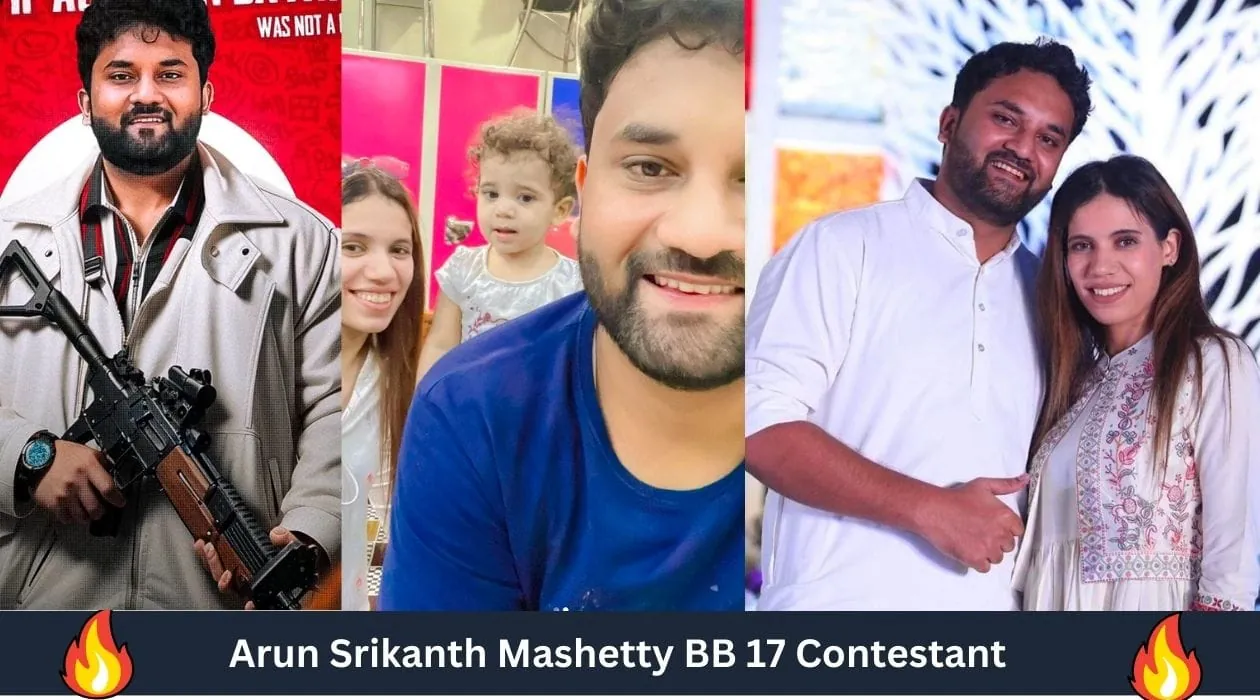 The Man Behind The Persona
| Category | Information |
| --- | --- |
| Quick Info | |
| – Wife | Malak Mashettey |
| – Religion | Islam |
| – Hometown | Hyderabad |
| Lesser Known Facts | |
| – Profession | Indian YouTuber |
| – YouTube Channel | Achanak Bayanak Gaming |
| – Content on YouTube | Live streaming while playing games, talking to people from different countries on Omegle |
| – Subscriber Count | 290K |
| – Other Social Media Activity | Posts funny content with his wife |
| – Reality Show Participation | Contestant on Bigg Boss 17 in 2023 |
| – Lifestyle Habits | Often spotted smoking cigarettes and hookah |
| – Fitness | Fitness freak, hits the gym regularly |
| -Social | Instagram, Youtube |
---
Who Is Arun Srikanth Mashetty?
Arun Srikanth Mashettey was born on October 23, 1988. Arun Srikanth Mashettey is a digital creator based in Hyderabad. He is not just known for his funny videos but also for his gaming-related vlogs. He initially started his career with gaming videos under the name "Achanak Bhayanak Gaming," which has amassed a following of 291,000 subscribers on YouTube. He is going to add a Hyderabadi twist to the Indian reality show. You can watch his last vlog before going to Bigg Boss 17 below-
A True Hyderabadi Personality
What's got fans particularly excited is that Arun is authentically Hyderabadi. This is a big deal because it's the first time someone from Hyderabad is gracing the Bigg Boss stage. So, you can expect a whole lot of Hyderabadi culture and lingo to spice up the show!
Battling The Demons
Life hasn't always been a smooth ride for Arun. He revealed in an interview that he had been through a phase of depression. The loss of his father during the COVID-19 pandemic took a toll on him emotionally. It was his friends who suggested he channel his energy into creating gaming videos, which eventually helped him cope with his mental health struggles.
A Multicultural Family
Arun is a married man, and his wife hails from Paris. The couple is blessed with a baby, and they often share delightful videos on social media, which go viral. On Instagram alone, Arun has a following of 614,000 people.
| | |
| --- | --- |
| Relationship Status | Married |
| Wife Name | Malak Mashetty |
|  Children | 1 |
---
The Journey So Far in Bigg Boss 17
Currently, Arun is winning hearts in the Bigg Boss house with his one-liners and Hyderabadi accent. It remains to be seen how far he will go in the competition, but he has already become a fan favorite.
Arun Srikanth Mashetty Net Worth
| | |
| --- | --- |
| Salary | N/A |
| Net Worth | $2 million |
| Last Year Net Worth | $2 million |
---
Drama Alert!
Now, Bigg Boss is synonymous with drama, and Arun is already in the thick of it. From day one, he's been embroiled in some intense conflicts, making his journey in the house one to watch out for.
Stay Tuned!
So, if you're a fan of Bigg Boss or just curious about what a gamer like Arun can bring to the table, keep your eyes glued to the screen. The new season promises to be as intriguing as ever.
FAQ about Achanak Bhayanak Gaming on Bigg Boss 17
Who is Achanak Bhayanak Gaming?
Achanak Bhayanak Gaming, whose real name is Arun Srikanth Mashettey, is a popular BGMI (Battlegrounds Mobile India) streamer known for his energetic and humorous commentary. He has a large following and is particularly famous in the South Indian region.
What is Achanak Bhayanak Gaming's role in Bigg Boss 17?
Arun is set to bring his unique Hyderabadi flair to Season 17 of Bigg Boss. He aims to showcase his genuine personality and entertain the audience, just like he does on his YouTube channel.
What is the BGMI community's reaction to this news?
The BGMI community is buzzing with excitement about Arun's participation in Bigg Boss Season 17. Fans are eagerly anticipating the drama, humor, and authenticity that he will bring to the show.
What is Achanak Bhayanak Gaming's strategy for Bigg Boss?
Arun emphasizes that he doesn't have a specific strategy for Bigg Boss. He plans to be as natural and genuine as he is in his YouTube videos, staying true to his character.
How did Achanak Bhayanak Gaming gain popularity?
Arun gained popularity through his YouTube channel, which initially focused on gameplays and commentaries. It later evolved to showcase his diverse talents, including uproarious content on Omegle and amusing short skits.
What is unique about Achanak Bhayanak Gaming's identity?
Arun hails from the cultural hub of Old Hyderabad and has family ties to North Karnataka. His engaging Hyderabadi accent has become a trademark, making him instantly recognizable among content creators.
What can fans expect from Achanak Bhayanak Gaming in Bigg Boss 17?
Fans can expect a rollercoaster ride of emotions, laughter, and unfiltered authenticity from Arun as he takes on this new challenge in Bigg Boss Season 17.
What is the significance of his participation for the gaming community?
Arun's presence in Bigg Boss 17 is seen as a significant moment for the gaming community, as it showcases the influence and reach of gaming personalities in mainstream media.
What other platforms does Achanak Bhayanak Gaming engage with his fans?
Apart from YouTube, Arun also engages with his fans through Instagram, creating a dynamic space where fans can connect with the person behind Achanak Bhayanak Gaming.
What are Achanak Bhayanak Gaming's future plans?
While the article doesn't specify his future plans, his participation in Bigg Boss 17 is seen as a significant step in his career, and fans are excited to see how this experience will shape his future endeavors.
Questions to Ponder 🤔
| Question | Why It's Interesting |
| --- | --- |
| How will Arun's gaming background influence his strategies in Bigg Boss? | Gaming often involves strategic thinking, which could be an asset |
| Will Arun's Hyderabadi roots make him a fan favorite or put him at a disadvantage? | Cultural roots can be a double-edged sword in such shows |
| What kind of dynamics can we expect between Arun and the other contestants? | His unique background could lead to interesting alliances or conflicts |
---
Final Thoughts
Arun Srikanth Mashettey is not just another contestant on Bigg Boss 17; he is a multi-talented individual with a compelling backstory. From battling depression to becoming a digital sensation, his journey is nothing short of inspiring. As he continues to entertain audiences on Bigg Boss 17, we can only wait and see what more he has in store for us.
You Can Also Take A Look At Other Bigg Boss 17 Contestant Bio We Have Covered:
Be Entertained And Informed With The Latest News At Topmovierankings.com!