Munawar faruqui is an indian stand-up comedian and rapper. Munawar is well-known for his videos, vlogs, and controversial opinions on indian religion and politics. Farooqui remains controversial primarily because of his belief and political comedy. In 2022, he took his talents to a whole new level by participating in Kangana Ranaut's reality TV show, Lock Upp Season 1, where he showcased his wit and determination and emerged as the winner.
Now, Munawar Faruqui has taken on a new challenge as a contestant on Season 17 of the iconic Indian reality TV show, Bigg Boss. With his unique blend of humor, charm, and a compelling life story, Munawar is poised to be a major player in this season of Bigg Boss. Get ready to be entertained and enlightened by this dynamic and outspoken artist as he navigates the ups and downs of the Bigg Boss house, captivating audiences along the way.
Munawar Faruqui: Biography/Wiki
| | |
| --- | --- |
| Full Name | Munawar Iqbal Farooqui |
| Profession(s)  | Stand-up Comedian, Rapper |
| Known for  | Winner of the first season of Kangana Ranaut's show Lock Upp |
| Date Of Birth | 28 January 1992 |
| Profession | Comedian, YouTuber |
| Age | 31 ( as of 2023) |
| Birthplace  | Junagadh, Gujarat |
| Zodiac sign | Aquarius |
| Father | Iqbal Faruqui |
| Mother | Not known |
| Religion | islam |
| Siblings |  3 sister |
---
Munawar Faruqui: Early Life And Family
Munawar Faruqui was born in junagadh, gujarat, on january 28, 1992, in india. After the religious riots in gujarat in 2002, which destroyed his home, he and his family moved to mumbai. His mother died soon after when he was 16 years old. Munawar iqbal faruqui is his given name. He and his brothers went to a local school in gujarat when they were young. He went to school and worked at different places. He worked as a graphic artist when he was in his early 20s.
Munawar Faruqui: Career
Stand Up Comedy
Munawar Faruqui started working in a store selling kitchen tools while still in school. This was because his father was sick. He also did things like graphic design and other things for a living. Later, faruqui tried stand-up comedy while working at one of his odd jobs. He was there when an advertisement was being made, and the people making it were acting out a stand-up comedy scene.
Munawar was asked to sit and act like a person in the crowd because the people who made the ad didn't have enough extras. They then asked him to go on stage and say two lines. While he was saying those words, Faruqui wanted to become a magician. His first Hindi show, "Dodh dahyo," aired in Malad, Mumbai, in July 2019.
The first stand-up comedy movies he put on his YouTube channel were in January 2020. His fame grew very quickly. That was Munawar's big break: his first movie, "Politics in India," came out on January 24, 2020.
When he put up the stand-up comedy video "Dawood, yamraaj, and Aurat" on his channel in April 2020, it made him famous. People like Dawood Ibrahim have been known to live in Faruqui's area in south Mumbai, which is called Dongri. He went on the show "Dongri to Nowhere" for the first time in August 2019.
He hit the road with it in October 2020 across the country. After a lot of trouble, the tour finished when he was caught in Bangalore. "The Chowkidar Song," a song that made fun of the Modi government by mixing music and comedy, was shared by him in February 2020. His movie "The NRCSong" was posted on his channel in March 2020. As a sarcastic and funny look at Indian politics, it had jokes about the Delhi riots.
Munawar Faruqui Wins lock Upp
On February 27, 2022, he participated in Kangana Ranaut's first season of the reality contest show Lock Upp. Munawar Faruqui was named the reality show winner on May 8, 2022. The show's first runner-up was Payal rohatgi. Faruqui took the winning trophy, rs. 20 lakh in cash and a brand-new car.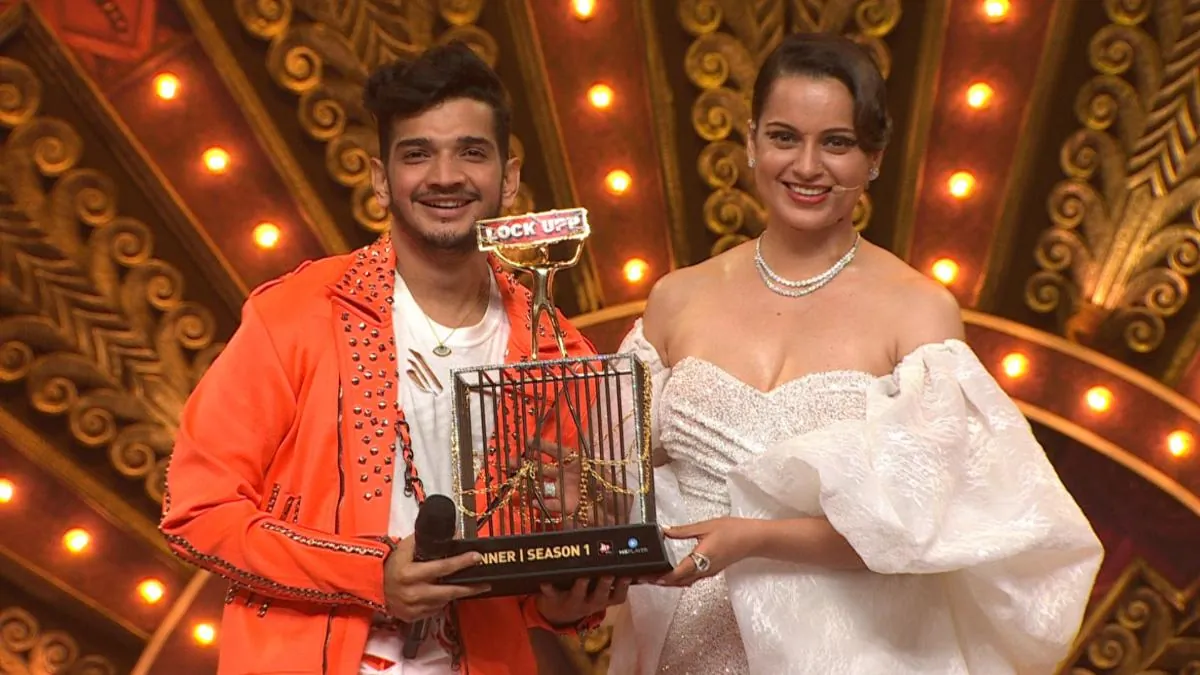 Munawar Faruqui In Bigg Boss 17
The second person to enter Bigg Boss 17 is Munawar Faruqui. He said hello to Salman Khan, who then asked why he was on the show. For the last season, someone called Munawar, but he had to say no. Salman then made a joke about Lock Up, his old show. After the event, Munawar talked to Mannara Chopra and told her he wasn't sure about her. He also asked her about her relationship with Priyanka Chopra. He told her later that she was odd.
Who Is Munawar Faruqui Girlfriend?
According to News18, After months of rumours, Munawar Faruqui has finally said he has been dating Nazila Sitashi for a few months. He has known Nazila for a year and their friendship has grown more romantic. As an explanation, Munawar said that he didn't share her identity on the show because he was in the house while she was outside. He did share a picture of Nazila with pride as soon as he left the show, though, making their connection public.
Munawar Faruqui Social Media Accounts
---
Munawar Faruqui: Physical Stats
Height in Feet
in centimeter: 175 cm
in meter: 1.75 m
in feet: 5′ 9″ inch
Weight in kilogram
65 kg
Weight in pounds
143 lbs
Eye Colour
Black
Hair Colour
Dark Brown
---
Some Interesting Facts About Munawar Faruqui
Faruqui used to work in a store as a salesman selling kitchen tools before he became a stand-up comic. When Faruqui was in his early 20s, he worked as a graphic artist for a reputable company. It was there that he learned how to write funny one-liners for posters.
In July 2019, he put on his first horoscope show in Gujarati called "Dodh Dahyo" in Malad, Mumbai.
His first show that people had to pay to see was in Mumbai in February 2020. His father died in the same month.
He became famous after putting up a stand-up comedy video on his channel in April 2020 called "Dawood, Yamraaj & Aurat."
Along with Indian musician Spectra, he shared his first official music video for "Jawab" in August 2020.
He started his second YouTube channel, Munawar Faruqui 2.0, in April 2021. On this channel, he posts live stream videos of himself playing games like Super Mario, Grand Theft Auto V, and Fall Guys: Ultimate Knockout.
Threats from Hindu nationalist groups caused 16 of Munawar Faruqui's shows to be cancelled across several states. In December 2021, he appeared in Mumbai at a performance by the All India Professionals' Congress of Maharashtra. Since they arrested him in Indore in January 2021, Hindutva groups have always been after him.
You Can Also Take A Look At Other Bigg Boss Constant Bio We Have Covered:
Be Entertained And Informed With The Latest News At Topmovierankings.com!