The Malayalam film Ayalvaashi will soon be released. Directed by Irshad, the film stars Soubin Shahir, Nikhila Vimal, Lijo Mol Jose, and Naslen. Vijayaraghavan, another well-known performer, has also joined the cast of Ayalvaashi. Star of the upcoming Malayalam film "Ayalvaashi," Soubin Shahir is ready to dazzle viewers with his brilliant acting.
Ayalvaashi Release Date
Recent reports indicate that the film's release date will be April 21 of this year. Irshad Parari penned the script and directed the film. Thus audience members have high hopes for it. The initial poster for the film, released not long ago, suggests that 'Ayalvaashi' will be a realistic drama film with comedic aspects.
Cast and Crew of Ayalvaashi
Irshad Parari directed "Ayalvaashi," and Jakes Bejoy scored the film musically. Sajith Purushan shot the film's cinematography, and Siddique Hyder edited it. Actors Nikhila Vimal, Lijo Mol Jose, Naslen, Binu Pappu, Vijayaraghavan, Akhila Bhargavan, Kottayam Nazeer, Gokulan, Swathi Das Prabhu, Jaya Kurup, Parvathy Babu., and Ajmal Khan all play pivotal roles in 'Ayalvaashi,' alongside Soubin Shahir.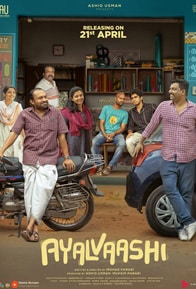 Conclusion
As reported Soubin Shahir would be taking on the lead role in Irshad Parari's (making-his-directorial-debut) film Ayalvaashi. The release date, April 21st, was confirmed on Tuesday by the production company. The film is being promoted as a comedy-entertainment by producers Ashiq Usman and Muhsin Parari.