This article investigates strongman screen appearances in film and TV series. When we refer to strongman, we refer to individuals who train in weights and powerlifting – Those men who present physical prowess and are closely associated with exercise and being strong men.
We will discuss their roles and what they did, then rank the actors according to performance with comments. Our review ranks six of the best strongman actors and highlights their film and TV successes.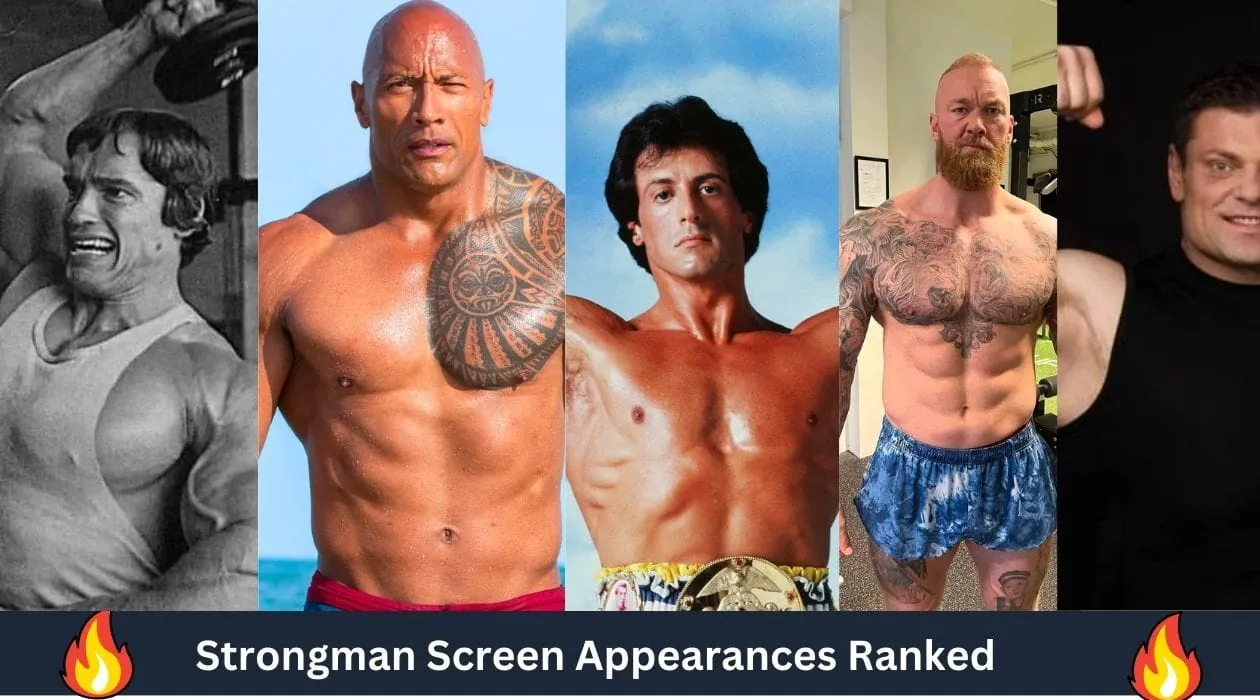 Why are strongmen great for movies?
Before we get into this, we must consider why Strongmen are used in movies. In the 50s and 60s, Hollywood was focused on traditional-looking but beautiful film stars. As we moved into the late 70s, there was a definite shift towards finding notable stars, which meant bigger muscles, more noticeable features and heroes had to stand out. The masculine amplification was born, and the public's fascination with strong-looking actors flourished.
Strongmen are used in movies because:
They are typically larger and more imposing
Their physical features are exaggerated
Thanks to their size are easy to remember
Often, they are already well-known for their strength
Our Top Rankings
#1 Dwayne Johnson
#2 Arnold Schwarzenegger
#3 Sylvester Stallone
#4 André René Roussimoff
#5 Hafþór Júlíus Björnsson
#6 Zydrunas Savickas
VIDEO – Dwayne Johnson & Kevin Hart
#1 Dwayne Johnson – Scorpion King
Like the infamous Andre the Giant, Dwayne 'The Rock' Johnson started his career in wrestling. It is widely known that the Rock is a powerlifter. His first film was 'The Mummy Returns' 2001, and the following year, he played a lead role in the film Scorpion King. He then moved into various films ranging from family films to action films, notably Jumanji, Skyscraper, San Andreas, Baywatch, Central Intelligence, Black Adam and the Fast & Furious franchise. Another successful TV series was Ballers, which focused on the Rock being a football promoter – a story quite close to home. However, the Rock never made a professional career in football. Dwayne Johnson's films have grossed over 10.5 billion worldwide, making him among the world's highest-grossing and highest-paid actors. Chosen for his stature, charisma and aesthetics, the Rock is known to have multiple homes with multiple gyms to ensure that he always has access to weight lift and train.
#2 Arnold Schwarzenegger – Conan The Barberian
He is one of the most iconic and well-known bodybuilders of all time, starring in more films and TV shows than is possible to list. The big Austrian won Mr. Universe in 1967, and following this, he won many other titles, including Mr Olympia. After his bodybuilding career, Schwarzenegger was focused on becoming a film star. However, in his first films, he was dubbed. He attempted several roles, including the Incredible Hulk ( According to Wikipedia). Indisputably, most people came to know Schwarzenegger from his role in Conan The Barbarian in 1982, which cemented the start of his career. He made several classic films through the 80s, including Commando, The Running Man, Predator and Red Heat. Typically, roles that utilised him for his unusually muscular size to make him more attractive and ultimately masculine for these films, none more than Terminator.
#3 Sylvester Stallone – Rocky
Another famous bodybuilder actor, Sylvester Stallone, is now good friends with Schwarzenegger and has acted with him in The Expendables. It didn't start that way in the early 1980s; both stars were locked into a public stand-off, trying to outdo each other. For Stallone, it wasn't an easy start, and many of his early roles fell flat. Rocky, which he wrote himself while literally on the breadline, turned things around. This won a claim and 10 Oscar nominations, opening doors to films like Rambo. Stallone has tried many different genres over the years, but being an action hero is where his skills, looks, and identity reside. Other classic films include Demolition Man, The Specialist, Judge Dredd, Assassins, Daylight and the follow-up Rocky films. The expendables saw Stallone working with Bruce Willis and Arnold Schwarzenegger, two fellow 80s icons. In March 2022, Stallone played a Mafia enforcer, Dwight "The General" Manfredi, who was released from jail after serving time for the family. On release, time has moved on, and we see the star coming to grips with modern technology and how organised crime has changed. It's a funny and engaging story about the struggles of returning to society and establishing yourself. Stallone uses his snarly and sophisticated look to deliver a brilliant screenplay as the Tulsa king. Although at 76, Stallone is no longer such a brawny character, he still has a fantastic body and an unmistakable presence on-screen, making this a superb screenplay and series.
VIDEO – Andre, The Giant
#4 André René Roussimoff (Andre the Giant) – The Princess Bride
A staggering 7 foot 4, the Frenchman Andre the Giant suffered from gigantism, which is the result of his body producing excess growth hormones. Andre died at age 46 from congestive heart failure after suffering a heart attack in his sleep. He went into acting when he rose to fame, becoming one of the most highly-paid wrestlers of his time. According to Wiki, William Goldman said of Roussimoff that he was among the nicest people he'd ever met. Andre's dark features, curly hair, dark eyes and huge limbs made him one of the most imposing wrestlers ever. He made giants in the game, like Hulk Hogan, look like children. Andre played roles where his significant stature was ideal during his short film career.
#5 Hafþór Júlíus Björnsson – Game of Thrones
Hailing from Iceland, the monstrous Icelandic strongman is well known for his ability to get the job done. Hafþór took over the role of Gregor "The Mountain That Rides" in the Game of Thrones for the fourth, sixth, seventh and eighth seasons. In the series, the imposing six-foot-nine strongman is a menacing and sickeningly strong character charged with carrying out discipline and executions for the Lannister family. Commonly referred to as Thor, he has also starred in Eddie: Strongman Devilish Deeds, Kickboxer: Retaliation, Operation Ragnarok, Pharaoh's War and The Northman. These roles range from 2015 to 2022. The huge Icelander is known for his massive presence and more recently bell palsy, which has left him with a facial droop.
#6 Zydrunas Savickas – Gangs of London
Although a small role, Savickas makes a big impact in the first few minutes of season two of Gangs of London. Sope Dirisu, the lead undercover detective, kills the hired muscle/gangster in what can only be described as one of the more shocking special effects in Gangs of London. While being choked out, we see the turmoil on his face moments before and quite unexpectedly, his eyeball pops! Zydrunas Savickas, now retired from strongman, was for many years dominating the sport. The Lithuanian, fondly referred to as Big-Z won World Strongest Man a staggering five times in 2009, 2010, 2012 and 2014. In 2015, Big-Z saw his finishing drop away and titles taken by other up-and-coming strongmen. However, he remains one of the most awarded strongmen ever, with records and achievements unlikely to be matched.
How we ranked them
Interestingly, there are only two actual strongmen in this lineup are in positions five and six. Both of these men were crowned the world's strongest man at different points in their careers. #6 Zydrunas Savickas, arguably the best ever, does not have speaking parts because he is not easy to understand and struggles with charisma. #5 Hafþór Björnsson, also one of the strongest men alive, has also avoided too many speaking parts and has been used for his immense presence. #4 Andre the Giant, also with English as a second language, can be heard in the interview below. His voice bellows and resonates through the speakers as a sound carries through his huge chest cavity. In #3 we put Sylvester Stallone, who came into his own in Rocky, Demolition Man and The Specialist. He has charisma and presence but lacks role variation. #2 Arnold Schwarzenegger thanks to the fact he's become an icon globally, but also for the sport of Strongman with the Arnold Strongman Classic, which means in #1 we've placed Dwayne Johnson, mainly because he continues to develop his roles and has amassed the largest income from film. He has also shown diversity in genres and has demonstrated strong morals, and business acumen, stepping into more producer roles. He, therefore, naturally takes the top spot for his achievements.
What do they all have in common?
All six of these strong men shared a common affinity for the gym. Training extensively for hours to become the best versions of themselves. Perhaps after reading this, you are inspired to go and hit the gym. But if you don't fancy training with others, you can also consider a home gym. A brand synonymous with Strongman is Mirafit, the home gym equipment supplier. These 6 incredible individuals have used their strength to achieve some incredible things. If you want more interesting stories and top-ranking reviews, click here.