The much-awaited Suriya 42 Tamil movie has been making its rounds in the media lately, with fans speculating about its release date. The film is said to be one of the most ambitious projects of the actor Surya and his production house, 2D Entertainment. Many have been eager to know when they can finally see this long-awaited movie, and fortunately, there are now some clues that might help us get an idea of when it will be released.
About Suriya 42 Tamil Movie 
Suriya 42 is a period action-adventure film starring Suriya in five different incarnations. The five characters he portrays are Venkaater, Arathar, Mandaankar, Mukaatar, and Perumanathar.
This is Siruthai Siva's first film since Annaatthe, a Rajinikanth-led action drama. The film is being shot in both 2D and 3D. Devi Sri Prasad wrote the music for Suriya 42. Vamshi Pramod produces the movie under the banner of UV Creations and KE Gnanavelraja under the banner of Studio Green. The blockbuster will be released in ten languages across India and the world. Studio Green, in collaboration with UV Creations, produces the film. The film is scheduled to be released in 10 languages and 3D. The movie's motion poster was released on September 9, 2022.
Suriya 42 Tamil Movie Production
Suriya 42 is a film with a large budget that will be released across India, and production is proceeding rapidly. The big news for Suriya's fans is that the film's title and teaser will be unveiled at a massive event on April 14 in Hyderabad.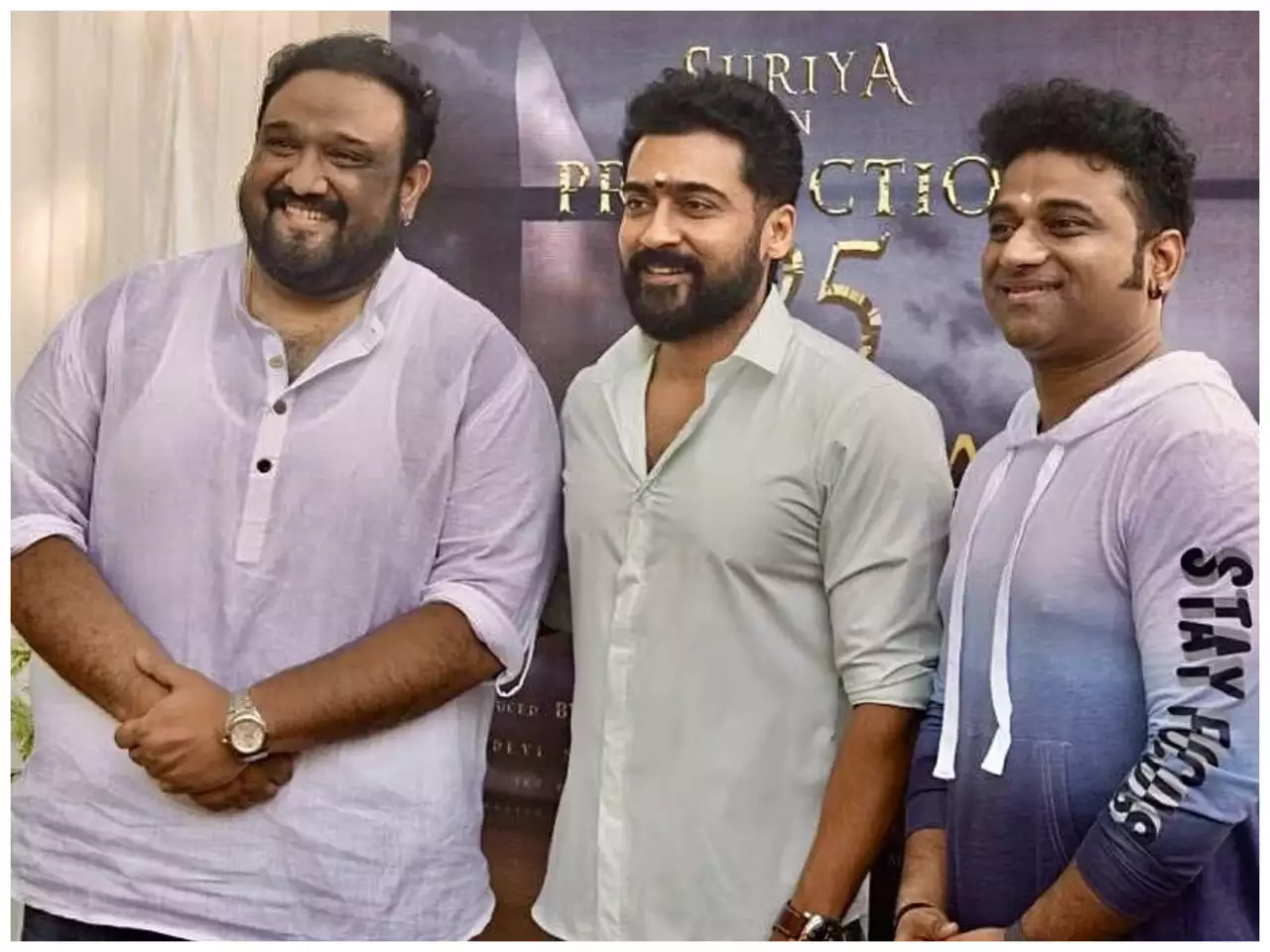 In Chennai, the initial filming for Suriya 42 began with a pooja ceremony. Suriya and Disha Patani started filming the movie in Goa in December 2022. The second filming schedule began in December 2022.
According to reports, a substantial portion of Suriya 42 has been completed. The film's following schedule will begin in the second week of January 2023. It is anticipated to conclude by March or April of 2023.
According to insiders, a massive set is being erected in Goa to film a war scene as the Suriya 42 crew heads back to the state for another shooting schedule. As was previously reported, the crew filmed a stunt sequence in Goa with more than 250 actors last year.
Suriya 42 Tamil Movie Release Date
Suriya 42, the highly anticipated Tamil movie starring famous actor Suriya, has been the talk of the town for a while now. Fans have awaited news about its release date since the makers officially announced it. The good news is we finally have an expected release date for Suriya 42. According to sources from the production team, the film is scheduled to hit theatres in November 2023.
Suriya 42  Star Cast
The film features Suriya and Disha Patani in the lead roles. The film will also feature Suriya's first on-screen pairing with famous Bollywood actress Disha Patani, and Siva recently revealed that Suriya would sport 13 distinct looks in the movie. After making her Telugu debut in the wildly successful Sita Ramam, Mrunal Thakur will make her Tamil debut in the critically acclaimed film Suriya 42.
Yogi Babu

Kovai Sarala

Anandaraj
Suriya 42 first look, title, and teaser will be released on April 14 in a grand event in Hyderabad.
A Grand Project in a Grand event !🔥
The wait is over💥@Suriya_offl @DishPatani @directorsiva @StudioGreen2 @UV_Creations #Vamsi #Pramod @kegvraja @ThisIsDSP @vetrivisuals @directorsiva #editornishadyusuf @supremesundar @PeterHeinOffl @WetaWorkshop #penstudios pic.twitter.com/CMsNnQnv6M

— @Studio Green (@studiogreen22) March 12, 2023
Suriya 42 Motion Poster
Suriya announced the forthcoming film and released an intriguing motion poster on social media on Friday, September 9, 2022. The 1.5-minute-long poster features special effects and suggests a large-scale period spectacle, a first in both Suriya and Siva's careers.
The advertisement begins with an eagle flying across a battlefield, where horse-mounted warriors fight with swords and axes. The eagle then passes to a warrior and perches on his shoulder while the warrior stands atop a cliff and observes the battle below him. This lone warrior is the character of Suriya.