Do you know when Welcome to Derry will be released? For those familiar with Stephen King's works, Derry is a small town in Maine that harbors a malevolent entity known only as IT, which poses a grave threat to those who visit. While the 80s TV series previously introduced IT, Andy Muschietti's movies IT and IT Part 2 adapted the story and concluded IT's narrative on the big screen.
However, as evil has a habit of persisting, a horror series set in Derry is now in the works. Fans are left wondering whether Pennywise will make a comeback, what new terrors will emerge from the town's sewers, and whether the Loser's Club will feature. Here's everything we know regarding the release date for Welcome to Derry
Welcome to Derry Potential Release Date
According to premieredates.com, Welcome to Derry season 1 is Scheduled for 2023 on HBO Max . As of April 2023, the Welcome to Derry release date is unknown. The show was announced on March 21, 2022, and production is scheduled to begin in April 2023 in Canada. Therefore, we will likely not return to Dery until late 2023 or, more likely, 2024.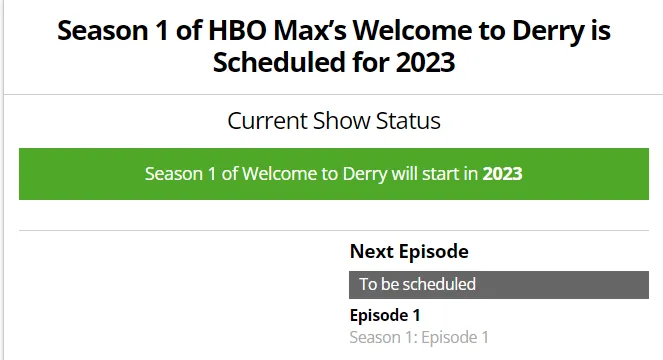 King gushed over the show,
"I'm excited that the story of Derry, Maine's most haunted city, is continuing. I'm glad Andy Muschietti is going to oversee the frightening festivities, along with a brain trust, including his talented sister, Barbara. Red balloons all around!"
Want to discover other great Release date news? Check out some of our other articles.
Welcome To Derry Cast Speculation
The cast of Welcome to Derry has been revealed to include Taylour Paige, Jovan Adepo, Chris Chalk, and James Remar, though their roles are unknown. Additionally, Pennywise is expected to play a significant role in the series, though the possibility of Bill Skarsgård's involvement is unlikely due to his recent movie stardom, with appearances in films like John Wick 4.
Regarding the creative team, the show will have two showrunners: Muschietti, who has an obvious connection to the project, and Jason Fuchs, who previously wrote the DC film Wonder Woman. However, it has been confirmed that King himself will not be directly involved in the production, but he has given it his approval.
The Welcome to Derry cast includes:
Taylour Paige

Jovan Adepo

Chris Chalk

James Remar
We have a general idea of who will be behind the camera. There will be two showrunners for Welcome to Derry: Muschietti, who is involved for obvious reasons, and Jason Fuchs, who wrote the DC film Wonder Woman. Unfortunately, we also know that King will not be involved in the show's production; however, he has given his approval.
Will Bill Skarsgård Be In Welcome To Derry?
Skarsgard has stated that he has no official role in Welcome to Derry. He's probably too busy starring in action films like John Wick 4 to be in a television show. However, if the opportunity presented itself, we couldn't imagine passing up the chance to include a cameo by Skarsgrd.
Welcome To Derry Plot 
According to a report from Variety, Welcome to Derry will be set in the 1960s and will explore the events leading up to IT: Chapter 1. The series will reportedly delve into the backstory of Pennywise the Clown, exploring how he came to be and the ways in which he terrorizes the town and its residents.
A prequel to 'It' is in development at HBO Max, @Variety reports.

The series, currently called 'Welcome to Derry,' will begin in the 1960s in the time leading up to the events of 'It: Part One,' the 2017 film based on the Stephen King horror novel.

🔗: https://t.co/LS6L32P0L5 pic.twitter.com/LAV4KBMMwB

— Pop Crave (@PopCrave) March 29, 2022
Apart from this, no specific plot details for the series have been disclosed yet. However, we will keep this section updated as new information becomes available. Welcome to Derry is scheduled to be released on the rebranded streaming platform Max by HBO Max.
Where To Watch Welcome To Derry?
HBO Max ordered the series, and it will be an HBO Max original, but other than that, we don't have the slightest idea of when the prequel will release.
Welcome To Derry Trailer
At present, no teaser trailer for the prequel series has been released. However, given that the series is expected to release in late 2023 or early 2024, there is a possibility that a teaser trailer may be released by the end of this year. While fans eagerly await new information, the producers appear to be revealing details slowly, much like how one red balloon is released at a time.
Similar Series Like Welcome To Derry
Here are some TV series names that share similar themes or settings as "Welcome to Derry":
Stranger Things
Twin Peaks
Dark
The Outsider
Castle Rock
American Horror Story
Hemlock Grove
Wayward Pines
Penny Dreadful
The Umbrella Academy