Coat Movie 2023 Is An Upcoming Hindi-language Film. The film stars Sanjay Mishra, Vivaan Shah, Sonal Jha, Pooja Pandey, and many other supporting roles. Kumar Abhishek wrote the movie's story. Akshay Ditti directed it, and Kumar Abhishek, Arpit Garg, and Pinnu Singh produced it under Brandex Entertainment and Perfect Time Pictures banners. In This Article We discuss the Coat Movie (2023) Release Date, Cast, Story, Trailer And Much More!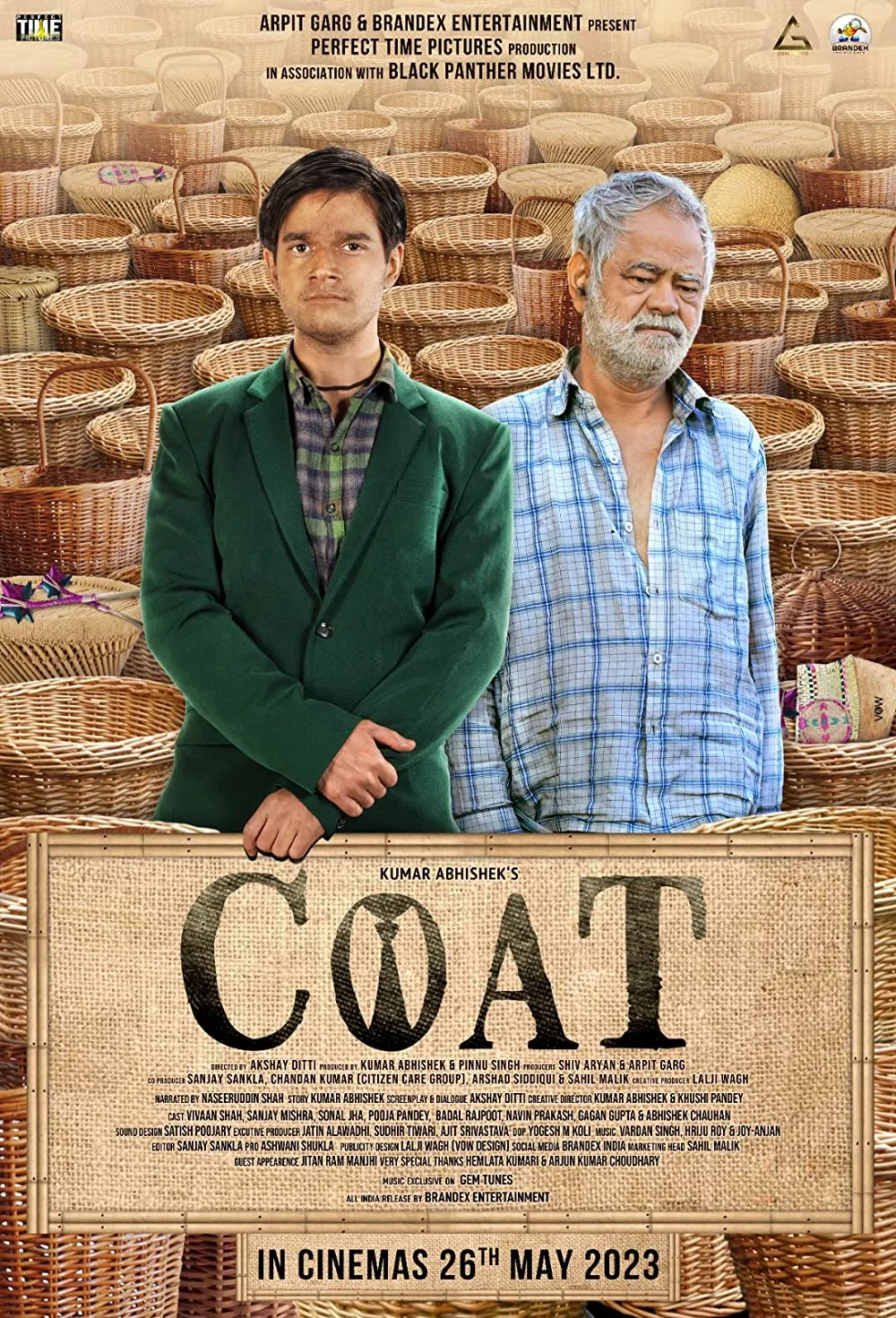 Coat Movie (2023): Release Date
Bollywood viewers have always loved films and web shows based on stories from the north of India, especially from the eastern part of Uttar Pradesh and Bihar. There have been many popular stories, like Ganga Jal, Gangs of Wasseypur, Khaki: The Bihar Chapter, Mirzapur, Jahanabad, Maharani, and Super 30. Now, a movie called Coat is ready to come out.
The film will be released in cinemas nationwide on May 26th, 2023.
For More Details On When New Bollywood Movies Will Be Available, Check Out The Posts Given Below:
Coat Movie (2023) Overview
Movie Name
Coat
Genre
Drama
Family
Social
Country
India
Language
Hindi
Release Date
26 May 2023
Starring
Sanjay Mishra
Vivaan Shah
Pooja Pandey
Sonal Jha
Directed by
Akshay Ditti
Written by
Akshay Ditti (Screenplay & Dialogue)
Kumar Abhishek (Story)
Produced by
Pinnu Singh
Arpit Garg
Kumar Abhishek
Shiv Aryan
Cinematography by
Yogesh M. Koli
Edited by
Sanjay Sankla
Music by
Joy-Anjan
Chandan Saxena
Production Companies
Brandex Entertainment
Perfect Times Pictures
Black Panther Movies
Coat Movie 2023: Cast And Characters
Here is the complete Cast list of coat moive.
Sanjay Mishra as Mohan Ram
Vivaan Shah as Madho Ram
Pooja Pandey as Sakshi Mishra
Sonal Jha as Sahmuni Devi
Harshita Pandey as Sarswati Kumari
Gagan Gupta as Musawa Baba
Badal Rajput
Navin Prakash
Abhishek Chauhan
Coat Movie (2023): Story
Madho (Vivaan Shah) lives in a small village in the Indian state of Bihar. His father is Sanjay Mishra, and his mother is Sonal Jha. Since they are from a lower group, they cannot touch other people, which is against the law.
Madho is in love with a high-caste village girl named Saanchi (Pooja Pandey). But Saanchi insults Madho because he is a simple man from a low-caste society.
Madho once sees a man from a better caste wearing a coat. Now, he wants to buy a coat to fit in with the top class. But Madho has no money, and his father beats him for having upper-caste dreams.
Madho plans to buy an American coat for about 1 Lakh Indian rupees (about $1,500). He wants to start a business, and soon people from lower social classes in the village are thinking about joining him.
But the "upper-class" people can't stand it when a guy from a lower caste tries to compete with them. The rest of the story of Coat is what happens.
Coat Movie (2023): Trailer
Keep your finger on the pulse of the latest Movies news by following us on Pinterest. We'll keep you updated on everything from new releases to the fate of your favorite shows.