Adipurush, the highly anticipated Indian mythological action film, has made its grand entry into the cinematic world. Directed by Om Raut and produced by T-Series and Retrophiles, this epic tale based on the Hindu epic Ramayana has captured the attention of audiences and critics alike. With a star-studded cast featuring Prabhas, Kriti Sanon, Saif Ali Khan, Sunny Singh, and Devdatta Nage, Adipurush promises to take viewers on an unforgettable journey through ancient legends and larger-than-life characters.
Since its announcement in August 2020, Adipurush has been generating buzz and curiosity among fans. The official motion poster introduced the film, stirring excitement and anticipation for what was to come. Principal photography for Adipurush began in February 2021 and concluded in November of the same year, primarily shot in the bustling city of Mumbai.
After months of anticipation, Adipurush finally hit the theaters on 16 June 2023. The film's simultaneous release in Hindi and Telugu ensures that a wide range of audiences can experience this majestic spectacle. With the fusion of mythological elements and action-packed sequences, Adipurush aims to captivate viewers, transporting them into a realm of ancient legends brought to life on the silver screen.
Now, as audiences flock to witness this cinematic marvel, the burning question remains: Will Adipurush soar to great heights as a box office hit or face a disappointing fate as a flop? Let us delve deeper into the film's narrative, performances, and audience reception to gauge the impact of Adipurush and unravel the mystery surrounding its success.
Adipurush Budget
Adipurush, one of the most expensive Indian movies ever, was budgeted at 500 crores (US$63 million). The production is expected to allocate ₹250 crore (US$31 million) for visual effects expenses. Initially, the budget projection stood at ₹400 crore (US$50 million).
However, due to the significant criticism received for the visual effects and CGI featured in the film's teaser, the budget was raised to ₹500 crore (US$63 million). This increase aims to enhance and refine the visual effects, CGI, as well as lighting and color grading.
Adipurush Box Office Day 1 Collection
The Indian film, Adipurush, made a remarkable debut at the box office with a collection of around ₹140 crores on its initial day of release. Anticipations are high for its continued success in the upcoming days.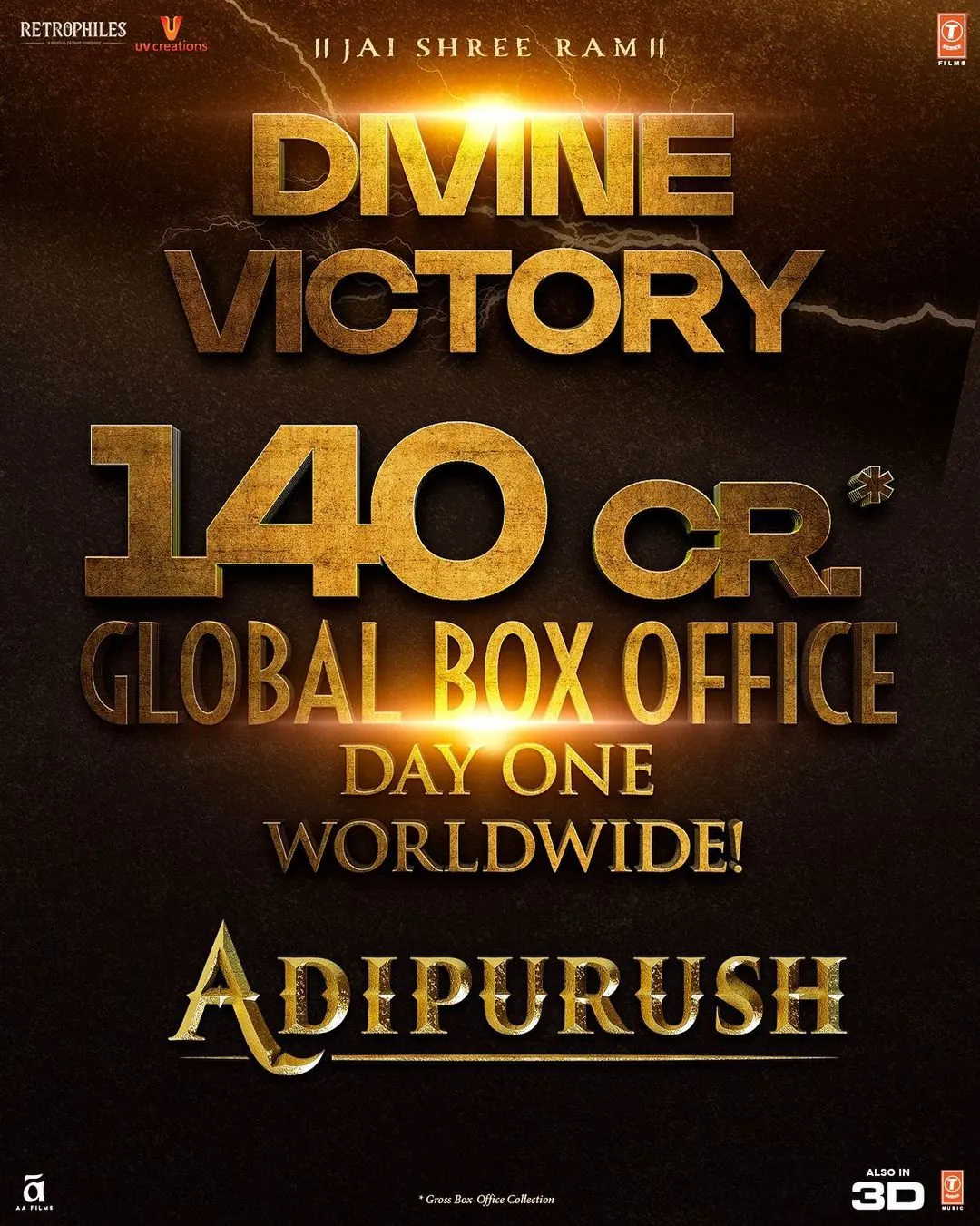 | | |
| --- | --- |
| Movie Name | Adipurush |
| Directed by | Om Raut |
| Based on | Ramayana |
| Adipurush Star Cast | Prabhas, Saif Ali Khan, Kriti Sanon, Sunny Singh, Devdatta Nage, and many others |
| Adipurush Release Date | 16 June 2023 |
| Advanced Bookings in India | ₹3.5 Crore |
| Advance Bookings Abroad | $16,000 |
| Total Releasing Screens | 4,000 screens |
| Languages | Hindi, English, Tamil, Telugu |
| Adipurush Day 1 Earnings | ₹140 Crore |
| Hit or Flop | flop (prediction) |
| Category | Box Office |
Day Wise Adipurush Box Office Earnings
| | |
| --- | --- |
| Day | Adipurush Earnings Day Wise |
| Day 1 | ₹140 Crore Worldwide (95 Cr India) |
| Day 2 | ₹100 Crore |
| Day 3 | To be Updated |
| Day 4 | To be Updated |
| Day 5 | To be Updated |
| Day 6 | To be Updated |
| Day 7 | To be Updated |
| Adipurush Total Earning Report | ₹240 Crore – 2 Days |
Is Adipurush Hit Or Flop?
Adipurus day 1 collection is ₹140 Crore Approx, This film is neither a flop nor a hit, we know that it will earn. To be Hit, Adhipurus needs to earn 700 crores, as their budget is 500 crores.
| Movie Name | Adipurush |
| --- | --- |
| Languages | Hindi, English, Tamil, Telugu |
| Adipurush Day 1 Earnings | ₹140 Crore |
| Hit or Flop | flop (prediction) |
| Category | Box Office |
Seeking information on the availability of different movies? Look no further! The following posts will provide you with all the information you need:
Adipurusha Critical Response
Avinash Lohana from Pinkvilla gave the film a rating of 2 out of 5 stars, considering it a "sincere attempt but a not so sincere adaptation of Ramayana." Saibal Chatterjee of NDTV rated the film 1.5 out of 5 stars, describing it as a "weird blend of fantasy and fallacy" Shubhra Gupta of The Indian Express criticized the screenplay and visuals, giving Adipurush a rating of 1.5 out of 5 stars, and characterized the film as "a sequence of awkward computer graphics, immersed in Bollywood clichés."
Adipurusha Movie Review
Public reviews about Adipurush have started coming out. There are some elements on social media who are criticizing this film without any reason. But those who are returning after watching the film are also calling it the worst film. Adipurush could have been made at a better level than this.
The money that the makers have spent on Prabhas' fees and promotions could have been used for VFX and making Strong. Adipurush is a decent film whose first half enthralls you, and by the second half, it moves away from its rhythm for some time, yet this film recovers your money and makes your day. You won't be bored. But bad dialogue will spoil your mood.
Adipurush BGM
There is no shortage in the music of the film. Be it the 'Shiv Strot' sung by Ravana or the Jai Shri Ram theme song. Everything is perfect and gives goosebumps to the public. Background music is also top-class.
Adipurush VFX
Adipurush's VFX is good at places and useless at places. This means the viewer gets confused for a while whether he has come to watch the low-budget animated movie. It means to say that Ravana's army looks like a cartoon character, whether it is a big bat or an army of demons, everything looks fake. But the VFX of Vanar Sena is good. The biggest backdrop of this film is its VFX which could have been made better.
Adipurush Cast Acting:
Prabhas, Kriti Sanon, Sunny Singh, and Saif Ali Khan these four actors have done a good job. The character of Hanuman has been playing brilliantly. Kriti Sanon has won the hearts of the fans by playing the role of Janaki, and there is no scope to find fault in the role of Hanuman, played by Devdutta Nage.
Adipurush Action:
The action in the film is strong. It's fun to watch. Had the VFX been of a good level, the other shortcomings of the film could have been ignored. In some scenes, the action has also become a victim of VFX glitches.
Adipurush Story:
The story of Ramayana has not been tampered with in the film. Nor has this film been Islamised. You definitely feel proud to be a Hindu after watching this movie. If you compare Adipurush with the story of Valmiki Ramayana, then this is your problem.
Taran Adarsh ​​Said, Disappointing
Film trade analyst Taran Adarsh ​​says that Adipurush is disappointing. Only the Ram factor can make this film a hit. It is better to wait for Adipurush OTT Release.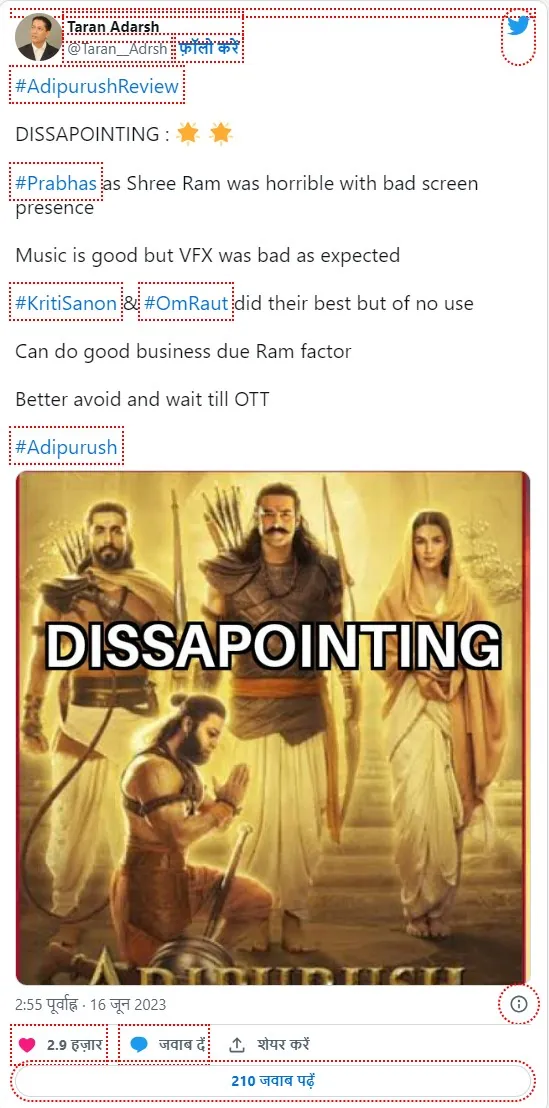 Adipurush Public Review:
Young generation must watch Adipurush
Stay ahead of the curve with the latest entertainment news and updates at Topmovierankings.com! Join our social media community and be part of the movement by sharing your ideas and opinions.