Bonnie Wright Is Pregnant With Her And Husband Andrew Lococo's First Child The actress, best known for her role as Ginny Weasley in the Harry Potter films, posted the news on Instagram along with a photo of her baby bump. She wore a sleeveless dress for the picture, which was taken with her partner in front of a beautiful mountain view.
Bonnie Wrote In Her April 28 Post.
We're having a baby! So excited to share this beautiful land with them. What a wild and humbling journey pregnancy is, transforming to make space for new life. Andrew and I can't wait to meet our baby later this year and become parents 🥹🌈 It feels like they're coming to say hello in the little rainbow orb across my belly
The 32-year-old woman said,
"Andrew and I can't wait to meet our baby and become parents later this year. It feels like they're coming to say hello in the little rainbow orb on my belly."
Bonnie and Andrew married in March 2022, and many people were happy for them. Scarlett Byrne Hefner, who played Pansy Parkinson in the Harry Potter films, and James Phelps, who played Ginny's brother Fred Weasley, were among those who said nice things. Fans were happy when he wrote, "Congratulations," One of them told him, "You have a nephew."
Bonnie recently got back together with her Harry Potter co-stars for the HBO special Harry Potter 20th Anniversary: Return to Hogwarts.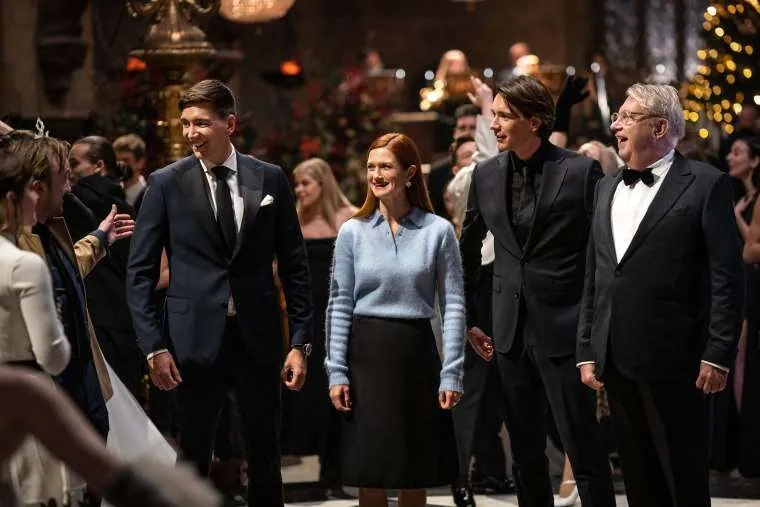 Bonnie is one of several former Harry Potter actors who played Hogwarts students who have recently started a family.
Her on-screen husband, Daniel Radcliffe, whose main character Harry Potter has three kids with Ginny, had his first child with his girlfriend Erin Darke a few weeks ago.
Meanwhile, Rupert Grint, who played Fred's younger brother and one of Harry's best friends, Ron Weasley, and his partner, Georgia Groome, have a daughter, Wednesday Grint, who is almost three years old.
James' twin brother Oliver Phelps, who played Fred Weasley's twin brother, George Weasley, has two daughters with his wife, Katy Hum page. Scarlett and her husband, Cooper Hefner, have three daughters together.
Want To Know More About Celebrity News! Browse The Posts Listed Below For More Details.
Don't Miss Out On Any Of The Latest News In Celebrity Life – Follow Us On Pinterest For More Content Like This.