Cole Swindell is a famous country music singer and songwriter known for his chart-topping hits such as "Chillin' It," "Ain't Worth the Whiskey," and "Middle of a Memory." Fans are always curious about Cole's life and his successful music career, especially his dating status. In this article, we will explore who Cole Swindell dating and provide you with all the latest information on his love life. So, if you're wondering who has captured this country crooner's heart, keep reading to find out!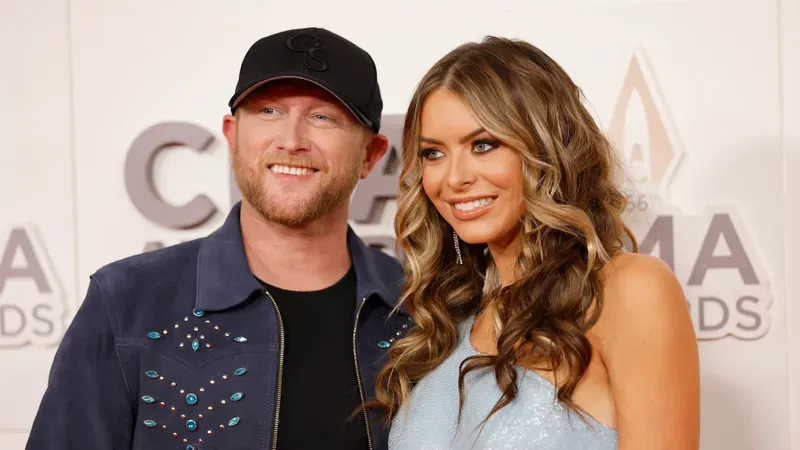 Cole Swindell Announces Engagement to Longtime Girlfriend Courtney Little
---
Country music star Cole Swindell has announced he is engaged to his longtime girlfriend, Courtney Little. The news of their engagement was revealed on May 8 through their respective social media accounts. Little shared her excitement, expressing her joy as the "future Mrs. Swindell." The couple had been dating for several years before Swindell popped the question.
The superstar announced their engagement on Instagram on Monday morning (May 8). His post included sweet snapshots from their attention, as he admitted,
Still couldn't tell ya everything I said down on one knee.. All I know is she said "YES"! 💍 We're so excited!

https://www.instagram.com/p/Cr_WCyRrUF6/?utm_source=ig_embed&ig_rid=e83910c4-bd14-4136-af9a-9dd9a2aa39f4
Little also shared the news on social media.
Woke up as future Mrs. Swindell 💍 I've never been so happy! I can't believe we are ENGAGED!!!!! 🥹
The engagement ring features a sizeable solitary diamond from Ballantyne Jewelers.  
Find gossip and news of some other well-known celebrities:
When Did The Couple Start Dating?
---
Little has been dating Swindell for quite some time, and fans may recognize her from his music video for "Some Habits," released in the fall of 2021. Previously, during an interview on The Bobby Bones Show, the native of Georgia discussed their relationship and disclosed how they met.
"We met several years ago actually. You know, I'm a big NASCAR fan and she works with Monster and you know we just kind of met and exchanged numbers and kept in touch over the years, but it never was anything just kind of friends, randomly saw her here and there, but the video kind of changed everything.
Later, he revealed that he was the one who cast her in the video and that the video shoot constituted their first date. Swindell told Kelleigh Bannen on Today's Country Radio with Kelleigh Bannen on Apple Music Country.
"She lives in Charlotte, and we were about to shoot the video for 'Some Habits.' I texted my team and I was like, 'Hey, shouldn't I see the list of people we're picking from to be in this video?' 
 He recalled,
"I'm thinking about her. I'm like, 'She might not like that. Let's figure this out. This song means a lot to me.' I felt that way about her then, and I asked her, 'Hey, would you be willing to come to Nashville and maybe be in the video? It's just going to be fun,"
Fortunately for Swindell, Little was willing to play his love interest in the music video for "Some Habits."
About Courtney Little
Courtney Little is a former NBA dancer and 2017 Miss Teen North Carolina. She is also the co-owner of The Little Sisters Boutique. Little appeared in Swindell's "Some Habits" music video, where she played his love interest. Although she has only recently become known to Swindell's fans, the couple has been dating for quite some time.
What's Next for Cole Swindell?
---
Aside from his engagement news, Swindell has been busy with his music career. He recently joined Thomas Rhett for the opening of the Home Team Tour 23 and is set to perform at the 58th Academy of Country Music Awards. Swindell is a first-time ACM Awards nominee in three categories, including Single of the Year, Visual Media of the Year, and Music Event of the Year, in which he shares a nomination with his collaborator and fellow artist Jo Dee Messina. After the ACM Awards, Swindell will continue his tour in Omaha, NE.
Conclusion
---
Country music star Cole Swindell is officially off the market. He recently announced his engagement to his longtime girlfriend, Courtney Little. The couple has been together for several years, and their love story has captured the hearts of many fans. While it may be disappointing for some fans who had hoped to win Swindell's heart, we can't help but feel happy for this couple as they embark on their journey toward marriage. We wish them all the best in this next chapter of their lives. Congratulations, Cole and Courtney!
Are you a cinephile looking for the next big blockbuster? Keep track of all the latest releases by visiting Topmoviesranking.com. Get a sneak peek into upcoming release dates and enjoy your favorite flicks from the comfort of your own home. Sign up now and never miss a movie again!