The much-anticipated science-fiction film 'Ayalaan,' starring Sivakarthikeyan and Rakul Preet, has finally received a release date after experiencing numerous delays and much speculation. Directed by Ravikumar R, 'Ayalaan' has generated considerable buzz in the Indian film industry.
| Release Date | November 12, 2023 |
| --- | --- |
| Cast | Sivakarthikeyan, Rakul Preet, Sharad Kelkar, Isha Koppikar |
| Director | Ravikumar R |
| Music | AR Rahman |
| Cinematography | Nirav Shah |
| Editor | Ruben |
| Producer | Kotapadi Rajesh |
| Language | Tamil, Telugu, Hindi, Kannada, Malayalam |
| Reason for Delay | Quality of CGI and VFX |
| Number of VFX Shots | Over 4,500 |
| Competing with | 'Captain Miller' and 'Japan' during Diwali release period |
Ayalaan's Release Date Announcement and New Poster
On April 24, the makers of 'Ayalaan' announced the film's release date along with a captivating new poster featuring Sivakarthikeyan and an alien. The film is set to hit theaters on November 12, 2023, during the auspicious Hindu festival of Diwali. Delays in completing the film's post-production work, particularly in computer graphics imaging (CGI) and visual effects (VFX), contributed to the postponement.
Here's the poster shared by Sivakarthikeyan
Let's fly high this diwali! 💥#AyalaanFromDiwali2023 👽🌟#Ayalaan@Ravikumar_Dir @arrahman @kjr_studios @24amstudios @Phantomfxstudio @Rakulpreet @ishakonnects @SharadK7 @iYogiBabu #Karunakaran #Niravshah @AntonyLRuben @muthurajthangvl @anbariv @SOUNDARBAIRAVI pic.twitter.com/OiooPY3KsS

— PhantomFX Studios (@Phantomfxstudio) April 24, 2023
Cast & Crew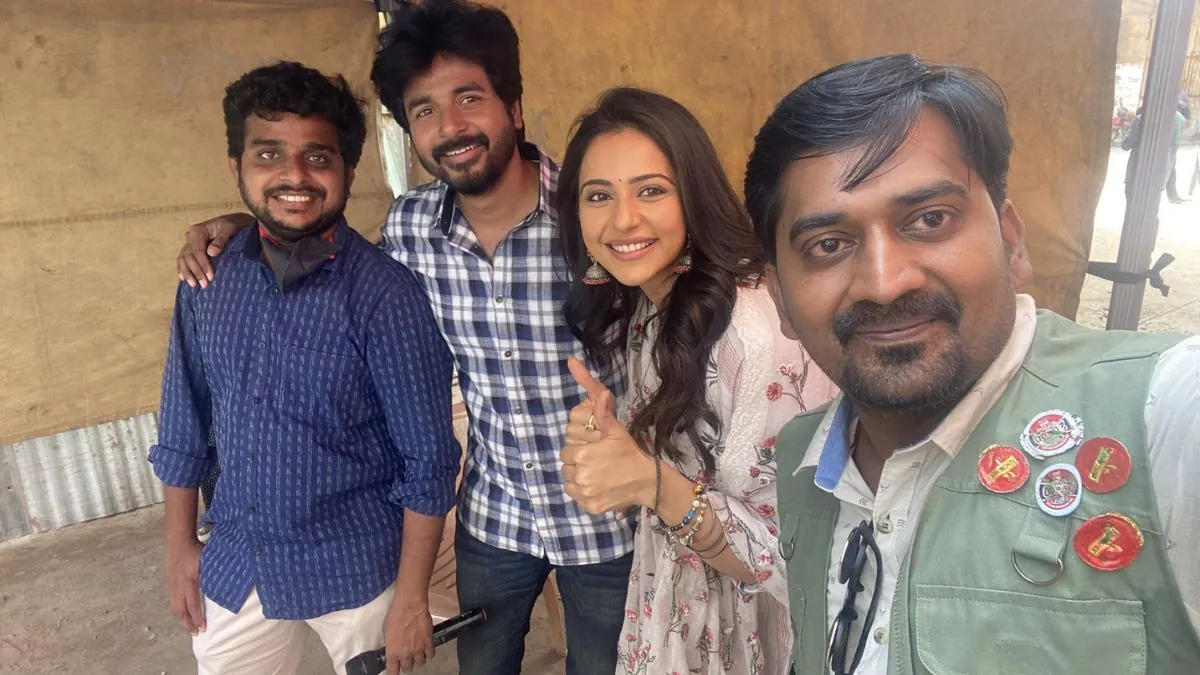 'Ayalaan' is an enthralling sci-fi film that also stars Sharad Kelkar and Isha Koppikar in significant roles. Ravikumar R has written and directed the film, while music maestro AR Rahman has composed its score. Nirav Shah has handled cinematography, and Ruben serves as the film's editor.
Kotapadi Rajesh has produced 'Ayalaan,' and he revealed that the team has poured its heart and soul into the project despite facing numerous roadblocks. The entire team is ecstatic about the film's upcoming release.
Hungry for more articles on release dates? Explore here:
Sundeep Starrer Ooru Peru Bhairavakona Release Date Confirmed For November
Mahaakshay Chakraborty's Rosh Release Date
Kartik Aaryan Announces Bhool Bhulaiyaa 3 Release
Ayalaan's First Look
The Reason Behind Ayalaan's Delay
According to Rajesh, the delay in 'Ayalaan's' release was due to the filmmakers' unwillingness to compromise on the quality of the CGI. The film contains the highest number of CGI shots for a Pan-Indian movie, requiring ample time to perfect each scene. 'Ayalaan' is the first full-length live-action Indian film to feature over 4,500+ VFX shots.
Clash With Other Films
With the confirmation of 'Ayalaan's' Diwali release, Sivakarthikeyan's most extravagant film will go head-to-head with Dhanush's 'Captain Miller' and Karthi's 'Japan,' both of which are also slated for release during the festive period. With the stage set for a thrilling Diwali showdown, fans of Sivakarthikeyan, Dhanush, and Karthi can look forward to an unforgettable celebration of cinema and festivity.
Frequently Asked Questions
When is the release date of 'Ayalaan'?
Sivakarthikeyan's 'Ayalaan' will be released on November 12, 2023, during Diwali.
In which languages will 'Ayalaan' be released?
'Ayalaan' will be released in theaters in Tamil, Telugu, Hindi, Kannada, and Malayalam.
Stay current with the entertainment scene – follow us on Google News.