Vikram is an Indian Tamil-language action thriller written and directed by Lokesh Kanagaraj. It is made by Kamal Haasan, who also plays the lead part. Vijay Sethupathi, Fahadh Faasil, Narain, and Kalidas Jayaram also play supporting roles. It is the second movie in the Lokesh Cinematic Universe, after Kaithi (2019), and is a spiritual sequel to the same-named film from 1986.
Vikram appeared in theatres on June 3, 2022, and critics loved it. They praised the direction, writing, soundtrack, musical score, cinematography, action scenes, narrative style, and cast performances, especially those of Haasan, Sethupathi, and Faasil. At the end of its 113-day run in theatres, the movie made more than 500 crore worldwide.
This was the highest gross, share, and footfalls in 100 years of Tamil cinema. The great acting makes it easy to see why people want a second part. In this article, we delve into the details and speculate about the release date of "Vikram Part 2."
As fans eagerly anticipate the return of this gripping action movie, we explore the possibilities and examine the clues that might hint at its imminent arrival on the silver screen. Prepare to embark on a journey of anticipation as we unravel the mystery behind the release date of Kamal Haasan's much-awaited action movie, "Vikram Part 2."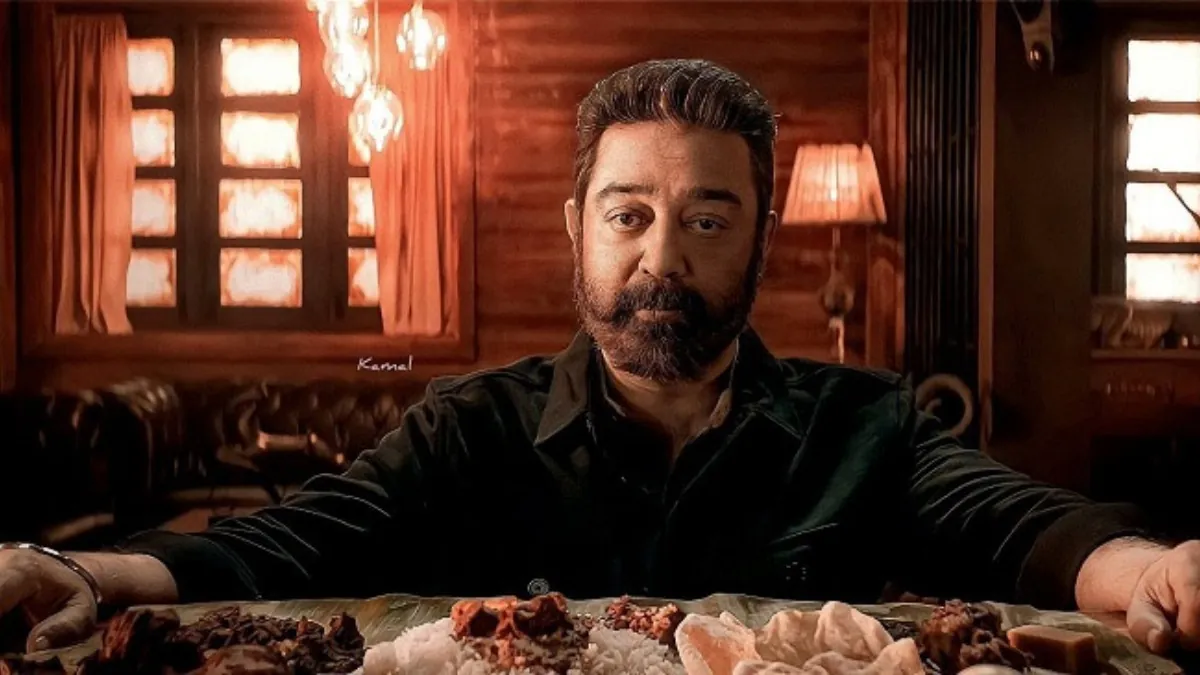 Vikram Part 2: Has It Happened?
A sequel to the Vikram 2022 movie was hinted at in the final scenes of the film as the one and only Suriya (real name Saravanan Sivakumar) had a cameo as 'Rolex', the kingpin of the highly-lucrative illegal drug trade. Then, Kamal Haasan posted a special interview on the Raaj Kamal Films International Twitter page, revealing that Vikram 2 would be about the conflict with Rolex (Suriya).
Thank you

With love
Kamal Haasan @ikamalhaasan @Dir_Lokesh @Suriya_offl @VijaySethuOffl #FahadhFaasil @anirudhofficial #Mahendran @RKFI @turmericmediaTM @spotifyindia @SonyMusicSouth @SKVFCS @anbariv @girishganges @philoedit @ArtSathees @MrRathna @gopiprasannaa pic.twitter.com/NkaTAzk2uz

— Raaj Kamal Films International (@RKFI) June 7, 2022
Speaking to Pinkvilla, Haasan said that
First Lokesh has to finish a commitment he has. After he finishes that he's keen on doing that. I have another commitment with a gentleman who was working with me, Mr Mahesh Narayan, who has directed Malik."

"We are tweaking it and we should hit the floors by July or August. Once I finish that, will think of another Vikram.
There are even rumours that a third movie starring Vikram is being made. According to Bollywood Life,
from what we're hearing, the makers already have Vikram 3 at the back of their minds, which could follow Vikram 2 pretty, possibly even made in a back-to-back schedule."
rumours of a Vikram sequel go back to the first movie, which came out in 1986. In 2013, director Venkat Prabhu said in an interview that: "I will make Vikram (1986) part 2. I wish to see Kamal Haasan again in that particular genre. That film is set in the mood of the Indiana Jones movie. So, I really want to do a sequel to his Vikram. Every aspect of the film is great and I love it."
Vikram Part 2: Release Date
According to sources, Vikram part 2 official release date has been not announced by the makers. Director Lokesh Kanagaraj, known for creating the Lokesh Cinematic Universe (LCU) with films like Kaithi and Vikram, has confirmed that Vikram Part 2 will be a part of this exciting universe. Stay tuned for further updates on the release date and get ready to dive back into the thrilling world of Vikram.
Vikram 2022: Storyline
At the movie's beginning, a scary group of men in masks say that they are the ones killing people and waging war against the government. Then there's this police chief who brings in a team with a character named Amar, who is very interested in the life of the killed man. On the other side, the drug lord is after something, and Amar is having a hard time. He's not sure what's going on and trying to find out what's going on. So, there are a lot of exciting plot points, and there are also some very violent and bloody action scenes. The music in the movie goes well with what's happening on screen.
Vikram Part 2: What Can The Plot Be About?
In the movie's last few minutes, Suriya makes a cameo as "Rolex," the head of the very wealthy underground drug trade. This was a sign that a sequel to the Vikram 2022 movie was in the works. Suriya will play a bad guy for the first time, which his fans will surely like. At the end of the first "Vikram" movie, Suriya wore a Rolex, which caused a lot of talk. It was already known that Suriya would play the main bad guy in Vikram 2, just like he did in the first movie.
Where To Watch Vikram Part 2?
Vikram 2 has yet to come out and will first be shown in theatres. So, as soon as the movie comes out, you can see it in a theatre. You can watch Vikram Part 1 again to catch up on the story. The film is available on the OTT app Disney Hotstar in several languages, such as Hindi, Malayalam, Kannada, Tamil, and Telugu. You can watch the movie on Disney Hotstar if you have an account.
Is There Is Any Trailer Available For Vikram Part 2?
No there is no trailer available for vikram part 2. However you can watch the vikram part 1 trailer, below.
You Can Also Take A Look At Other Kollywood Movies Release Dates We Have Covered:
Be Entertained And Informed With The Latest News At Topmovierankings.com!