Bollywood's Power Couple's Net Worth
Alia Bhatt and Ranbir Kapoor, two of the most distinguished actors of their generation, have not only established themselves as exceptional performers but also as successful brands. With numerous box office hits and massive fan followings, this power couple has accumulated a combined net worth of over ₹700 crores, with Alia and Ranbir with almost similar share. Let's explore the details of their earnings and net worth.
In 2023, Alia Bhatt's net worth is estimated at ₹330 crores, while Ranbir Kapoor's net worth stood at ₹345 crores. Since then, both actors have experienced a significant increase in their earnings, bringing their combined net worth to an astounding ₹745 crores.
Alia reportedly charges around ₹20 crores per project, thanks to her widespread appeal among the youth of India. This popularity has attracted numerous high-profile brands, such as Kwality Walls Cornetto, Lay's, Frooti, Duroflex, Manyavar, Cadbury, and Flipkart, for which she charges approximately ₹2 crores per day for endorsement shoots.
Among Alia's assets are a ₹32-crore bungalow in Bandra, a ₹2-crore office space for her production company Eternal Sunshine Productions, and a house in London. Her luxurious car collection includes a Land Rover Range Rover Vogue (approximately ₹2 crores) and a BMW 7 series (over ₹1.76 crores).
| Name | Net Worth (2023) | Sources of Income and Wealth | Notable Assets |
| --- | --- | --- | --- |
| Alia Bhatt | ₹330 crores | Films, Endorsements, Business | Bungalow in Bandra, Office space, House in London, Luxury cars |
| Ranbir Kapoor | ₹345 crores | Films, Endorsements, Investment in Saavn | Pali Hill house, Land Rover Range Rover Vogue, Mercedes-Benz G63 AMG, Audi R8 |
| Combined Net Worth | ₹745 crores | Films, Endorsements & Investment | Bungalow in Bandra, Pali Hill house, Land Rover Range Rover Vogue & Luxury cars |
Ranbir Kapoor's Selective Choice In Films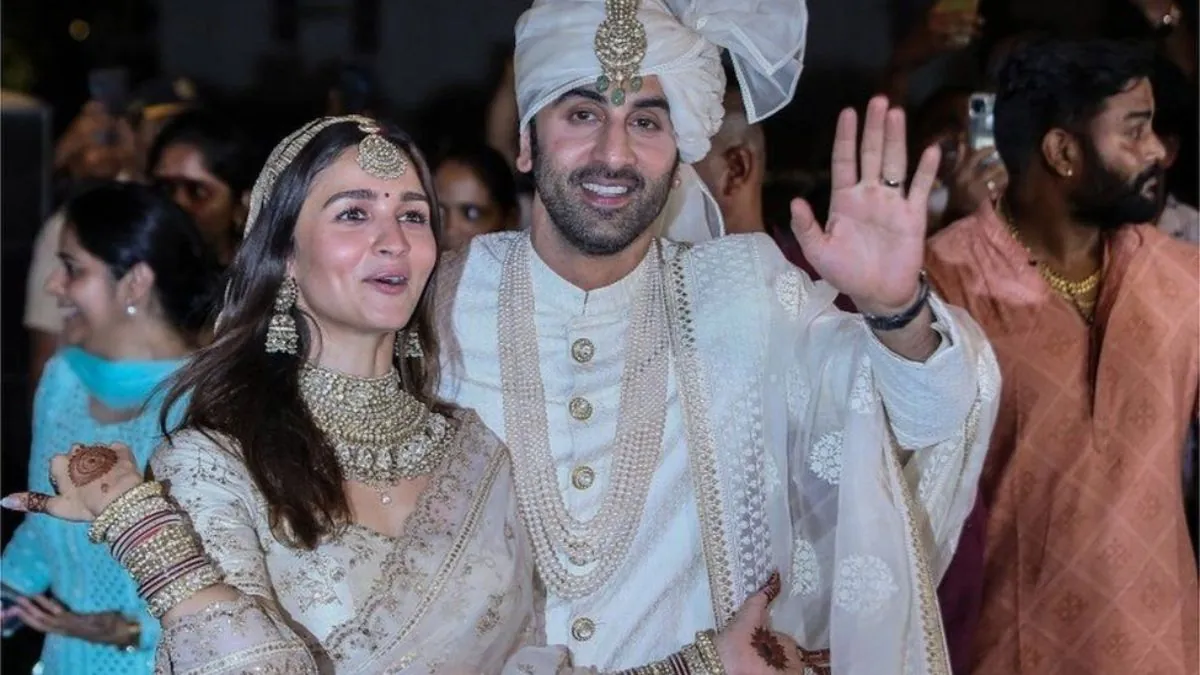 Although Ranbir Kapoor charges a hefty ₹50 crores per film, along with profit share, his selective approach to work results in a lower overall income than his partner. His latest release, Tu Jhoothi Main Makkaar, grossed around ₹220 crores worldwide. Despite his absence from social media, Ranbir's vast fan base has attracted major brands like OPPO, Tata AIG, Coca-Cola, and Oreo, for which he reportedly charges around ₹6 crores for brand shoots.
Ranbir's ₹35-crore Pali Hill house, where the couple got married, is among his most notable assets. He is also an investor in the music streaming service Saavn. Like Alia, he owns a Land Rover Range Rover Vogue, in addition to a Mercedes-Benz G63 AMG (around ₹2.5 crores) and an Audi R8 (around ₹2.3 crores).
Keen on exploring additional release date articles? Visit here:
Alia Bhatt's Net Worth 2023: Building ₹150 Crore Sustainable Kidswear Brand
Ajinkya Rahane Net Worth 2023: Discover His Personal Life
Both Are Equally Popular Among Youth
Film trade analyst Komal Nahta points out that while Alia's net worth might surpasses Ranbir's, their popularity is equally matched. He explains, "Alia has done more films, therefore she has more success to her credit. But Ranbir is no less a superstar. They are young and have everything going for them. They are in demand, doing top films. Brahmastra is one of the costliest films to be ever made in Bollywood."
The couple shared the screen for the first time in Ayan Mukerji's Brahmastra, a film with a reported budget of ₹300 crores, making it one of the largest Hindi films ever produced. The star-studded cast also includes Nagarjuna, Amitabh Bachchan, and Mouni Roy. The film was released on September 9, 2022.
In conclusion, Alia Bhatt and Ranbir Kapoor undoubtedly form one of the most powerful and successful couples in Bollywood. With their immense wealth, popularity, and talent, they continue to captivate audiences and set new benchmarks in the entertainment industry.
I hope you liked the article. Stay updated with the latest entertainment news – follow us on Google News. for more such content.