Fans of the Nickelodeon classic Good Burger have reason to rejoice as a long-awaited sequel is coming. Good Burger 2, a follow-up to the beloved 1997 film, is set to hit screens soon, bringing back the iconic catchphrase, "Welcome to Good Burger, home of the Good Burger, can I take your order?" Let's delve into what we know about the release date, cast, plot, and trailer for this highly anticipated sequel.
Good Burger 2 Release Date 
---
Good Burger 2 is scheduled for release in November 2023. 
The long-awaited sequel promises to bring back all the nostalgic charm that made the original movie such a beloved classic.
Starring Kel Mitchell and Kenan Thompson, who also co-wrote the script, Good Burger 2 follows Dexter Reed and Ed as they embark on another zany adventure. Fans can expect hilarious hijinks, catchy songs, and over-the-top shenanigans from their favorite fast-food employees.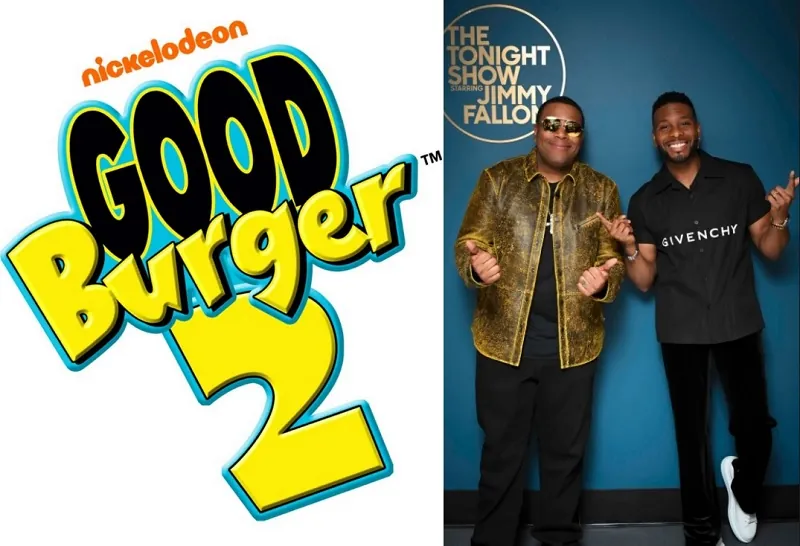 If you are interested to know the release dates of some other movies, check
Good Burger 2 Cast
---
Two crucial cast members are confirmed to reprise their roles in Good Burger 2:
Kenan Thompson as Dexter Reed: Kenan Thompson, known for his comedic talent and extensive career on shows like Saturday Night Live, will return as Dexter Reed. Initially portrayed in the Good Burger sketch on All That, Dexter was a central character in the first film.

Kel Mitchell as Ed: Kel Mitchell, who starred alongside Thompson in the Good Burger sketch on All That and the original movie, will reprise his role as Ed. Ed's lovable and quirky persona endeared him to audiences, making him an integral part of the Good Burger experience.
Good Burger 2 Plot
---
According to Collider, specific plot details for Good Burger 2 are scarce; fans can expect the sequel to retain the lighthearted and humorous spirit of the original. With Dexter Reed and Ed at the forefront, viewers can anticipate hilarious misadventures and memorable interactions at Good Burger. This fast-food joint served as the backdrop for the first film.
Good Burger 2′ is filming in Rhode Island
---
According to the Rhode Island Film & TV office, filming for the sequel to the 1997 comedy will begin later this month in "various locations" throughout the state.  John Ryan Jr., one of the producers, grew up in Rhode Island.
According to providence journal, Gov. Dan McKee, in a press release, state that, "
"It's great to see a new Nickelodeon and Paramount+ movie being made in Rhode Island – especially one that is fun, family-oriented, and showcases our beautiful state," With our unique landscape and talented local artists, Rhode Island is an ideal location for filmmakers." 
Good Burger 2 Trailer
---
As of now, no official trailer for Good Burger 2 has been released. However, fans can watch Paramount+ and its official channels for updates and sneak peeks leading up to the film's release in November.
Where Can I Watch Good Burger 2?
---
Unlike its predecessor, which had a theatrical release, the sequel will be available exclusively on Paramount+. This streaming platform offers a diverse range of content, and subscribers can enjoy the film for a monthly fee of $4.99.
List Of Movies Similar To Good Burger 2
---
While, as of my knowledge cutoff in September 2021, there hasn't been a sequel to "Good Burger," I can still provide you with a list of movies with similar themes or comedic elements. Please note that the availability of these films may vary, and there may have been releases since my last update. Here are some movies you might enjoy:
Superbad (2007)
Napoleon Dynamite (2004)
Pineapple Express (2008)
Step Brothers (2008)
Talladega Nights: The Ballad of Ricky Bobby (2006)
Zoolander (2001)
Billy Madison (1995)
The Waterboy (1998)
Wayne's World (1992)
Dumb and Dumber (1994)
Ace Ventura: Pet Detective (1994)
Dude, Where's My Car? (2000)
Harold & Kumar Go to White Castle (2004)
Anchorman: The Legend of Ron Burgundy (2004)
The Hangover (2009)
Conclusion
---
Good Burger 2 promises to bring back nostalgia for '90s kids and fans of the original film. With a confirmed release date on Paramount+ and the return of Kenan Thompson and Kel Mitchell, viewers can look forward to a heartwarming and entertaining sequel. Whether you're a longtime fan or new to the Good Burger universe, mark your calendars for November 2023 and prepare for a fun-filled trip down memory lane with Good Burger 2.
To Learn More About Upcoming Ott Movie Releases, Follow Us On Twitter. We Regularly Post Content Related To This Topic and other Interesting Topics.