"Flames" is a brilliantly written teen romantic comedy series that has captured the hearts of many viewers. This show revolves around a group of friends as they navigate the ups and downs of adolescence, from the complexities of love and ambition to the quest for self-discovery. With its perfect balance of sensitivity and humor, "Flames" is a must-watch for anyone who loves a good coming-of-age story.
If you've already binge-watched the entire series and are looking for more shows like "Flames" to satisfy your cravings, look no further. We've compiled a list of some of the best shows out there that capture the same essence and spirit as "Flames". Here are the 10 best web series like "Flames" that you can't miss!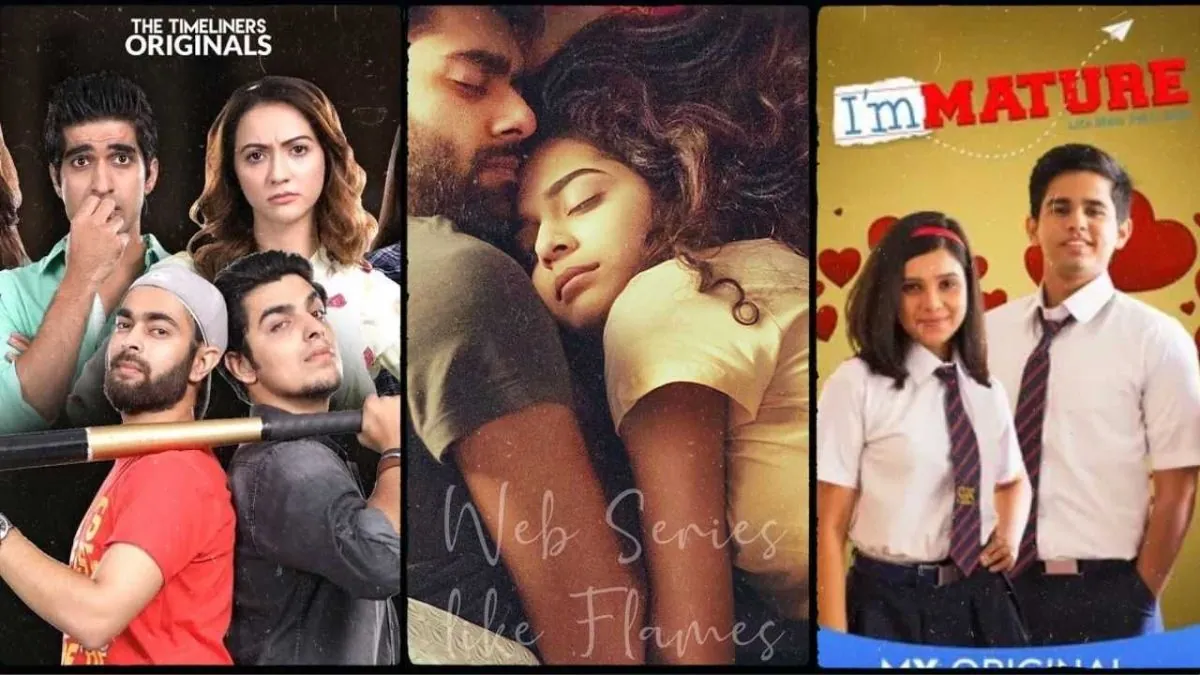 Here Is 10 Best Web Series Like Flames
here's a table of the 10 web series like "Flames" mentioned above:
| Web Series | OTT Platform |
| --- | --- |
| Little Things | Netflix |
| Permanent Roommates | ZEE5/ SonyLIV |
| Immature | MX player |
| Mismatched | Netflix |
| College Romance | Sonyliv, TVF Play |
| Soulmates | Zee5 |
| Feels Like Ishq | Netflix |
| Bandish Bandits | Amazon Prime Video |
| Taj Mahal 1989 | Netflix |
| Campus Diaries | MX Player |
1. Little Things
The series, which Dhruv Sehgal made, debuted in October 2016 on the official Dice Media YouTube account. Later, Netflix bought it, and the second and third seasons aired in October 2018 and November 2019, respectively.
The show is about a couple in Mumbai called Kavya Kulkarni and Dhruv Vats. Ajay Bhuyan and Ruchir Arun made it. The series was created in English, but some slang words are in Hindi.
OTT Platform: NETFLIX
---
2. Permanent Roommates
After dating from different places for three years, a pair considers getting married. Permanent Roommates is about Tanya, who doesn't like to make promises, and Mikesh, her highly enthusiastic long-distance boyfriend, who goes to India from the U.S. to ask Tanya to marry him.
OTT platform: ZEE5/ SonyLIV
---
3. Immature
Immature is the story of three teens who want to grow up. In their last years of high school, the three leave behind their childhoods and try their first drink, get into their first fight, and fix their first broken heart.
OTT platform: MX player
---
4. Mismatched
Ronnie Screwvala's company, Rsvp Movies, made the love web series about coming of age. It was first shown on TV in November 2020. It is based on Sandhya Menon's 2017 book When Dimple Met Rishi.
It was written by Gazal Dhaliwal and directed by Akarsh Khurana and Nipun Dharmadhikari. People's reactions to the movie were mixed, but reviewers liked how well Koli and Saraf got along. the second season started on October 14, 2022.
OTT Platform: Netflix
---
5. College Romance
It was one of the most famous shows about kids growing up, and its first two seasons did very well. It's about three best friends who go to college together and try to find love, have fun, and do things they'll remember for the rest of their lives. The show shows how hard it is to choose between love and friendship.
In August 2018, the first season of the show came out. The third season will come out in September 2022. The second season will come out in January 2021.
OTT platform: Sonyliv, TVF Play
---
6. Soulmates
The series is directed by Tarun and written by him, Maxwell Chhetry, and Saurabh Swamy. It's about two old school friends who meet up in Shillong. By chance, they ran into each other and became friends. They might fall in love or not, but their whole journey has a beautiful feel.
OTT Platform: Zee5
---
7. Feels Like Ishq (2021)
This collection of web shows has six excellent love stories in each episode. People like Tahira Kashyap, Anand Tiwari, Ruchir Arun, Danish Aslam, Sachin Kundalkar, and Jaydeep Sarkar are some of the people who direct the shows.
OTT Platform: NETFLIX
---
8. Bandish Bandits
In Bandish Bandits, Radhe, a classical music genius from Jodhpur, and Tamanna, a pop star, are shown to fall in love. Radhe's grandfather, Pandit Radhe Mohan Rathod, is a well-known performer, a stickler for rules, and a firm believer that neither dirty money nor light music should ruin the purity of music.
OTT platform: Amazon Prime Video
For More Details On When Other web series  And Tv Shows Will Be Available, Check Out The Posts Given Below:
---
9. Taj Mahal 1989
Before the Internet, finding love was hard, and keeping it was even more complex. In the Taj Mahal, 1989, we follow a long-lost friend and his lover, a schoolgirl in love with a much older man, a couple of teachers at Lucknow University, and their students.
Taj Mahal is one of the best Hindi shows on Netflix, and both the story and the playing of its main cast members have been praised.
OTT platform: Netflix
---
10. Campus Diaries
"Campus Diaries" is a web series that revolves around the lives of college students studying at a prestigious university in India. The show explores themes such as friendship, romance, career aspirations, and personal growth. It features a talented cast of young actors and has been praised for its engaging storyline, relatable characters, and realistic portrayal of college life in India. The series is currently streaming on MX Player, an Indian video streaming platform.