Prepare for more gripping drama and intense storytelling in the highly anticipated Season 3 of "Power Book III: Raising Kanan." Following the rise of Kanan Stark in the crime-ridden world of Queens, this renewed crime drama series promises to delve deeper into his journey into the drug business. With an incredible ensemble cast led by Mekai Curtis and Patina Miller, fans can expect action-packed performances and compelling character dynamics. Stay tuned for updates on the cast, storyline, and trailer as we await the thrilling return of "Power Book III: Raising Kanan" for its third season.
Will there be a Power Book III: Raising Kanan season 3?
---
There shall be! Power Book III: Raising Kanan was officially renewed for a third season before its second season premiere. Kathryn Busby, the president of original programming for Starz, stated at the time,
"Our passionate and loyal fans have been eagerly awaiting the season 2 return of Raising Kanan to see the continued transformation of a young and naïve teenage Kanan Stark into the ruthless, no-nonsense character they know and love. And we're thrilled to be doubling down on a third season with this incredible cast led by Patina and Mekai."
That's right… Season 3 of #RaisingKanan is already on the way, fam! Let's get it 🔥👊🏾 pic.twitter.com/GPxc8tqseP

— Raising Kanan (@RaisingKanan) August 11, 2022
Power Book 3 Raising Kanan Season 3 Release Date Speculation
---
According to The digitalfix, as of May 2023, the release date for the third season of Power Book 3: Raising Kanan is unknown. Thankfully, it will occur, as the TV series was renewed just before the second season premiere. According to premieredates, the new season of this American television series is anticipated to premiere in late 2023 or early 2024. As with the previous two seasons, Starz will distribute the third season of the series.

The first two seasons began in July 2021 and August 2022, so the third will likely follow suit. However, this is merely our speculation; stay tuned for updates as they become available.
If you are interested to know the release dates of some other movies, check
Power Book 3 Raising Kanan Season 3 Cast
---
We assume that since it was confirmed so early, the Power Book 3 Raising Kanan season 3 cast will include all of the series' prominent cast members. This includes Mekai Curtis, Patina Miller, Malcolm Mays, and Joey Bada. We expected Mekai Curtis to play Kanan Stark in season 3 of Power Book 3, Raising Kanan.
We expected the Power Book 3 Raising Kanan season 3 cast to be:
Mekai Curtis as Kanan Stark

Patina Miller as Raquel Thomas

Malcolm Mays as Lou-Lou Thomas

Joey Bada$$ as Unique

London Brown as Marvin Thomas

Antonio Ortiz as Shawn 'Famous' Figueroa

Toby Sandeman as Symphony Bosket

Hailey Kilgore as LaVerne 'Jukebox' Ganner

Omar Epps as Malcolm Howard
Raising Kanan Season 3 Story
---
Raising Kanan is set in the 1990s and follows the early years of Kanan Stark, initially portrayed by executive producer Curtis "50 Cent" Jackson, as he enters the drug trade. The plot revolves around the Queens crime family's quest for power and dominance. Raquel Thomas and Unique compete to become the Queen's drug lord. In addition, the family's internal dynamics and efforts to maintain harmony are beautifully portrayed in the series.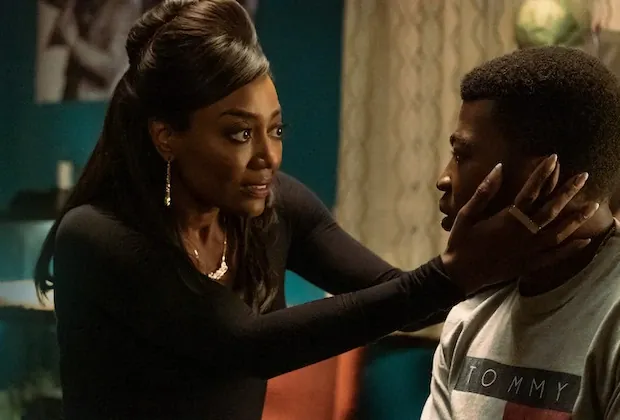 The new story may continue Kanon's journey into the world of drugs. In the upcoming season, there will be many performances with high excitement levels. The planning of the new season's plot is underway, and we will let you know as soon as something is made public based on information from some inside sources.
Power Book 3 Raising Kanan Season 3 Trailer
---
A trailer or promotional video for Season 3 has not yet been released. Fans can revisit the Season 1 and 2 trailers to relive the excitement and build anticipation for the upcoming episode.
Season 3 of "Power Book III: Raising Kanan" will premiere on a date to be announced. In the meantime, fans can immerse themselves in Kanan's rise to power by watching the previous seasons. This thrilling series features more drama, suspense, and exploration of the criminal underworld.
Where Can I Watch "Power Book III: Raising Kanan?
---
Watch it on The Roku Channel, Prime Video, STARZ, Sling TV – Live Sports, News, Shows + Freestream, Spectrum TV, Vudu, or Apple TV on your Roku device.
List Of Movies Similar To Power Book 3 Raising Kanan
---
If you enjoyed watching "Power Book III: Raising Kanan" and are looking for similar movies with engaging storylines and themes, here is a list of films that share elements of crime, power struggles, and complex characters:
"Boyz n the Hood" (1991) – Directed by John Singleton, this coming-of-age crime drama follows the lives of three young men in South Central Los Angeles as they navigate the challenges of growing up amidst gang violence.

"New Jack City" (1991) – Directed by Mario Van Peebles, this film explores the rise and fall of a drug lord in New York City, highlighting the dangerous world of narcotics and the efforts to bring down a powerful criminal organization.

"Menace II Society" (1993) – Directed by the Hughes Brothers, this gritty drama delves into the lives of young African-American men caught up in the cycle of violence and crime in South Central Los Angeles.

"Paid in Full" (2002) – Based on a true story, this crime film follows the rise and fall of three friends who become involved in the drug trade in Harlem, New York City, as they navigate the complexities of loyalty and betrayal.

"City of God" (2002) – Set in the slums of Rio de Janeiro, Brazil, this acclaimed film depicts the lives of young individuals involved in organized crime, providing an immersive and raw portrayal of poverty, violence, and survival.

"American Gangster" (2007) – Inspired by true events, this crime drama stars Denzel Washington as a drug lord in Harlem during the 1970s, and Russell Crowe as the detective determined to bring him to justice.

"The Wire" (TV Series, 2002-2008) – While not a movie, this critically acclaimed TV series created by David Simon explores the interconnected lives of police officers, drug dealers, and residents in Baltimore, offering a nuanced examination of crime, corruption, and societal issues.

"Scarface" (1983) – Directed by Brian De Palma, this iconic film tells the story of Tony Montana, a Cuban immigrant who becomes a powerful drug lord in Miami, Florida, but struggles with the consequences of his choices.
To Learn More About Upcoming Ott Movie Releases, Follow Us On Twitter. We Regularly Post Content Related To This Topic, As Well As Other Interesting Topics.