Konosuba Season 3 is finally coming back after a six-year break that made fans eager to see what Kazuma would get into next. Kadokawa's main YouTube channel finally posted the video announcing the release of the Isekai. The clip gives a glimpse of the return of all the main characters in the series, with a fantastic story told in English that no one saw coming.
The unexpected narration manages to pull the viewers into the dream world of KonoSuba, making them excited to see what happens in the third part. The first two seasons of KONOSUBA started in January 2016 and January 2017, and the anime movie KONOSUBA: God's Blessing on This Wonderful World–Legend of Crimson will be released in Japan in November 2019.
After getting the details about Season 3, fans are curious to know everything about it. In this article, we will tell you everything about Season 3 of Konosuba. Let's start it. Watch the Konosuba Season 3 trailer below.
Konosuba Season 3 Release Window Revealed!
Konosuba Season 3 has yet to confirm a concrete release date as of the time of this writing, but is scheduled to premiere some time in 2024.  There was a shorter break between the first two seasons of the show. The second part came out in January of the following year, just like the first. The third season of KonoSuba, on the other hand, came back after a six-year break. This was mainly because the production company changed and the COVID-19 pandemic happened.
But KonoSuba: An Explosion on This Wonderful World!, a spin-off of the anime, was made to keep Isekai fans interested. It's a prequel to the first series, and it's about Megumin and her journey to learn explosion magic, which is said to be powerful but could be more helpful. On June 22, 2023, the spin-off finished.
「そうだ、冒険に出よう。」

//  
『この素晴らしい世界に祝福を!3』
TVアニメ2024年放送決定!!!!
\

ウルトラティザービジュアルを公開✨
カズマ、アクア、めぐみん、ダクネスの4人が織りなす冒険の続きを、ぜひお楽しみにお待ちください🌈#このすば #konosuba pic.twitter.com/TSiXFMEm6z

— アニメ『このすば』公式ツイッター (@konosubaanime) June 21, 2023
Konosuba Season 3 Cast: Who Will Return?
Konosuba Season 3 will also have a returning voice cast, with Jun Fukushima as Kazuma Sato, Sora Amamiya as Aqua, Rie Takahashi as Megumin, Ai Kayano as Darkness, Yui Horie as Wiz, Masakazu Nishida as Vanir, and Aki Toyosaki as Yunyun all confirmed to return. .
In addition to the excitement about the cast return, the anime has finally revealed the new cast members who will play important parts in the story. Sayuri Yahagi, best known for giving Maho Hiyajou's voice in Steins; Gate, will play Claire. Reina Ueda, who plays Kanade Tsuyuri in Demon Slayer: Kimetsu no Yaiba, will play the part of Rain. Last, Kanon Takao, who plays Hermit Mio in EDENS ZERO, will voice Iris.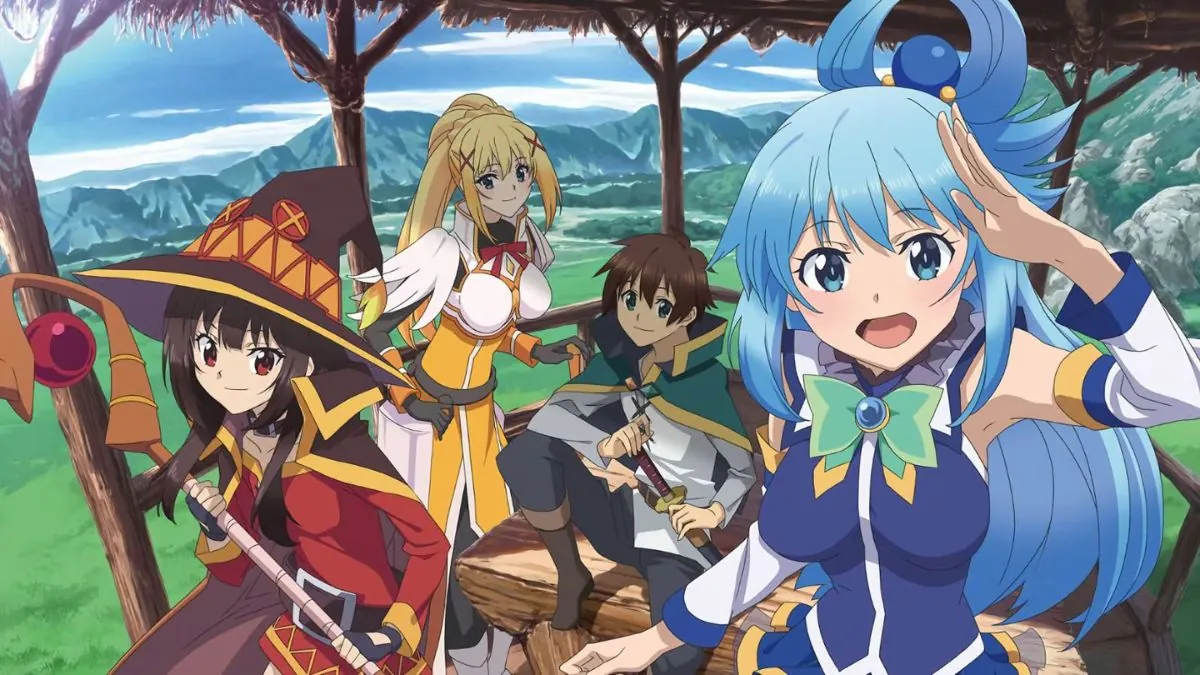 What Is Konosuba About?
Yen Press, which is the official English-language distributor of the original light novels in the series, says this about the story:
"Game loving shut-in Kazuma Sato's life as a young schoolboy in Japan abruptly comes to an early end…or at least it was supposed to. When he opens his eyes, though, he sees a beautiful goddess that offers him a once in an after-lifetime chance to be reborn in a parallel world. The catch is that the world is violent and threatened by a growing evil! "
More:
"Fortunately, he can choose any one thing to bring with him. So he chooses the goddess, Aqua! And so his adventure with his gorgeous companion begins–if he could just get enough money and food to survive, keep his goddess out of trouble, and avoid grabbing the attention of the Demon King's army!"
Where To Watch Konosuba Season 3?
You can watch the first two season of Konosuba on  crunchyroll. However you can watch the Season 3 on same platform when it's released.
You Can Also Take A Look At Other Anime' Upcoming Seasons' Release Dates We Have Covered:
Be Entertained And Informed With The Latest News At Topmovierankings.com!