Re Zero – Starting Life In Another World has become one of the most popular anime series in recent years, captivating audiences with its intriguing storyline and beloved characters. With two successful seasons under its belt, fans have been eagerly anticipating the release of the third season. Re Zero Season 3 has been officially confirmed and announced during the AnimeJapan expo on March 25, 2023. Fans' patience was rewarded, and excitement is soaring as the journey into the fantastical world of Subaru Natsuki continues.
In this article, we bring you all the details you've been waiting for, including the release date, the returning cast of characters, potential plot developments, and even a glimpse of what the trailer has to offer. The enthralling world of Re: Zero is ready to unravel more mysteries and challenges, and we can't wait to take you through the captivating journey that awaits. So, gear up and join us as we explore the much-awaited Re Zero Season 3!
Re:ZERO -Starting Life in Another World- Season 3 Officially Announced!

✨More: https://t.co/50xzgCztlW pic.twitter.com/29kbejlpgQ

— AnimeTV チェーン (@animetv_jp) March 25, 2023
Re Zero Season 3: Production Status
Re:Zero -Starting Life in Another World- is currently in the works at returning to screens with Season 3 of the anime. Adding to the excitement, on July 23rd, 2023, a new key visual was unveiled during the MF Bunko festival stream.
◪Re:ゼロから始める異世界生活◪

━━━【TVアニメ3rd season】━━━
 ティザービジュアル第2弾公開
  イントロダクション公開
━━━━━━━━━━━━━━━━━

アニメーションシリーズ、
待望の3rd season開幕。

▼イントロダクション▼https://t.co/TXOI23fP5o#リゼロ #rezero pic.twitter.com/X5K3FAvRDj

— 『Re:ゼロから始める異世界生活』公式 (@Rezero_official) July 23, 2023
The characters Felt, Anastasia Hoshin, Priscilla Barielle, Emilia, and Crusch Karsten are shown in the new key image for the third season of Re: Zero. All candidates for political office in their kingdoms are standing in the ruins of one country.
Re Zero Season 3: Release Date
Season 3 of Re Zero: Starting Life in Another World is being made and will be out soon, but a release window or date has yet to be announced as of this writing. But now that the official video is out, it will be sooner rather than later, possibly in early 2024. Season 1 and Season 2 were separated by almost five years. With this schedule, the time between Seasons 2 and 3 will be the same.
Re Zero Season 3: Cast
The cast for Re:Zero Season 3 has not been officially announced yet. However, based on the previous seasons, we can expect the main cast to return, including.
Rie Takahashi as Emilia
Yūsuke Kobayashi as Subaru Natsuki
Aimi Tanaka as Ryuzu Birma
Akira Ishida as Regulus Corneas
Chinatsu Akasaki as Felt
Eri Suzuki as Meili Portroute
Haruka Tomatsu as Fortuna
Kana Ueda as Anastasia Hoshin
Kaori Nazuka as Frederica Baumann
Kenyuu Horiuchi as Wilhelm van Astrea
Kōhei Amasaki as Otto Suwen
Maaya Sakamoto as Echidna
Mamiko Noto as Elsa Granhiert
Marika Kōno as Petra Leyte
Mikako Komatsu as Minerva
Mugihito as Rom
Nobuhiko Okamoto as Garfiel Tinsel
Rie Kugimiya as Pandora
Rie Murakawa as Ram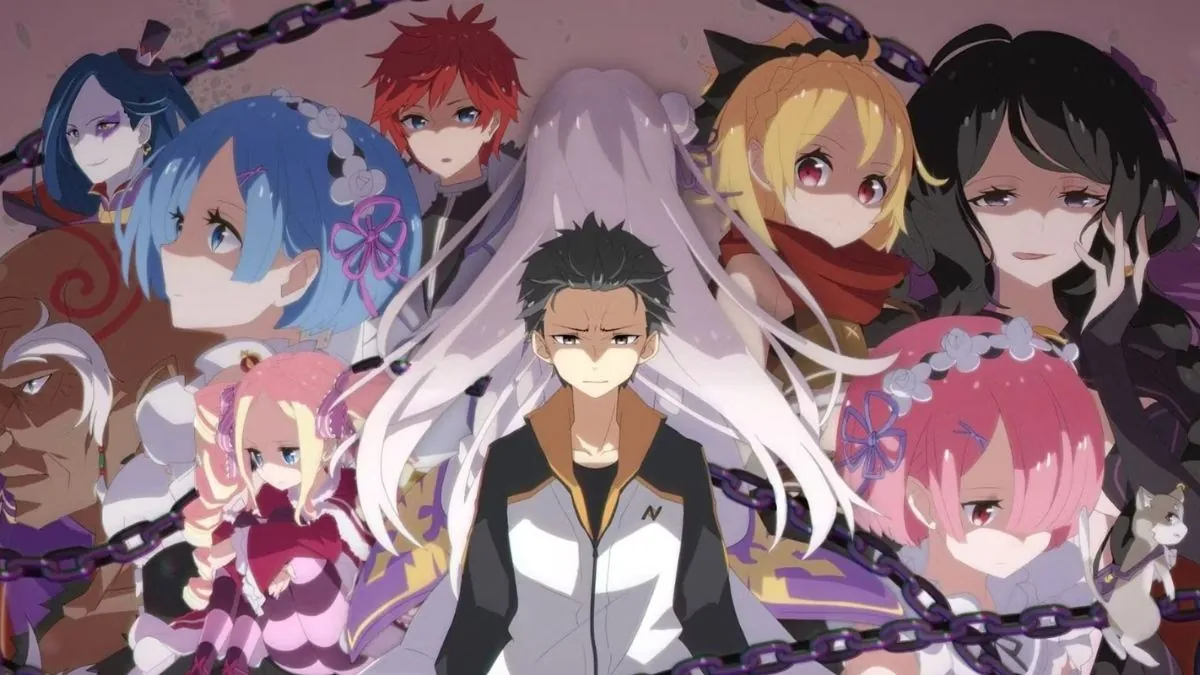 What Studio Is Producing Re Zero Season 3?
Re: Zero Season 3 will be produced by Silver Fox. The Studio is known for a few of the most well-rated anime ever, such as Steins, Gate and Steins; Gate 0. It is also home to the first season of the reverse isekai The Devil Is A Part-Timer!
Re Zero Season 3: Plot
Since Season 2 of "Re: Zero" only went up to "Arc 4" of the original light novels, White Fox still has a lot of "Re: Zero" to adapt (via Re: Zero Wiki). In the most recent arc, Subaru and Emilia tried to free the people of Sanctuary from a strange magical barrier that had trapped them.
In "Arc 5," where the anime will pick up, Subaru and his friends fight to bring the Royal Election Camps in Watergate City together so they can beat the Witch Cultists who have taken over. At the time, it needed to be clarified if the anime would only cover this part of the series or if it would keep going further into the series.
But fans can be sure that Season 3 will have many things that make "Re: Zero" what it is. In other words, "Re: Zero" will keep doing what it has always done, brutal and torturing the mind, since Subaru's "Return by Death" ability has always been both a gift and a curse. On the other hand, more information is probably being held back for the show's (hopefully) future release.
Where To Watch Re Zero Season 3?
As of now, there is no official announcement regarding the release of "Re:Zero" Season 3. However, based on the previous seasons, it is expected that the anime will be available on Crunchyroll.
You Can Also Take A Look At Other Anime  Shows' Upcoming Seasons' Release Dates We Have Covered:
Be Entertained And Informed With The Latest News At Topmovierankings.com!