The hit anime series That Time I got Reincarnated As A Slime returns with a much-awaited season 3. The news was made public during a sneak peek of the upcoming anime movie That Time I Got Reincarnated as a Slime. Scarlet Bond is the name of the film.
It Based on the popular light novel series of the same name, the addictive anime series "That Time I Got Reincarnated as a Slime"  has a unique premise, even for an isekai. Isekai anime has become very popular in recent years.
These shows follow an unlikely hero reborn in a magical world, often after a death. In "That Time I Became a Slime," the main character, 37-year-old salary man Satoru Mikami, gets stabbed by a robber and wakes up in a strange new place. But this show is different because the hero returns as a Slime, one of the weakest Monsters in this world.
The anime's first season was revealed early in 2018 and came out in the fall of the same year, quickly becoming a fan favourite. Due to the COVID-19 pandemic, the second season came out in January 2021. It came out in two parts of 12 episodes each, and the last episode aired in September.
Since then, fans of the hit show have been hoping for Season 3, and we're happy to say that it's coming. In this article we tell you everything about the That Time I Got Reincarnated As A Slime Season 3 Including Release date, Cast, Plot, Trailer & More!
That Time I Got Reincarnated As A Slime Season 3: Release Date
According to Crunchyroll, "That Time I Got Reincarnated as a Slime" finally has a date for the third season. After the success of the Scarlet Bond anime movie, the series' official website announced that Season 3 will start airing in Japan in the spring of 2024. The exact date is yet to be revealed. We will inform you as soon as we get the exact date, so stay tuned here for further updates.
That Time I Got Reincarnated As A Slime Season 3: Cast
At the time, there was no reason to think that all of your favourite voice actors from the first two seasons of "That Time I Got Reincarnated as a Slime" won't be back for the third season. That means Miho Okasaki will keep playing the main character, Rimuru, and we know that Hinata Sakaguchi's voice actor, Manami Numakura, will also be back because of the artwork that came with the Season 3 news.
Other Japanese voice actors from past seasons include Megumi Toyoguchi as the Great Sage, Chikahiro Kobayashi as the wolf-like Ranga, Asuna Tomari as the hobgoblin Gobta, Mao Ichimichi as the ogress Shion, and Kanehira Yamamoto as the goblin leader Rigurd. Mallorie Rodak will play Great Sage, Tyson Rinehart will play Ranga, Michelle Rojas will play Shion, Kent Williams will play Rigurd, and Ryan Reynolds will play Gobta in the English dub of the show.
That Time I Got Reincarnated As A Slime Season 3: Plot
"That Time I Got Reincarnated as a Slime" is based on a series of light novels written by Fuse and drawn by Mitz Vah. The series has reached Volume 20, but the English versions must catch up. Anime News Network says a note from the author in Volume 19 confirmed that they planned to end the story in the subsequent three volumes. Looking at the original level, we can get a good idea of where the anime is going.
By the end of Season 2, Part 1, Rimuri has become a Demon Lord, and all the people working for him have become an immortal army. Meanwhile, Demon Lord Milim Nava has destroyed the Beast Kingdom Eurazania, and Demon Lord Frey has killed Demon Lord Carrion. Rimuri finds out that Claymen might be behind the attack. She also changes the name of the demon Noir to Diablo and sets Veldora free, giving her a new body. In Part 2, fans see what happens after the attack of Tempest, when Veldora is set free, and when Carrion is thought to have died. But what's going to happen?
The fifth and sixth books of the light novel series are the main inspiration for the anime's second season. Season 3 will likely cover what happens in the following few books. In Volume 7, tensions are high because Rimuri sends a priest to Lubelius, where he is killed. Things calm down in Volume 8, which is mainly about a holiday in Tempest. The festival's main event is a fighting tournament with the legendary hero Lightspeed Masayuki. However, this only happens in Volume 9. We are still determining if that will happen on screen in Season 3 of the show.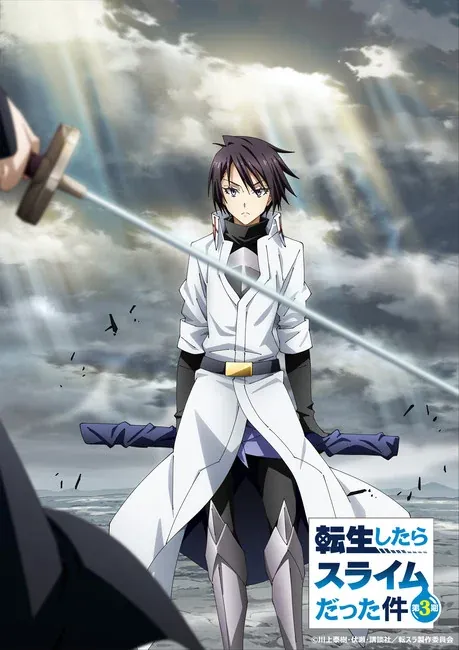 Where To Watch That Time I Got Reincarnated As A Slime Season 3?
You can watch the first 2 seasons on Crunchyroll. When "That Time I Got Reincarnated As A Slime" Season 3 is released, you will be able to watch it on the same platform.
Is There A Trailer Available for That Time I Got Reincarnated As A Slime Season 3?
No there is no trailer available for season 3. However you can watch season 2 trailer, below.
You Can Also Take A Look At Other Anime Tv Shows' Upcoming Seasons' Release Dates We Have Covered:
Be Entertained And Informed With The Latest News At Topmovierankings.com!