The latest list of Bigg Boss contestants includes Akhil Marar, Sagar Surya, Devu (Sreedevi Menon), Cerena Ann Johnson, Junaiz VP, Maneesha KS, Shiju Abdul Rasheed, Anjuz Rosh, and Nadira Mehrin. The Week 5 Eviction Process was over, and Akhil, Anjuz, Cerena, Junaiz, Nadira, Sagar, and Shiju were all safe.
Bigg Boss Season 5 5th week Elimination
The first two people to leave Bigg Boss Malayalam 5 were both eliminated at the same time. In the weekend episode, Mohanlal kicked out contestants Devu and Maneesha. Unlike usual, superstar Mohanlal met the contestants through video conferencing because he was on a family holiday in Japan then. The host started the removal process after talking about some of the essential things in the house last week.
At first, the star said that Sagar, Junaiz, Akhil, and Cerena would not leave the house. Further, Nadira, Anjuz, Maneesha, Devu, and Shiju were in the danger zone. After saying that Shiju would stay on the show, the host said that Devu would have to leave.
On the show, they played a film of her best scenes. Devu thanked everyone for the chance and gave Aniyan Midhun her job as a leader. After a while, the host, Mohanlal, surprised everyone by saying it was a double-eviction week and Maneesha was out of the game.
Find some other Bigg Boss Malayalam Season 5 articles:
Bigg Boss Malayalam 5 Voting Poll Results Online 5th Week Percentages – 24th April 2023

Akhil 34.4% (43 votes)
Sagar 15.2% (19 votes)
Aishwarya 9.6% (12 votes)
Junaiz 8.8% (11 votes)
Cerena 8% (10 votes)
Nadira 5.6% (7 votes)
Shiju 5.6% (7 votes)
Sreedevi 4.8% (6 votes)
Anjuz 4% (5 votes)
Maneesha 4% (5 votes)
Bigg Boss Malayalam Season 5 Week Wise Captain List
Week 1 – No Captain
Week 2 – Akhil
Week 3 – Sagar
Week 4 – Shobha
Week 5 – Shobha
Contestants List Who Get Eliminated 
| | |
| --- | --- |
| Maneesha KS | 5th week |
| Devu | 5th week |
| Lachugram (due to bad health) | 5th week |
| Gopika Gopi | 4th week |
| Angeline Maria | 3rd week |
| Hanan Hamid ( Left show due to bad health) | 3rd week |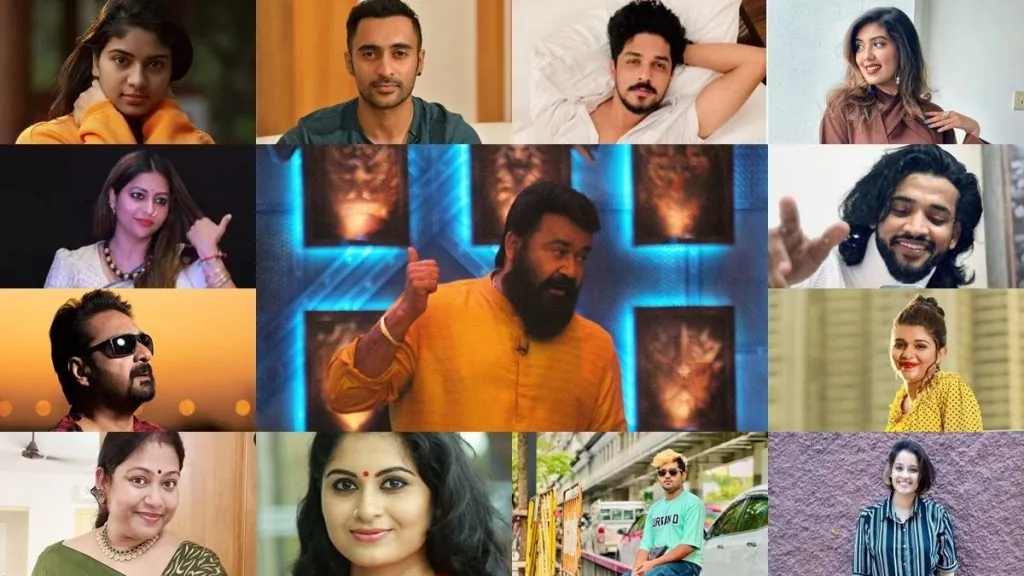 Bigg Boss Malayalam 5 Contestants List
Reneesha Rahiman – Malayalam TV actress
Rinosh George – Singer-Songwriter & Actor.
Cerena Ann Johnson – A Dubai-born MBA student, model and Miss Queen Kerala 2022 winner
​​Junaiz VP​ – Youtuber, social media influencer and content creator.
Akhil Marar – A Malayalam film director
Anjuz Rosh – TV Actress and VJ.
Maneesha K S – Malayalam Actress and Singer
Aniyan Midhun – Wushu Champion, known as Son of the Arabian Sea
Nadira Mehrin – Transgender Journalist and actress
Aishwarya Suresh – A South African Born Dancer and Actress
Shiju Abdul Rasheed – Film and TV Actor
Sruthi Lakshmi – Film and TV actress
Gopika – A courier agency employee
Sobha Viswanath – An entrepreneur, fashion designer and the founder of a clothing line
Sagar Surya – Film and TV Actor
Vishnu Joshi – A Fitness trainer.
​​Angeline Mariya​ – A film actress.
Sridevi Menon – Social media influencer known as 'Viber Good Devu'
Discover the hottest news and trends in entertainment at Topmovierankings.com! Follow us on Facebook, Pinterest, Twitter, and Instagram to be part of our vibrant community and share your thoughts with us.