Anveshippin Kandethum, a much-awaited Indian-Malayalam movie, has made waves on social media since its announcement. The curiosity about the movie's release date has been mounting among ardent movie fans. The film is helmed by filmmaker Jinu V Abraham and will feature actors Tovino Thomas and Aadhya Prasad in main role.
About Anveshippin Kandethum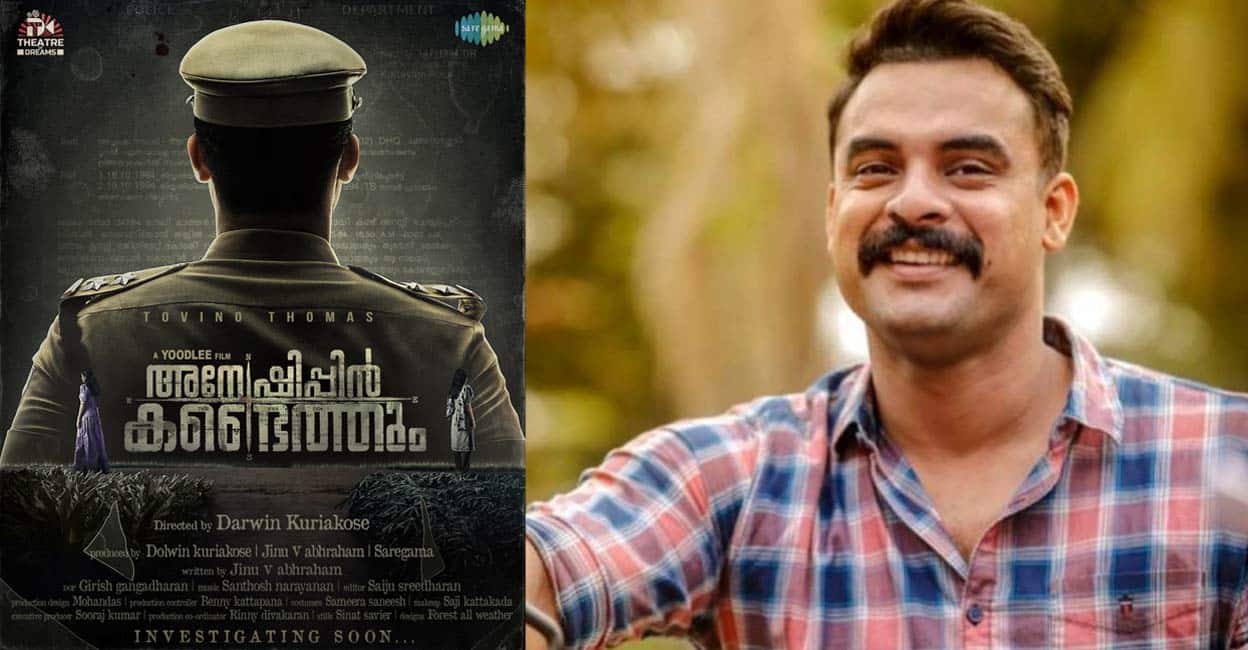 Anveshippin Kandethum is a Malayalam investigative thriller film starring Tovino Thomas and a newcomer named Aadhya Prasad. After the tremendous success of Kaduva, this film was directed by a newcomer, Darwin Kuriakose, and written by a renowned director, Jinu V. Abraham. Director Darwin Kuriakose, writer Jinu V Abraham, and Saregama under Theatre of Dreams and Yoodlee Film banners produce Anveshippin Kandethum. It is the second film directed by Theatre of Dreams following Kappa's tremendous success.
After Thankam, Gautham Sankar is the cinematographer of "Anveshippin Kandethum," and Saiju Sreedharan is the editor. Initially, Girish Gangadharan was announced as the cinematographer. Aneev Sukumaran is the Chief Associate Director of the film Anveshippin Kandethum. Anveshippin Kandethum also is the first Malayalam film for which one of South India's finest music directors, Santosh Narayanan, composed the music and background score, with Santhosh Varma providing the lyrics.
Happy birthday Darwin and Dolwin ! Glad to associate with the awesome @ttovino and team for #AnweshippinKandethum pic.twitter.com/TcgXOWRCYD

— Santhosh Narayanan (@Music_Santhosh) February 17, 2023
'Not the story of investigations, but the level of investigators'- Story Plotline
The film's tagline is "Not the story of investigations, but the story of investigators," and it is set in the 1990s. The high-budget film 'Anveshippin Kandethum' is one of Tovino's most significant works. Departing from the typical formula for an investigation, the film tells the story of detectives.
.@ttovino 's next #AnweshippinKandethum shoot started 🔥#TovinoThomas pic.twitter.com/UjEXQdgQVk

— AB George (@AbGeorge_) March 6, 2023
This film's plot is developed through the character of the newly appointed service commander, SI Anand. Darvin Kuriakos presents the film as a family-friendly comedy focusing on SI Anand's professional and personal life with youthful radiance, dynamism, and an amateur's zeal. Conflicts, conflicts, and heartfelt moments make this film extremely audience-relatable. This film's plot progression is entirely in the thriller-instigating genre.
Anveshippin Kandethum  Star Cast
Siddique, Indrans, Baburaj, Harisree Ashokan, Shammi Thilakan, Pramod Veliyanad, Vineeth Thattil, Rahul Rajagopal, and Ramya Suvi of Nanpakal Nerathu Mayakkam are among the 70 stars in the film's cast.
Tovino Thomas

Aadhya Prasad

Jaffer Idukki

Nandhu

Vijayakumar
First Look Poster
Here is the first look poster of #AnveshippinKandethum! 😊
'അന്വേഷണങ്ങളുടെ കഥയല്ല… അന്വേഷകരുടെ കഥ…'

Thank you everyone for the lovely birthday wishes!! Thank you all my dear colleagues for launching the first look poster!! 🙏🏼🥰 pic.twitter.com/r4m2r2mEfI

— Tovino Thomas (@ttovino) January 21, 2021
The title look poster was released on January 21, 2021, Tovino's birthday. On May 5, 2022, the movie "Anveshippin Kandethum" released a poster featuring Tovino Thomas as tI Anant Narayanan. On March 6, 2023, a simple ceremony was held before the Kottayam Thirunakkara Mahadeva Temple for the film's pooja.
Is There A Trailer For The Movie?
Anveshippin Kandethum's trailer and teaser will be released soon.