The Adipurush New Poster, an upcoming Indian action drama, has been released, creating a buzz among fans. Directed by Om Raut and produced by Bhushan Kumar and Prasad Sutar, Adipurush is based on the Hindu epic Ramayana. Starring Prabhas as Lord Rama and Kriti Sanon as Sita, this movie will surely be an action-packed visual treat.
About Adipurush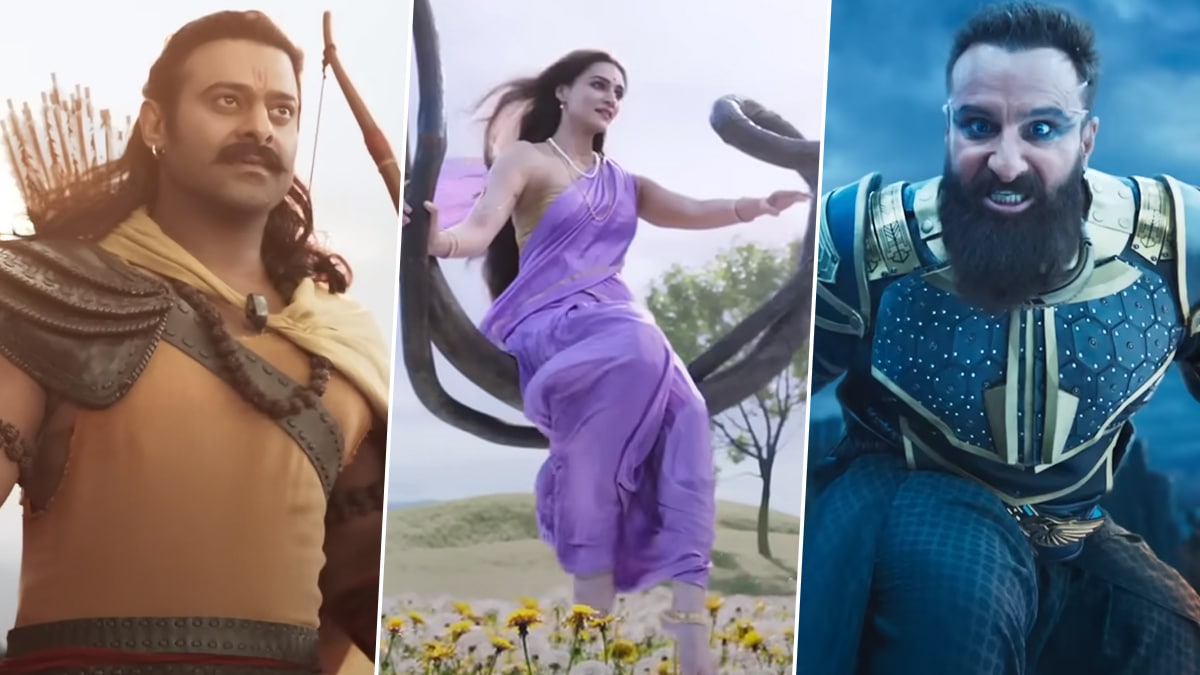 It is a historical action film that draws inspiration from the epic Ramayana and stars Prabhas as the title character, Ram (Adipurush), and Kriti Sanon as Janaki. It is one of Prabhas's most anticipated upcoming films. (Sita). Saif Ali Khan will portray the antagonist Lankesh/Ravana. The renowned actor Sunny Singh (Pyaar ka Punchnaama) portrays Lakshmana, the younger brother of Lord Rama. Significant roles are played by Devdatta Nage (Tanhaji) as Hanuman, Vatsal Sheth, and Trupti Toradmal.
Also Check: Prabhas  Adipurush Release Date: The Indian Epic Movie Gets a Release Date!
On the occasion of Ram Navami, the new poster for the magnum opus Adipurush by Om Raut was unveiled recently. The poster depicts Prabhas as Ram, Kriti Sanon as Sita, Sunny Singh as Laxman, and Devdatta Nage as Bajrang in traditional costumes. Kriti and Prabhas shared the poster with the caption, "Antron se badhke tera naam Jai Shri Ram."
Om Raut rushed to the Vaishno Devi Temple earlier this week to seek blessings for the film's success. Before officially commencing film promotion, the director and producer Bhushan Kumar went to the famous temple to offer prayers. The film was initially scheduled to debut in January of this year. However, after much backlash and trolls regarding poor VFX quality, the release date was pushed back.
*To a Mangalkaari Shurwaat!*
Seeking divine blessings at Vaishno Devi 🙏#Adipurush releases IN THEATRES on June 16, 2023 in 3D.#Adipurush #Prabhas @omraut #SaifAliKhan @kritisanon @mesunnysingh #BhushanKumar #KrishanKumar @vfxwaala @rajeshnair06 #ShivChanana pic.twitter.com/V0d3j3boL1

— T-Series (@TSeries) March 28, 2023
Adipurush Release Date
On Tuesday, it was announced that Om Raut's magnum opus "Adipurush" would premiere in 3D on June 16, 2023. Prabhas, who starred in "Baahubali," was slated to be the film's main attraction, and January 2023 had been set as its release date. The original release date was set for August 11, 2022, and with Saif Ali Khan, Kriti Sanon, and Sunny Singh in tow, Bhushan Kumar of T-Series and Raut visited the Shri Mata Vaishno Devi temple to pray for good fortune.
On October 2, 2022, a massive teaser launch ceremony took place in Ayodhya, the city where Lord Rama was born, on the banks of the Saryu River. This marked the debut of the trailer for the forthcoming film Adipurush. The event was attended by notable cast members, including Kriti Sanon, Prabhas, Sunny Singh, and director Om Raut. Simultaneously, the teaser was uploaded to the official "T-Series" YouTube account.
Also Check Other Articles On Release Date
Karthikeya 3 Release Date: Will There Be Third Sequel For Karthikeya?!