Wardell Stephen "Steph" Curry II, popularly known as Steph Curry or "the baby-faced assassin," is widely recognized as the most excellent shooter in basketball history. His remarkable skills and unparalleled shooting prowess have revolutionized the game, leading to the ascension of the 3-point shot as a valuable skill in today's NBA. Throughout his career with the Golden State Warriors, Curry has amassed an impressive collection of championship rings, solidifying his status as one of the game's all-time greats.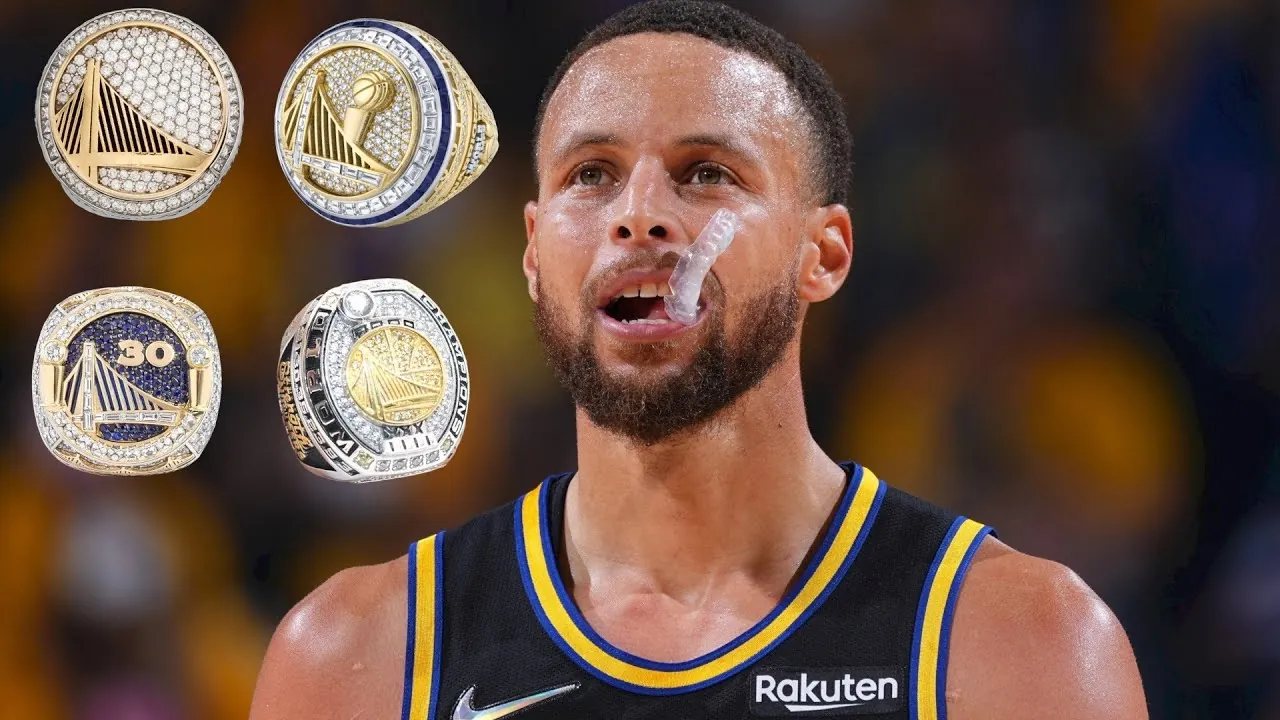 How many rings does Stephen Curry have?
---
Stephen Curry has accumulated four championship rings throughout his 13 seasons in the NBA. These rings represent the pinnacle of team success and testify to Curry's exceptional talent and contributions to the game.
Stephen Curry is the first player to win 4 rings on the same team since Kobe Bryant and Tim Duncan🏆🙌 pic.twitter.com/j7tWTowvS4

— NBA Memes (@NBAMemes) August 14, 2022
Stephen Curry's Championship Years
---
According to Sportskeeda, Curry's championship victories occurred in the following years: 2015, 2017, 2018, and 2022. Each championship run showcased the Golden State Warriors dominance and Curry's instrumental role in leading the team to victory.
Stephen Curry's NBA Finals Record
Stephen Curry has made six NBA Finals appearances throughout his career, with a record of three wins and three losses.
2015 NBA Finals: Warriors vs. Cavaliers – Result: GSW won 4-2

2016 NBA Finals: Warriors vs. Cavaliers – Result: Cavs won 4-3

2017 NBA Finals: Warriors vs. Cavaliers – Result: GSW won 4-1

2018 NBA Finals: Warriors vs. Cavaliers – Result: GSW won 4-0

2019 NBA Finals: Warriors vs. Raptors – Result: Raps won 4-2

2022 NBA Finals: Warriors vs. Celtics – Result: GSW won 4-2
NBA players to have won two MVPs and 3 rings over four seasons:

1. Bill Russell
2. Michael Jordan
3. Stephen Curry

Elite⚡️ pic.twitter.com/HyVnKFoisL

— ³⁰🎯 (@PlayoffCurry) January 11, 2020
What teams did Stephen Curry win championships with?
---
Stephen Curry won all four championship rings with the Golden State Warriors. The Warriors' roster, including Curry, demonstrated exceptional teamwork, skill, and determination in achieving these remarkable victories.
2015 Championship Ring
In 2015, Curry led the Golden State Warriors to exceptional regular-season performance, setting a franchise record with a 24-0 win streak. Curry's brilliance and unanimous selection as the regular-season MVP contributed significantly to the team's success.
2017 Championship Ring
The Warriors regrouped and added Kevin Durant after their heartbreaking loss in the 2016 NBA Finals. This acquisition solidified their status as favorites, and the team delivered a dominant postseason performance, finishing with a record of 16-1.
For more details on celebrity news check out the posts given below:
2018 Championship Ring
The 2018 season saw the Warriors continue their dominant run, with Steph Curry and his teammates consistently displaying superiority over other teams. Despite facing some competition from the San Antonio Spurs, the Warriors proved their mettle and secured another championship.
3 years ago today, Stephen Curry went for 33 PTS and 8 AST in Game 2 of the 2018 Finals. He set a new NBA Finals record with 9 made threes.

Steph scored 16 PTS (5-5 3P) in the 4th quarter. pic.twitter.com/FXINiZHkFg

— Antonin (@antonin_org) June 3, 2021
2022 Championship Ring
Steph Curry's most recent championship in 2022 was hard-fought, as the Warriors overcame significant odds to reach the NBA Finals and defeated the defensively sound Boston Celtics in a six-game series.
"He's one of the greatest players this league has ever seen."

Stephen Curry's 2022 NBA Finals was absolutely spectacular. pic.twitter.com/AA9OFeGnSq

— Golden State Warriors (@warriors) July 4, 2022
Steph Curry V/S Lebron James: Who Won More Rings?
---
Stephen Curry v/s LeBron James have won four NBA championships with their respective teams. In 2012 and 2013, LeBron James won two titles with the Miami Heat. In 2016 and 2020, he won with the Cleveland Cavaliers and the Los Angeles Lakers, respectively.
Conclusion
---
Stephen Curry's four championship rings testify to his incredible skills, influence, and impact on basketball. His exceptional shooting abilities and leadership have brought success to the Golden State Warriors and inspired a generation of players to improve their shooting prowess. As a legendary figure in the NBA, Curry's rings symbolize his legacy and secure his place among the sport's all-time greats.