The Kardashian-Jenner family has been on TV for a long time. Their lives are open books that everyone has read and to which new parts are added almost always. From the release of Kim Kardashian's s*x tape to her famous marriage to Kanye West and subsequent split, and all the drama that followed, anyone would be glued to the screen.
But that's just the tip of the iceberg. The rumors of Kylie Jenner and Timothée Chalamet dating have brought smiles to everyone's faces. Now, another Jenner sister is trying to stay in the social media conversation by sparking talks about pregnancy. However, one particular moment raised alarm bells among viewers when a producer asked Kendall Jenner how the pregnancy was going.
As a result, viewers are now wondering if Kendall Jenner is pregnant. Kendall is the only sister in the family who hasn't had kids yet and is currently dating Bad Bunny. In this article, we will provide you with all the information and debunk the rumors surrounding Kendall's supposed pregnancy.
Who Is Kendall Jenner?
Kendall Jenner is an American model, television personality, and social media influencer. She was born on November 3, 1995, in Los Angeles, California. Kendall gained prominence as a member of the Kardashian-Jenner family, who rose to fame through their reality television show, "Keeping Up with the Kardashians."
As a model, Kendall has achieved significant success in the fashion industry. She has walked the runway for renowned fashion brands such as Chanel, Marc Jacobs, Versace, and Victoria's Secret. Kendall has also appeared in numerous high-profile fashion magazines and campaigns.
Apart from her modeling career, Kendall has ventured into various business endeavors. She has collaborated with several fashion brands, launched her own clothing line, and has a strong presence on social media platforms.
Kendall Jenner is known for her striking looks, tall stature, and her ability to adapt to different fashion styles. She has become one of the most recognizable faces in the fashion industry and continues to be a prominent figure in popular culture.
Is Kendall Jenner Pregnant?
No, Kendall is not pregnant. The rumors about Kendall Jenner's pregnancy started to spread on social media after a producer asked Kendall, "How is the pregnancy going?" in a trailer for The Kardashians season 3 episode 4. The camera then cuts to Jenner smiling, and the scene goes black. Social Media were all filled with rumors that Kendall was pregnant.
But only some people are buying this. So fans are wondering: Is Kendall Jenner pregnant? Even though no one in the Kardashian-Jenner family has said either way, the story has since been told to be false. So the answer is no, Kendall is not pregnant even though she is dating Bad Bunny.
But Now There's The Question Of Whose Pregnancy The Producer Was Referring To In The Trailer?
It turns out that her horse is pregnant, and Kendall is treating it like a real pregnancy. A few months ago, the reality star asked her family for a strange birthday gift: horse sperm. So she could get her favorite mare pregnant.
During season 2 of The Kardashians, which aired in November 2022, she said, "Oh my God, I'm going to have a baby!" but it was her mare having a child. The businesswoman has been treating it like a baby carried by a surrogate. Not everyone online agreed, though.
So, Kendall posted a picture of herself in a bikini on Instagram to end the rumors. The photo showed that her stomach was flat. She put it up just a few days after the new show and talked about the pregnant horse. Kendall has made jokes about being the only Kardashian-Jenner family member who doesn't yet have a child. But she's not against having a child. The 27-year-old celebrity wants to wait until the right time.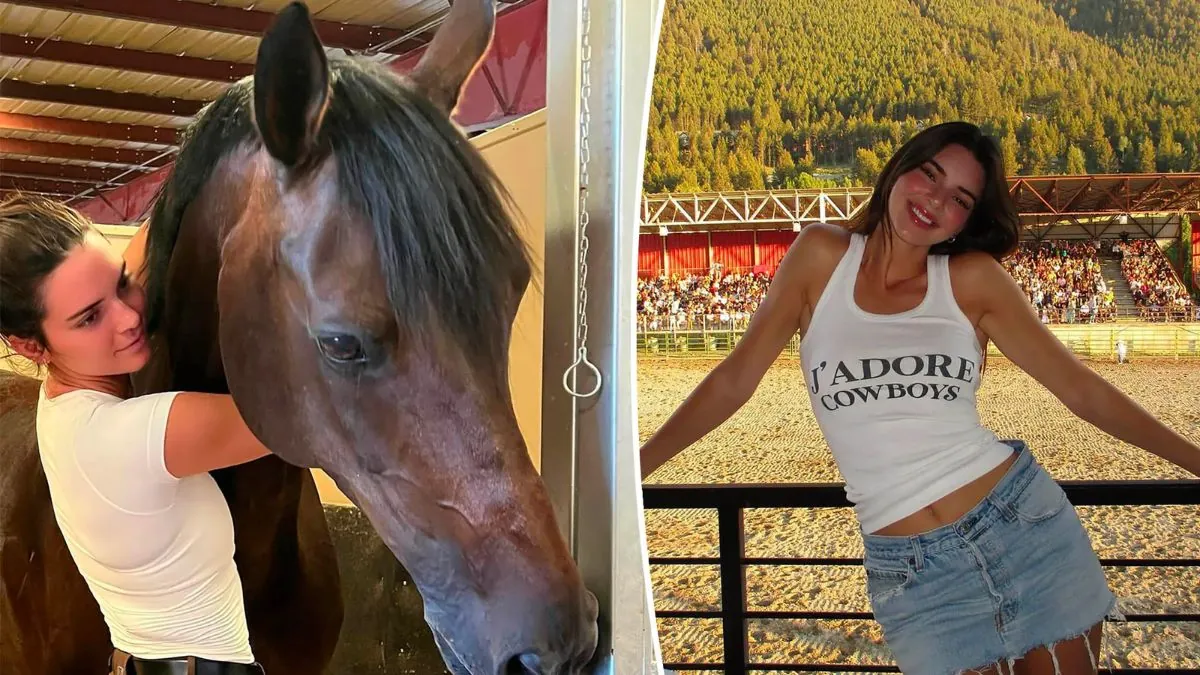 Fans Also Ask Is Kylie Jenner Pregnant?
People also talked about Kylie's pregnancy in many social media posts. Notably, this is the first time there have been rumors about Kylie being pregnant since she and Travis Scott had their son Wolf Webster in February 2022. Since then, Travis and Kylie have broken up, and the reality star is now dating the Hollywood actor Timothée Chalamet.
Recently, pictures were taken of the two talking and walking around. Some people on social media wondered if Kylie's pregnancy was the reason for this connection. But neither the TV star nor her family has said anything about it. But this is strange because pregnancies always used to be talked about. So, it looks like she's not going to have a baby.
Kendall Jenner And Bad Bunny Relationship
Kendall Jenner is dating the singer Bad Bunny. In February 2023, they were joined for the first time. But they are no longer trying to hide their connection. They started dating in February, and their relationship is going well now. But Kendall still needs to post about her new boyfriend on Instagram, and she still needs to bring him up on The Kardashians. At a game between the Lakers and the Warriors in May 2023, they were seen talking and laughing together. Before that, they went horseback riding together in April.
You Can Also Take A Look At Other Celebrity Pregnancy Rumors We Have Covered:
Be Entertained And Informed With The Latest News At Topmovierankings.com!