Alex Murdaugh's older son, Buster Murdaugh, testified at the murder trial that his father was a loving family man. After his father was sentenced to two lifetimes in prison for killing his mother and brother, Buster was seen with his girlfriend, Brooklynn White, for the first time.
Buster Murdaugh's girlfriend was always with him during the high-profile murder trial of his shamed lawyer father, Alex Murdaugh. During the six-week hearing in South Carolina, his flame-haired son was often seen being comforted by his girlfriend, Brooklynn White.
People have been worried about Buster's lover, Brooklyn White since he testified in his father's defence last month. This is because prosecutors told the public about the troubled past of the Murdaugh family, which included strange deaths from several years ago.
Concerns grew after a Netflix documentary about the Murdaugh family said that Buster was involved in the death of Stephen Smith in 2015. Smith died near the Murdaugh farm under mysterious circumstances in 2015. We've noticed a woman supporting Buster who's reported to be his girlfriend. So, who is Buster Murdaugh girlfriend Brooklynn White?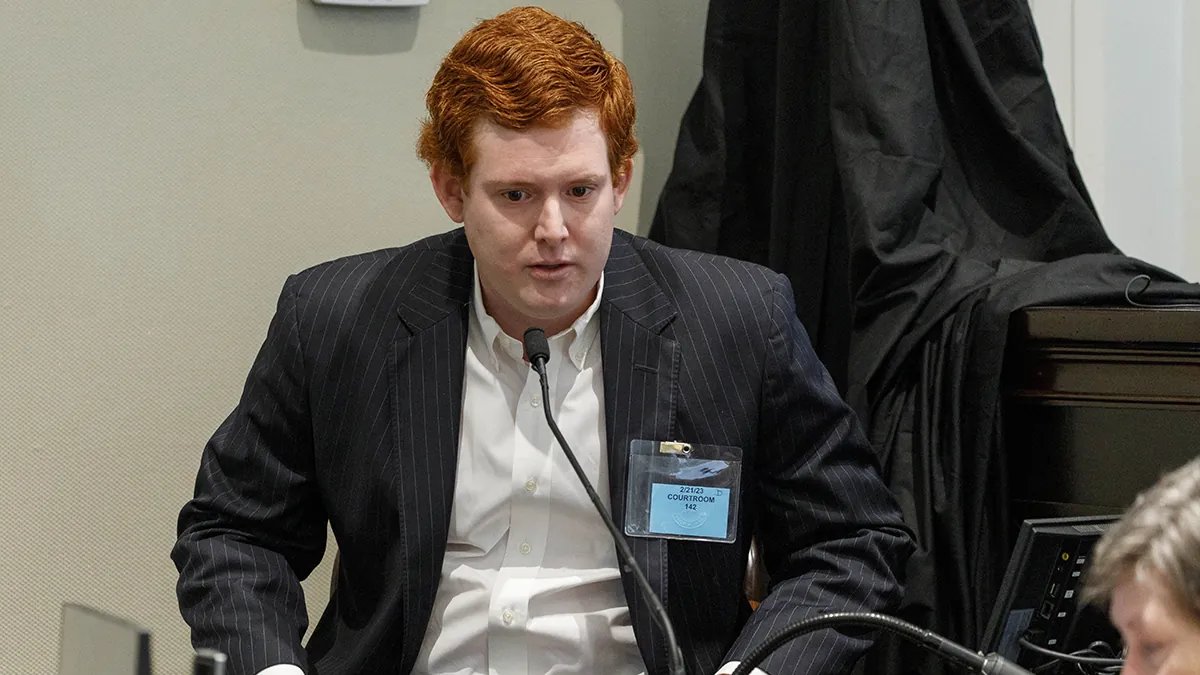 Who Is Buster Murdaugh girlfriend Brooklynn White?
Brooklynn White was born in Rock Hill, SC, but in 2014, he moved to Alabama to attend college. According to her LinkedIn, she has a BA in political science from the University of Alabama. White then showed interest in law and order by becoming a juris doctor candidate at the University of South Carolina Law School between 2018 and 2021.
During that time, White did internships at a few law companies along the coast of South Carolina and became a criminal law tutor at the school, as shown on her LinkedIn page. After graduating, White started working at the Hilton Head law company Olivetti, McCray & Withrow in the fall of 2021. The firm's website says she mainly works on estate planning, probate, and trust management.
How Did Buster Murdaugh And Brooklynn White Meet?
Buster is believed to have met his girlfriend while studying at the University of South Carolina Law School. Buster was also a law student at USC, where his father attended school. He was kicked out for suspected plagiarism, the Wall Street Journal reported at the time.
When Did This Couple Start Dating?
It isn't clear when the pair officially got together, but they were dating when Buster's mother, Maggie, and brother, Paul, were murdered in June 2021. During the high-profile trial, it was said that Brooklynn was with Buster when his father called to tell him about their deaths.
After the killings, she helped her boyfriend pack and stayed with him with the Murdaugh family. During the trial, Buster said that he stayed with his dad "for a good while" after the murders but finally left to live with his girlfriend in Rock Hill and commute to his job in Charlotte.
Property records show that Brooklynn bought a $180,000 home in Hilton Head later in 2021. The couple has been living there alone since March 3, when Murdaugh was found guilty. After Murdaugh was sentenced to life in prison, the couple was seen taking their two dogs for a walk.
You Can Also Take A Look At Other Celebrity Girlfriend, We Have Covered:
If you want to read out more articles relating to your favorite celebrities then you can join us on our Twitter account.