Alexandra Daddario, a renowned celebrity, may not be a household name for everyone, but her presence on-screen often sparks recognition among audiences. Throughout her acting career, Daddario has consistently appeared in films and television shows, taking on lead roles, supporting characters, and even smaller parts across various genres ranging from slasher movies to prestigious television productions.
Daddario has cultivated a devoted and enthusiastic fan base, who have enthusiastically envisioned her in prominent roles such as Wonder Woman and Zatanna. While Daddario's films may not always receive widespread critical acclaim, she remains a cherished star. Was there a singular iconic role that propelled Alexandra Daddario to fame, or was it the culmination of her diverse roles? Daddario's fame can be attributed to several factors, including the projects she has undertaken, which have contributed to her becoming an icon. Let's explore Why Is Alexandra Daddario So Famous?
Why Is Alexandra Daddario So Famous?
Alexandra Daddario, a renowned American actress, has gained fame through her notable performances in movies and television shows. Her breakthrough role as Annabeth Chase in the 2010 film Percy Jackson & Olympians: The Lightning Thief played a crucial role in establishing her presence in the industry.
Daddario's television career is also notable, with recurring roles on All My Children and White Collar, as well as appearances in popular shows like Law & Order. The 2017 movie Baywatch, in which she portrayed the character Summer Quinn, achieved commercial success and contributed to her popularity. Furthermore, her role in the 2021 television series The White Lotus, particularly the attention-grabbing bikini scene, has garnered significant recognition.
It is worth mentioning that Daddario's career took a turning point with her bold nude scene in the 2014 television series True Detective, which is said to have had a profound impact on her overall trajectory in the industry.
Expand your knowledge by checking out other posts:
Is Alexandra Daddario Family Is Famous?
Alexandra Daddario gained fame, but her family also holds a significant reputation. She is the daughter of Richard Daddario, who served as the former head of the New York City Police Department counterterrorism unit, and Christina Daddario, a lawyer. Additionally, her grandfather, Emilio Q. Daddario, was a notable Democratic member of the United States House of Representatives for Connecticut from 1959 to 1971.
It should be noted that Alexandra Daddario and her brother Matthew Daddario, who is also an actor, are not solely famous due to their family background. They possess individual talent, but their family's influential positions and connections did provide them with an advantage. These advantages helped Alexandra Daddario establish a foothold in the industry, but it is her own acting ability that has allowed her to maintain a prominent public presence.
Percy Jackson Kicked Off Her Career
Daddario's career took off after her role as Annabeth Chase in the 2010 film Percy Jackson & Olympians: The Lightning Thief. Prior to that, she had recurring roles on All My Children and White Collar, as well as minor appearances on popular television series like Law & Order. Daddario reprised her character in the 2013 sequel Percy Jackson: The Sea of Monsters. Although the Percy Jackson movies received mixed reviews from fans, Daddario's performance garnered significant praise from those who watched the film.
Following her breakthrough in Percy Jackson, Daddario transitioned into the world of movies, landing leading roles in various genres. She starred in raunchy comedies such as Hallpass, horror films like Texas Chainsaw 3D, and romantic comedies like When We First Met. Additionally, she became a regular presence in Dwayne Johnson's films, initially playing his daughter in San Andreas and later joining him as a fellow lifeguard in Baywatch. This progression firmly established Daddario as a prominent movie star.
She Is An Icon In Many Terms
Alexandra Daddario has garnered multiple fan bases throughout her extensive and diverse career. Her involvement in various genres, such as horror films like Mayfair Witches, Texas Chainsaw 3D, and We Summon Darkness, has earned her the title of a scream queen. Additionally, her performances in action-packed movies like the Percy Jackson series and San Andreas have solidified her position as an action heroine. It's no wonder that many individuals express a desire to see her take on a superhero role.
Daddario's striking appearance has also landed her a spot on numerous online lists of the most beautiful actresses, establishing her as a sex symbol. She has embraced this status directly in projects like Baywatch, while also playfully subverting it in humorous ways, as evident in The Layover. The series Why Women Kill effectively balances both aspects, initially presenting her as an immensely attractive and captivating woman, only to later unravel dark truths and challenge the extent to which her beauty influences people's perceptions of her.
Alexandra Daddario Has A Massive Instagram Following
Alexandra Daddario, like many digital age celebrities, actively engages with social media to express her opinions and promote her upcoming projects. Her Instagram account boasts an impressive fan base, with nearly 24 million followers.
Within her Instagram account, Daddario personally requests her followers to address her as "Alex" and includes a link to the mental health resource On Our Sleeves in her official bio. She frequently shares posts about On Our Sleeves' efforts to combat childhood mental health disorders.
As a spokesperson for the organization, Alexandra Daddario collaborates with other notable entertainers such as David Arquette, David Archuleta, and former Governor of Ohio, John Kasich.
In addition to sharing captivating photos and videos on Instagram, Alexandra Daddario maintains a substantial presence on Twitter. She actively communicates with her one million followers, providing updates on her ongoing projects and television roles. Moreover, she occasionally retweets posts from entertainment journalists who discuss her work.
Alexandra Daddario has utilized the platform not only for promotional purposes but also to defend the honor of others, such as Meghan Markle, the Duchess of Sussex.
Alexandra Daddario Is Married To Producer Andrew Form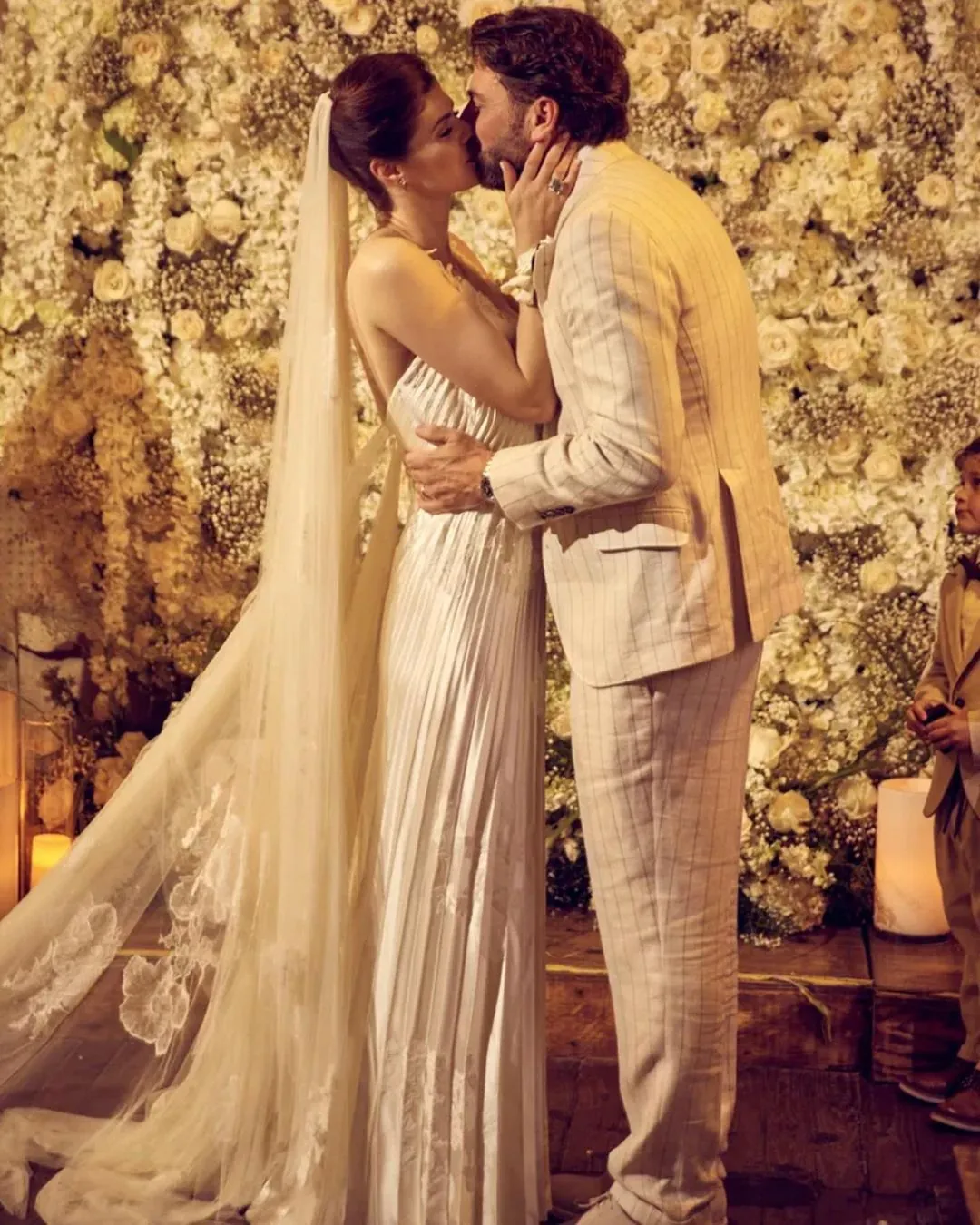 In 2020, Alexandra Daddario began a romantic relationship with producer Andrew Form, and they later tied the knot in 2022, as reported by E! News. Andrew Form has established himself as a prominent figure in the entertainment industry through his work as a producer on successful films such as The Purge, the 2014 remake of Teenage Mutant Ninja Turtles, and 2009's Friday the 13th. While working on 2006's The Texas Chainsaw Massacre: The Beginning, Form met his first wife, Jordana Brewster, who is known for her role in the Fast & Furious franchise.
Andrew Form has collaborated extensively with director Michael Bay and more recently, he has teamed up with actor and director John Krasinski. Together, they have worked on the critically acclaimed film A Quiet Place and its 2020 sequel. Looking ahead, 2024 holds great promise for Andrew Form as he is set to produce the film IF alongside Ryan Reynolds. The movie will be directed and written by John Krasinski, and it will feature Reynolds, Krasinski, Fiona Shaw, Steve Carell, and Phoebe Waller-Bridge.
Stay up-to-date and entertained by visiting Topmovierankings.com today!