School Spirits is an American supernatural teen drama TV show premiered March 9, 2023. All episodes from the first season of School Spirits can now be streamed on Paramount+. We won't tell you what happens in the last episode, "Madison's Body," but we will say that it will make you want to see more of this series. 
We've been on this murder mystery ride with Maddie Nears since she woke up in the boiler room of Split River High without remembering how she got to the afterlife. She and her friends have been trying to figure out what happened to her for eight episodes. Most people in town thought she had run away or gone missing, but her best friend Simon could see her ghost.
It was a strange and sad thing that happened, but it led to moments of closure and exciting reveals that kept us on the edge of our seats every week. In This Article We Will Tell You About School Spirits Season 2: Is It Officially Cancelled?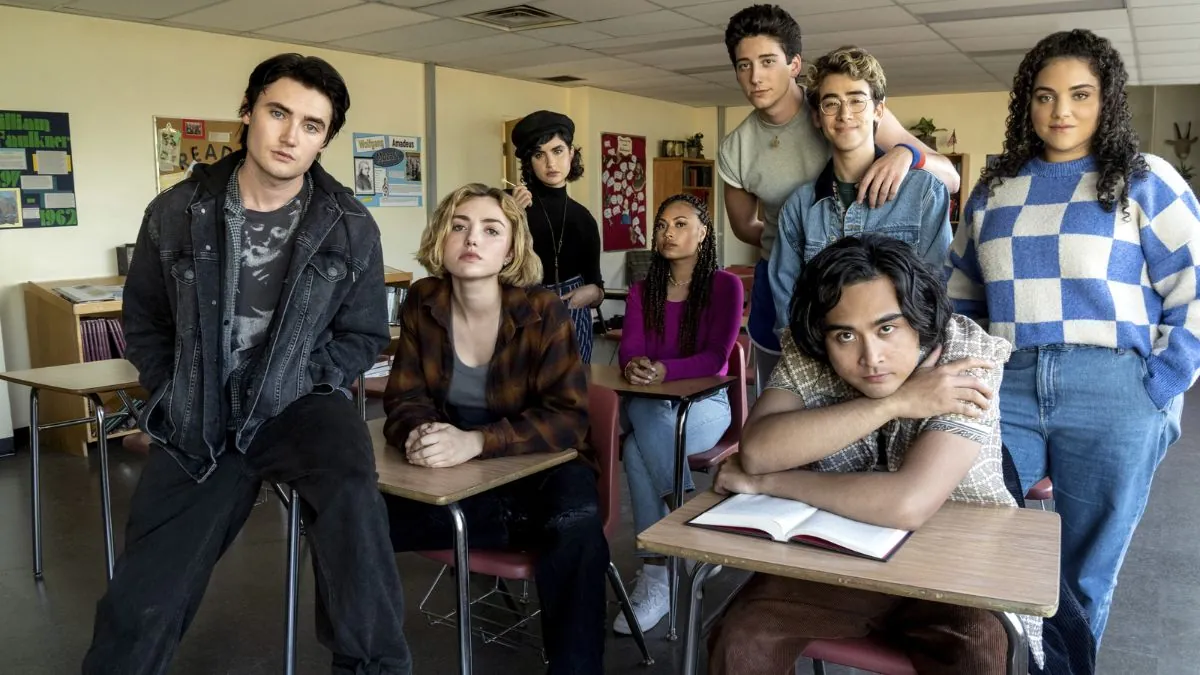 School Spirits Season 2: Is It Officially Cancelled?
It's not canceled, though. Going into the season finale, we didn't know that the show wouldn't be back, and it was never meant to be a limited series, so this story is meant to keep going. Still, we're waiting for renewal. Since the last episode just came out, it could be a while before Paramount+ tells us if School Spirits have been canceled or renewed. It could take a few weeks to a few months to hear more about this, so we might have to wait.
If the show is renewed, we can probably expect most of the cast to return since we were in the middle of a shocking reveal that took the story in an unexpected direction. As news comes in, we'll let you know.
To discover more about the upcoming series, feel free to explore our earlier posts where we've covered all the details pertaining to its release.
What Are 'School Spirits' About?
School Spirits follow Maddie (played by Peyton List), a high school student who finds herself in the afterlife at her high school due to mysterious circumstances surrounding her death, which she does not remember. There, she encounters a support group of ghosts who have also died at Split High School and are stuck between life and death.
Oliver Goldstick, Who Is Best Known For Show running Pretty Little Liars, High School Musical: The Musical: The Series, And Working On Shows Such As Ravenswood And Ugly Betty, Is The Series' Showrunner. Nate Trinrud and Megan Trinrud serve as executive producers and cocreators of School Spirits alongside Oliver.
Cocreator Nate Trinrud told J-14 exclusively about the show's inspiration, "It's going to sound a little bit like word soup because we took inspiration from so many different sources." "However, The John Hughes Films, The Breakfast Club, and Ghost — the films of the 1990s — were a major source of inspiration for us. It is one of my all-time favorite movies. Then, great series such as Veronica Mars certainly influenced what we wanted to create."
How Many Episodes Are In School Spirits Season 1?
This First Season Of "School Spirits" Has Eight Episodes.
Where Was School Spirits Season 1 Filmed?
The film School Spirits were shot in Vancouver, British Columbia, and Canada.
Any Trailer For School Spirits Season 2?
There Is No Trailer For School Spirits Season 2. Here You Can Watch the Trailer Of Season 1.
Similar Show Like: School Spirits
If You're Looking For Similar Shows To "School Spirits," Which Is A Paranormal Docudrama Series That Features Eyewitness Accounts Of Supernatural Experiences On College Campuses, Here Are Some Suggestions:
"Ghost Adventures" – This is a similar paranormal investigative show where a team of investigators visits haunted locations to document their experiences and evidence of the supernatural.

"Paranormal Witness" – This series features first-hand accounts of paranormal encounters from people who claim to have experienced them.

"My Ghost Story" – This show is similar to "Paranormal Witness" but focuses specifically on ghost sightings and encounters.

"Haunted Hospitals" – This series documents paranormal experiences in hospitals and other medical facilities.

"The Dead Files" – This show features a retired homicide detective and a psychic medium who work together to investigate paranormal activity in various locations.

"Kindred Spirits" – This series follows a team of paranormal investigators who help families experiencing paranormal activity in their homes.
We Encourage You To Keep An Eye On The Comments Section And Bookmark Topmovierankings.com For More Updates On New Shows.