Ottu is a much-anticipated movie which released in 2022. Fans of the genre have eagerly awaited it and have thus far received positive reviews from critics. This review aims to look at Ottu from an artistic and commercial perspective and provide an overview of its quality and success. Here is the Ottu Movie Review:
About Ottu Movie (2022)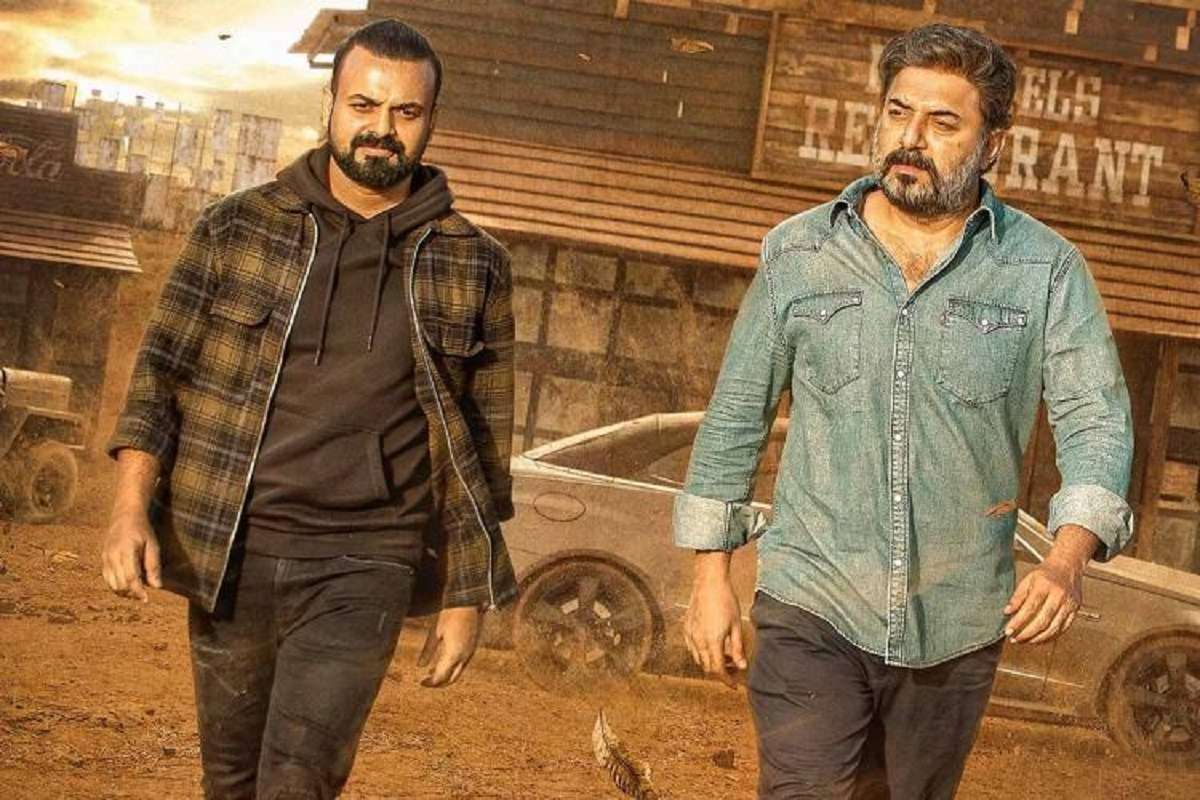 Ottu is a Malayalam thriller film directed by T.P. Fellini. as well as directed by S Sanjeev. Arya and Shaji Nadesan produced the movie under August Cinema and Cineholix. It stars Arvind Swami, Kunchako Boban, Jackie Shroff, Eesha Rebba, Adukalam Naren, Amalda Liz, Jins Baskar, Siyad Yadu, Aneesh Gopal, Laban Ranae, Sreekumar Menon. The film's premiere was on September 8, 2022.
Also Check: Agent Kannayiram Review
Ottu Movie Review
It is understandable that Kichu, portrayed by Kunchacko Boban, would explain to his coworkers that restoring a person's memory is time-consuming and labor-intensive. Throughout the film, Arvind Swami's character is known by the name David. They inform Kichu that David was the right-hand man of an assassinated underworld boss named Assainar, whose death led to David's memory loss. Yes, bringing back his memories will take a considerable amount of time. Still, when the film these two characters are in is marketed as a thriller, we're disappointed that we don't find any thrills until the final 15 minutes when an extraordinary twist is revealed. At that point, however, one is too bored to care.
Also Check: Dasara Telugu Movie Review: Critics Appreciate the Movie as a Mass Entertainer
People will likely wonder if they missed 'Chapter One' in a different film with another title, as the exact text appears in its opening credits. Don't be concerned, as "Chapter One" is merely the event of which "Chapter Two" provides glimpses. (a.k.a Ottu). These are hazy flashbacks explaining the events that occurred before Chapter 2. After the film, it becomes apparent that some characters may not be who they say they are.
As stated, Ottu's one good idea is diminished by its other dull ideas. In a possible nod to Rangeela, Jackie Shroff emerges from the water wearing only his underwear for a brief appearance in the latter film. The remainder of the film, which involves a long road trip during which Kichu tries to jog David's memory, consists primarily of uninspiring dialogues and bromance moments, not to mention plotless musical interludes. Occasionally, the entire situation is reminiscent of a Mercedes-Benz advertisement.
Also Check: Das Ka Dhamki Telugu Movie Review
It is clear why Kunchacko Boban and Arvind Swami were cast, but what is the point if the script fails these charismatic actors? There is frequently a nagging sense that the original vision was grander than we see on screen. There is a moment in Goa when David's reflexes finally return, but if it's meant to make the audience exclaim "Wow," it fails. The same applies to a scene where David and his gang attack a rival's stronghold; the execution lacks logic and sophistication. The choreography was taken straight from a B-movie. Is it not embarrassing that Malayalam cinema produces such inferior content in a world where international filmmakers create far superior gangster thrillers with far superior fight scenes and gunplay despite budget constraints?
Also Check: Bholaa Movie Early Review: Ajay Devgn's Movie Will Breaks Records and Exceeds Limitations!
Final Verdict
In conclusion, Ottu is an entertaining movie engaging plot, the characters are vibrant, and the music is enjoyable. It's a perfect movie to watch with friends and family, as it touches on many important topics. The film's overall message is one of hope and resilience in times of difficulty. We can all learn a lot from the characters in this film and should strive to live life with courage, strength, and optimism.