Big Mouth season 7 release date is confirmed by Netflix. Big Mouth is an popular animated show, which navigates puberty with tongue-in-cheek humor. The series takes the embarrassing and painful struggles of adolescents and pairs them with a frankness regarding body parts and a focus on communication and inclusivity.
The Emmy-nominated show debuted its first season on September 19, 2017, and has captivated audiences with its perfect blend of comedy, relatability, and heartfelt moments. Over the years, it has continued to deliver exceptional content, keeping fans eagerly engaged.
As Netflix has confirmed the release date for 'Big Mouth' Season 7, fans are curious to know when they can watch it. In this article, we will provide you with the 'Big Mouth' Season 7 release date, details about the cast, an overview of the plot, and the trailer for the new season.
Big Mouth Season 7: Release Date Confirmed!
Big Mouth Season 7 will be released on October 20, 2023. The show was renewed early in 2022, shortly after its spin-off, Human Resources, came out on Netflix. As soon as Netflix announced that Human Resources had been renewed, they also confirmed that Big Mouth had been renewed.
How Many Episodes Will There Be In Big Mouth Season 7?
Every season of Big Mouth expect season 3 had 10 episodes, but season 3 has 11. So, it's safe to say that Big Mouth season 7 will have ten coming-of-age scenes that are raunchy and full of hormone monsters.
Big Mouth Season 7 Cast: Who Will Be Back For The New Season?
It might not come as much of a surprise. Still the multi-talented voice cast — many of whom play multiple characters — will be returning, including Nick Kroll, Maya Rudolph, and John Mulaney among others.
It's unclear how the show will deal with the sad death of Devon's voice actor, Jak Knight. Jak Knight, a writer, comedian, and actress who did Devon's voice, died in July 2022 at 28. It was decided that he killed himself. The show does not yet know who will replace Jak.
Nick Kroll (as Nick Birch, Lola, Maury, and others)
John Mulaney (as Andrew Glouberman)
Jessie Klein (as Jessie Glaser)
Jason Mantzoukas ( as Jay and more)
Ayo Edebiri (as Missy)
Maya Rudolph (as Connie and more)
Andrew Rannells (as Matthew)
Ali Wong (as Ali)
We can also expect a lot of famous people to show up as guests on the show, as has been the case in previous seasons. Adam Levine, Jeff Goldblum, and Tyler, the Creator, are all said to be coming as guests this season.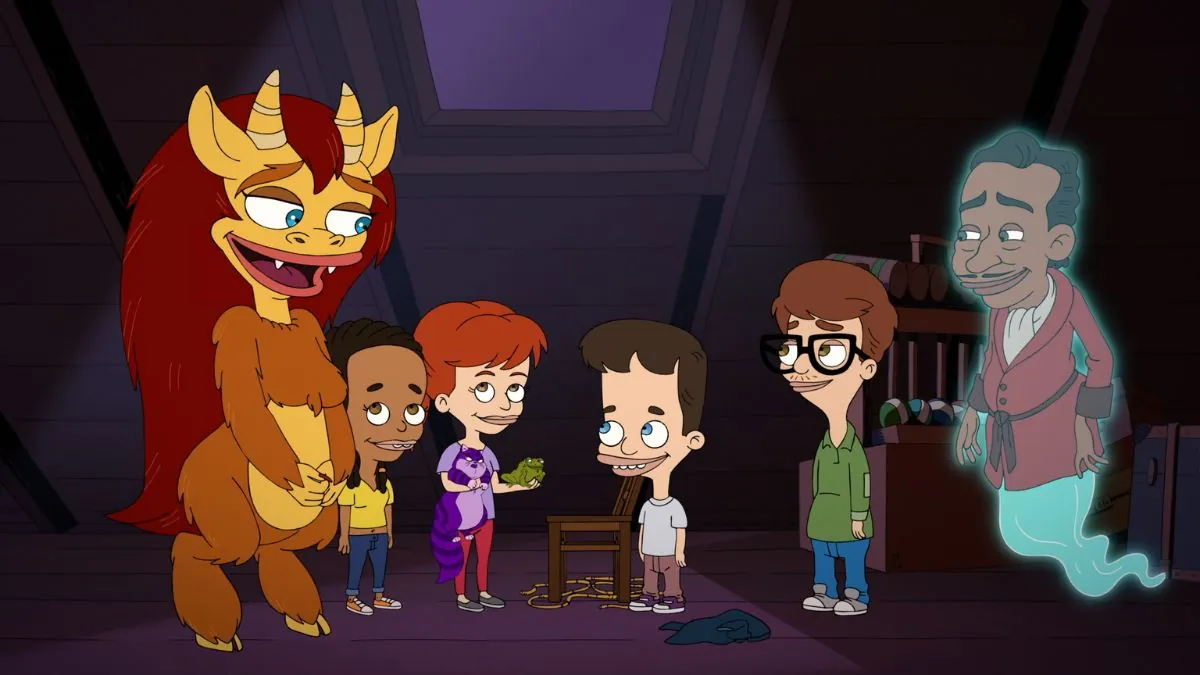 Big Mouth Season 7 Plot: What Will Happen?
After season 6 of Big Mouth, which was about family, many loose ends were tied. A Freaky Friday-like event helped Andrew, Nick, and Jessie get along better with their families. The Gloubermans got back together, Nick's dad stopped being a crazy baby-twister, and Jessie learned to get along with her new baby half-sister.
Things are going well for our main three, but some underlying problems might be handled in season 7. For example, Jessie's relationship with her mother is strained, and the Birch family has changed since Nick's grandfather moved in.
We will probably also see more of how Missy and Elijah's relationship develops now that Elijah knows he is asexual. We will also see if Matthew and Jay can stay apart after Matthew breaks up with Jay at the end of season 7 because he thinks Jay has changed too much.
In season 6, stories from Human Resources affected how Maury, Connie, and their baby's life turned out. If Human Resources season 2 comes out before Big Mouth season 7, we expect that to happen again, and the season will focus more on Maury and Connie's grown-up kid.
Is Big Mouth Season 8 Happening?
Big Mouth season 8 is happening on Netflix! The streaming network announced Big Mouth season 8's renewal in April 2023. Netflix also confirmed that Big Mouth season 8 will be the series' final season.
Where To Watch Big Mouth Season 7?
You can watch Big Mouth season 7 on Netflix as soon as it comes out. The hilarious cartoon is a Netflix original, so all of its seasons and episodes are shown on Netflix. Seasons 1-6 of Big Mouth are all available on Netflix to watch and catch up on while you wait for season 7.
Is There A Trailer Available For Big Mouth Season 7?
Yes, On September 14,2023 Netflix released the trailer of Big Mouth Season 7.
Similar Web Series Like : Big Mouth
Here are some similar web series to "Big Mouth":
"American Dad!"
"South Park"
"Archer"
"The Simpsons"
"Family Guy"
"The Boondocks"
"Robot Chicken"
"Bob's Burgers"
"Brickleberry"
"The Cleveland Show"
You Can Also Take A Look At Other Web series And Tv Shows' Upcoming Seasons' Release Dates We Have Covered:
To Learn More About Upcoming Web Series Releases, Follow Us On Twitter. We Regularly Post Content Related To This Topic, As Well As Other Interesting Topics.