Clarkson's Farm season 3 is officially in the works, and fans of the famous Prime Video show are getting even more. People want to see what happens next on The Grand Tour host's Oxfordshire farm, Diddly Squat Farm, where he has been working with (and sometimes fighting with) the locals to make the place successful. In the last two seasons, we've seen Jeremy Clarkson learn how hard it can be to run a farm. There have been funny times, fights, and drama, but he's always had help.
Jeremy said about the new season: "I'm genuinely thrilled that we are doing a third season of Clarkson's Farm. I've had some great new ideas, all of which have made Charlie, Lisa and Kaleb deeply unhappy."
Dan Grabiner, the head of Originals for Amazon UK, said, "Watching Clarkson's Farm grow from an intimate glimpse into British farming to a global sensation has been a delight.
"We're thrilled to be continuing the story year after year as the plot thickens for our favourite farmers."
In this article we keep you up-to-date with everything you need to know about "Clarkson's Farm" Season 3. Get ready to dive back into the unpredictable world of Jeremy Clarkson's farming endeavors!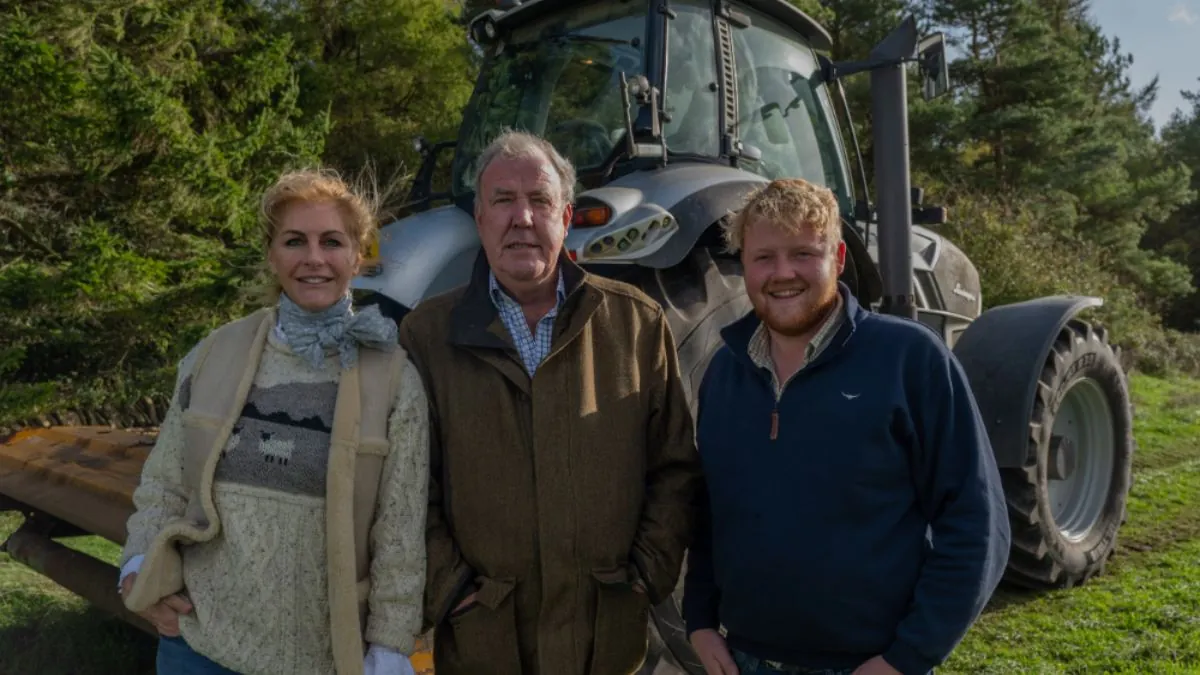 Clarkson's Farm Season 3: Release Date
In October 2022, Clarkson's Farm was renewed for a third season. There is no release date available for Clarkson's Farm season 3, but Jeremy Clarkson wrote in February that his "rough guess" was 18 months from then.
Rough guess? 18 months.

— Jeremy Clarkson (@JeremyClarkson) February 24, 2023
He later gave fans some bad news when he said, "We won't finish shooting it until October. There's something we're trying that won't be fixed until then. So it's still a while off." This means that the third season of Clarkson's Farm could come out around August 2024, though we still need official proof.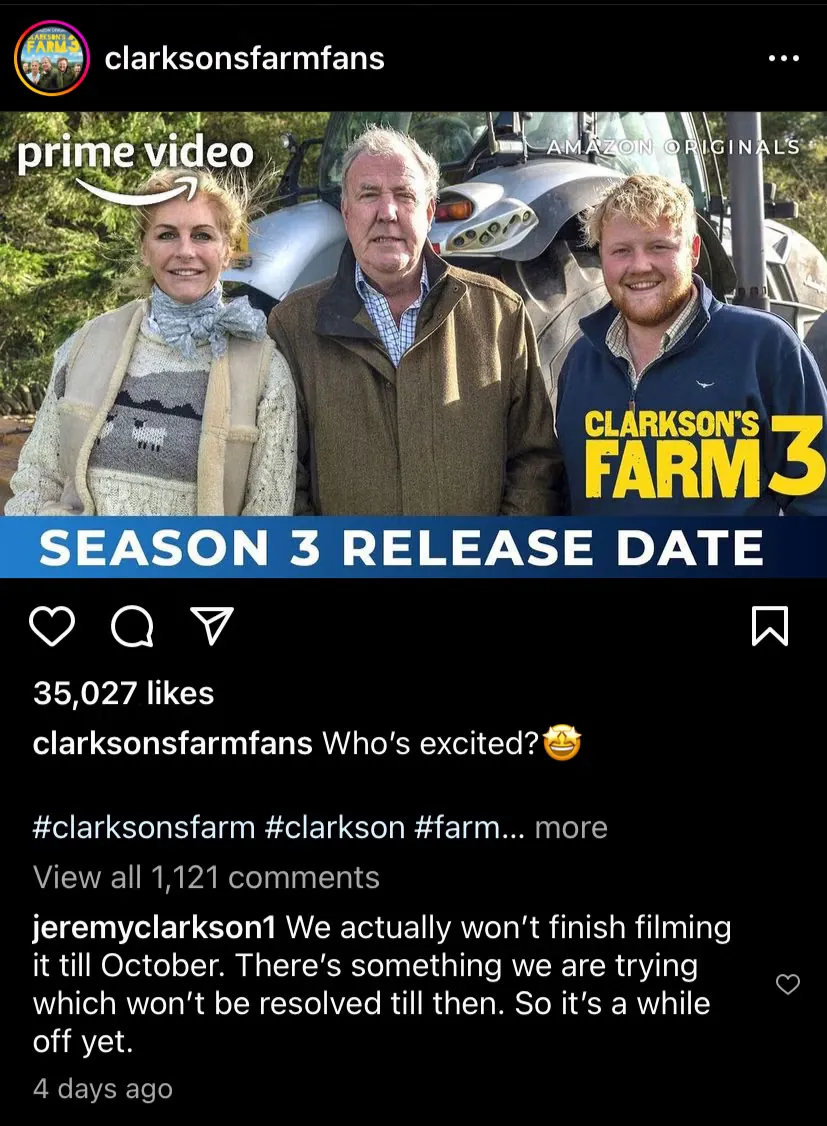 Clarkson's Farm Season 3 Cast – Who Is Returning?
We can expect to see some famous faces in the cast of Season 3 of Clarkson's Farm. Prime Video has announced that Kaleb Cooper, Jeremy Clarkson's girlfriend, Lisa Hogan, and "Cheerful" Charlie Ireland will all return to the farm for season 3. They have also hinted that "new characters" will be in the next season, so we'll have to keep watching to find out who else will be at Diddly Squat Farm.
What Should We Expect From Clarkson's Farm Season 3?
The plot of Season 3 of Clarkson's Farm is still a secret, but there are some clues about what to expect. Prime Video said we will "follow Clarkson as he explores 513 acres of land on Diddly Squat that have never been touched before, including woods and lakes." This means the farm might grow and start doing new and exciting things.
Jeremy has also hinted that the farm might get some new animals. He has cared for sheep, cows, and chickens in the past, and in a recent tweet, he talked about feeding pigs. But he has not say if there will be pigs in the third season.
Clarkson's current fight with the West Oxfordshire District Council could be another exciting plot point. The council has turned down several planning requests from Clarkson, including ones for a parking lot and a restaurant. This ongoing storyline has been a part of the show's plot and is expected to continue in the third season.
Where To Watch Clarkson's Farm Season 3?
You can watch the first two seasons on Amazon Prime Video. Once Season 3 is released, you will also be able to watch it on the same platform.
Is There A Trailer Available For Clarkson's Farm Season 3?
No, there is no trailer available for Clarkson's Farm Season 3 yet. However, you can watch the trailer for Clarkson's Farm Season 2 below.
You Can Also Take A Look At Other Web Series And Tv Shows' Upcoming Seasons' Release Dates We Have Covered:
Be Entertained And Informed With The Latest News At Topmovierankings.com!