The Boys Has Become One Of The Most Popular And Talked-about Tv Series In Recent Years, And Fans Are Eagerly Anticipating The Release Of Season 4. This Darkly Comedic Superhero Series, Based On The Comic Book Of The Same Name By Garth Ennis And Darick Robertson, Takes A Satirical Look At The Corrupt And Celebrity-driven World Of Superheroes.
The Series Is Set In A World Where Superheroes Are Not Only Real, But Are Also Heavily Marketed And Monetized By A Powerful Corporation Called Vought International. The Boys, A Group Of Vigilantes Led By Billy Butcher, Are Determined To Take Down The Corrupt And Often Violent Superheroes, Known As "The Seven," And Expose The Truth About Vought.
In This Article, We Will Provide You With All The Details You Need To Know About The Boys Season 4, Including Its Release Date, Star Cast, Plot, And Any Other Information That Has Been Announced So Far. Get Ready For More Action, Suspense, And Dark Humor As We Dive Into The World Of The Boys!
Will There Be The Boys Season 4?
Prime Video announced today that it has officially ordered a fourth season of its Emmy-nominated hit series The Boys, co-produced with Sony Pictures Television, after the explosive premiere of its third season. The fourth season of The Boys is expected to premiere on Prime Video later this year, and some fans are concerned that the superhero series is coming to an end. In Toronto, the season four finale is being filmed. Even though The Boys has not yet been renewed for a fifth season, showrunner Eric Kripke took to Twitter to reassure viewers that season four is not the last:
Cause you're asking! We've been shooting since late August. I'm here to prep & direct the Season 4 finale. No, not the series finale, there will be more! Most importantly, S4 premieres… at some point in the future in our discernible reality. @PrimeVideo @SPTV https://t.co/UgNBPZKlCT

— Eric Kripke (@therealKripke) February 12, 2023
The Boys Season 4 Release Date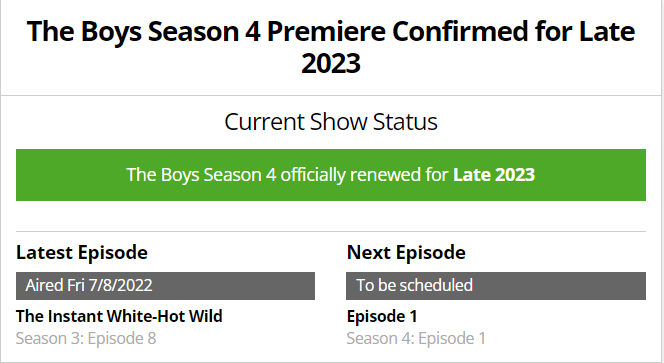 As Of April 12, filming is officially over. New episodes of The Boys could come out in late 2023 or early 2024. From the time filming starts until the show airs, it usually takes 10 to 12 months In June 2022, the show was recommissioned, and the season 3 finale aired on July 8, 2022.  This is a guess for now. We'll let you know as soon as something official is told.
We're comin' back for Season 4. Til then here's a lil' fourshadowing. pic.twitter.com/5JeKSOvJMb

— THE BOYS (@TheBoysTV) June 10, 2022
The Boys Season 4 Plot
The Boys Season 4 has yet to be given a confirmed plot, but the end of Season 3 gives us a pretty good idea of what will happen next.
Now that the boys are back together, their plan to take down the Supes is more critical than ever. But it looks like Victoria Neuman has become their main enemy. After making a deal with Homelander, she got the vice presidential nomination in the season finale when the Deep drowned her opponent. This puts her in the running to become, at least in the political world, the most potent boss ever.
But thanks to Starlight, they'll have a little help this time. After trying to make changes from the inside, she is now a full-fledged member of Team Butcher. And he might need all the help he can get after dealing with Temp V's effects alone. He's been told that the drug's effects on his body mean he's living on borrowed time so that Billy will be in danger in the new season.
Kripke told Variety (Opens in a new tab) that they'll be going after Neuman while Butcher only has a few months to live. "They're up against the Desantis ticket," said the person who made the video. "That's part of the fun of getting into Season 4, which we're still figuring out for this, but he's got a crazy ticking clock. He has a lot to do that he still needs to do.
The showrunner said this about Butcher's path: "What we find interesting about the question we're asking about Butcher is, Is he self-aware enough to realize that he's making his bad luck? Is he aware of himself enough to know if he can change? These are some interesting things we've discussed in Season 4."
There's also Homelander. He's just as crazy as ever, and not much can stop him. Even though the Supe lasered a bystander and shared his controversial and toxic views in a national TV address, the Storm Chasers are still on his side. He is now joined by his son Ryan, whom he told the world about, along with his powers.
Kripke hinted where this story could go next when he talked to IGN about it. "If he's allowed to raise Ryan, he'll raise him to be a second Homelander, which could mean the end of the world. Kripke said, "If he stays in that environment, he will become another Homelander." "So I think it's a hint at what I think will be one of the most important conflicts in Season 4: Butcher and Homelander fighting over Ryan."
We have not determined if Season 4 will have a new Big Bad. Soldier Boy Is Put Out of Action, But He Is Not Dead. So he might be retaken off the ice when the next season comes around. But Kripke will have a new trick up his sleeve for Season 4, and we might finally meet someone who can beat Homelander for good.
The Boys Season 4: Cast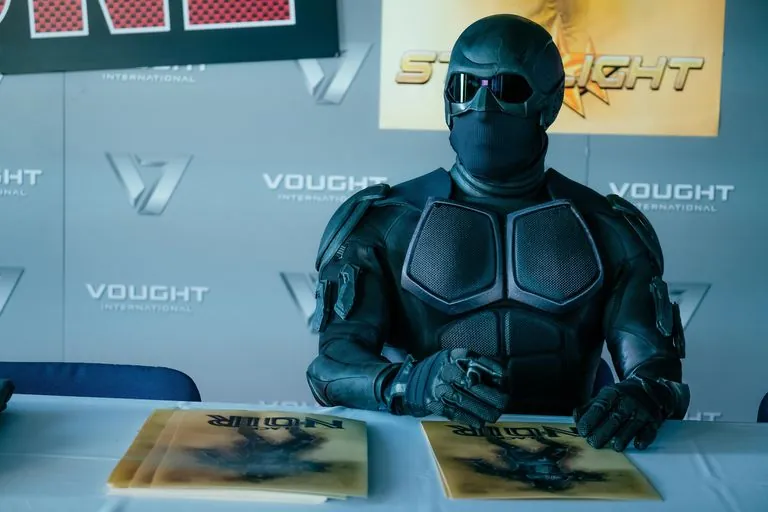 In the season three finale of The Boys, so many characters were close to dying, but only one died. We're sad to say that we're talking about Black Noir (Nathan Mitchell), who we thought wouldn't be back for another season because Homelander (Antony Starr) ripped out his guts.
But Wait! There's always a twist with The Boys.
"Here's what I'm going to say without giving anything away: that Black Noir person is dead. Kripke said (via CBR) that his organs are everywhere. "But it's pretty easy to recast a completely silent hero who always wears a mask."
Even more strange is that the same actor will play this new character. Kripke said, "I think everyone has seen a severe version of Black Noir, so if they wanted to try something new, I think it would be fun to go in the opposite direction."
Black Noir actor Nathan Mitchell said (via CBR), "I think the contrast is fascinating when it comes to characters."
"And the contrast was always the heart of black noir for me. The idea is that you have this very dangerous killer who is menacing, scary, and threatening, but then he talks to cartoon characters. He makes up friends in his head. He's very soft and sensitive."
Also, Dominique Mcelligott's Queen Maeve didn't die untimely, but it needs to be clarified if Mcelligott will play the role again. Her character arc is over (more on that below), but we hope to see her on the call sheet.
The following cast members are likely to be in season four of "The Boys":
• Jack Quaid as Hughie Campbell Jr
• Laz Alonso as Mother's Milk (MM)
• Tomer Capone as Frenchie
• Karen Fukuhara as Kimiko Miyashiro
• Erin Moriarty as Starlight/Annie January
• Antony Starr as Homelander
• Chace Crawford as The Deep
• Jessie T Usher as A-Train
• Cameron Crovetti as Ryan
• Giancarlo Esposito as Stan Edgar
• Colby Minifie as Ashley Barrett
• Claudia Doumit as Victoria Neuman
We also think Soldier Boy will come back, which means we'll see more of Jensen Ackles, which can't be wrong. The Boys showrunner Eric Kripke has confirmed this by saying he's "100%" up for a Soldier Boy comeback.
"The old TV saying goes, 'Never kill anyone unless you have to. He said, "Never shut a door; instead, open a window." "We'll all have to wait and see, but I can't see the series ending without Soldier Boy making another appearance."
Jensen Ackles also said he wants Soldier Boy to return, adding, "I know Kripke is brilliant about sending his characters off because he can always bring them back. I know plans are being discussed, but I don't know what they are.
Fans of Simon Pegg can be happy because he will be back for Season 4. And Rosemarie Dewitt from The Staircase will play Hughie's long-lost mother. Rob Benedict (Supernatural) and Elliot Knight (Titans) are joining the cast in roles that haven't been revealed, but they'll likely be well-known comic book superheroes.
Jeffrey Dean Morgan, who has been in The Walking Dead and Grey's Anatomy, will also be in season four of The Boys. The official The Boys Twitter page shared the news on social media: "Chuffed to welcome @jdmorgan to The Boys S4." Can't say for sure if he's getting any tights."
Chuffed to welcome @JDMorgan to The Boys S4. Can't confirm if he's gettin' any tights, though. pic.twitter.com/ApDpQgo0QC

— THE BOYS (@TheBoysTV) August 25, 2022
There Are Some New Star In Boys Franchise.
Some S4 supe news for ya. Join us congratulating our favorite lad Cameron Crovetti on his promotion to series regular, and give a warm Boys family welcome to @susanheyward as Sister Sage and @valoriecurry as Firecracker. pic.twitter.com/mgFQLx8IBs

— THE BOYS (@TheBoysTV) August 1, 2022
Where Can I Watch The Boys Season 4?
The fourth season of The Boys will be available on Amazon Prime. All three seasons of The Boys are available to stream on Amazon Prime Video.
If you want to learn more about some excellent television series, we have guides for the House of the Dragon season 2 release date and the Severance season 2 release date. Regarding upcoming releases, be sure to check out all the new films released in 2023.
The Boys Season 4: Trailer
There Is No Official Trailer available For season 4. you can see the trailer for season 3 below.
Also Watch Other Article On Release Date Below:
We Encourage You To Keep An Eye On The Comments Section And Bookmark Topmovierankings.com For More Updates On New Shows.