Jimmy Garoppolo, the talented quarterback for the Las Vegas Raiders, has gained fame both on and off the football field. While his professional achievements are well-known, many fans are also curious about his personal life, particularly his dating history and whether he has found a life partner. This article will explore Jimmy Garoppolo's relationship timeline and provide insights into his current marital status.
Who Is Jimmy Garoppolo? 
---
Born on November 2, 1991, in Arlington Heights, Illinois, Jimmy Garoppolo has made a name for himself as a prominent National Football League (NFL) quarterback. His NFL career began in 2014 when the New England Patriots selected him in the draft's second round. Since then, he has established himself as an accomplished player and is widely recognized as an NFL star.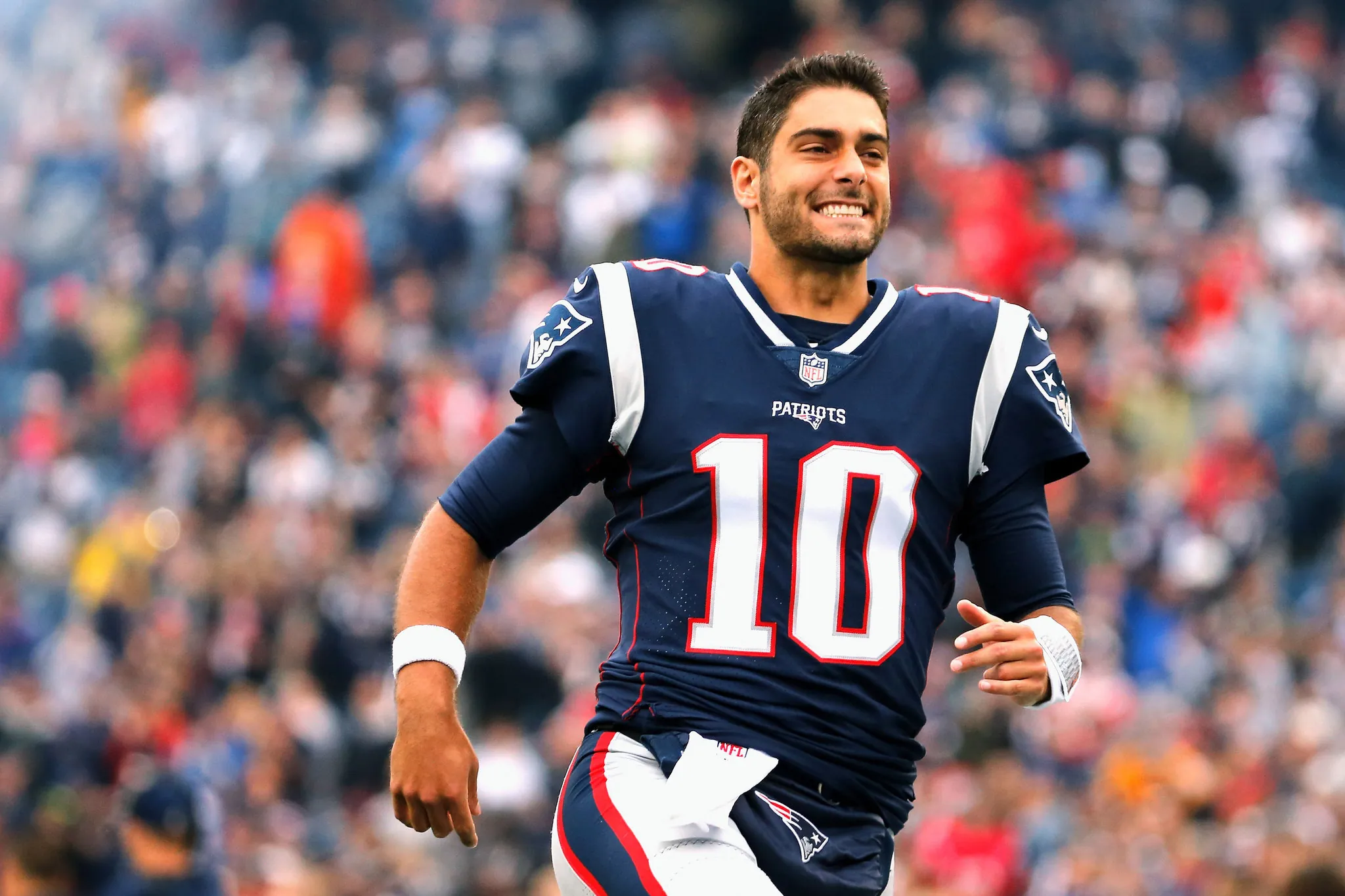 Who Is Jimmy Garoppolo Wife? Is He Single Or Married?
---
Jimmy Garoppolo's Marital Status: Single and Private
According to Sportskeeda, as of now, Jimmy Garoppolo is Single. He has not publicly confirmed any new romantic relationship. Despite the speculation surrounding his dating history, Jimmy Garoppolo prefers to keep his personal life private. He has expressed a dislike for sharing his private affairs with the public. Currently, no information suggests that Garoppolo is married or in a committed relationship. He appears to be currently single, focusing on his professional career and maintaining a low profile regarding his personal life.
Jimmy Garoppolo's Past Relationship Timeline
---
Alexandra Rose King: A Speculated Relationship (2017-2018)
One name that has been linked to Jimmy Garoppolo is Alexandra Rose King. Known as an American social media influencer, King gained attention when rumors started circulating about her relationship with Garoppolo. They were believed to begin dating in 2017 while Jimmy was still playing for the New England Patriots.
Their alleged romance gained further traction when Alexandra posted a photo with Garoppolo on social media, referring to him as her "Valentine." The couple also enjoyed themselves at Disneyland, fueling speculations about their relationship. However, during an interview with Bleacher Report, Garoppolo denied dating King and stated that they were only casual friends. They reportedly parted ways in May 2018.
Find gossip and news of some other well-known celebrities:
Deanne Marlene Munoz (Kiara Mia): Brief Encounter in 2018
Deanne Marlene Munoz, known as Kiara Mia, is a former adult film actress, model, and life coach. 2018 there were rumors of her involvement with Jimmy Garoppolo shortly after his alleged breakup with Alexandra King. The speculation emerged when the two were spotted together at a restaurant in Beverly Hills, prompting speculation of a romantic connection. However, neither Garoppolo nor Munoz confirmed their relationship publicly, and it remains unclear whether they were more than friends.
Madison Tate: Speculations in 2020
In 2020, rumors circulated that American model and TikTok star Madison Tate was Jimmy Garoppolo's girlfriend. However, the nature of their relationship remains uncertain, as there is no concrete evidence to confirm their romantic involvement.
Conclusion
---
Jimmy Garoppolo's success on the football field has made him a prominent figure in the NFL. While fans are often curious about his personal life, particularly his dating history and marital status, Garoppolo has chosen to keep those aspects private. Although there have been rumors and speculations about his romantic relationships, including associations with Alexandra Rose King and Deanne Marlene Munoz, Garoppolo's actual relationship status remains unknown. As he continues to excel in his career with the Las Vegas Raiders, it is clear that Garoppolo prioritizes his professional pursuits over publicizing his personal affairs.
I hope you like the article. To keep getting the freshest entertainment scoops, follow us on Facebook.