Kathleen Kennedy is an accomplished American film producer and the president of Lucasfilm, has become embroiled in yet another round of controversy. Recently, rumors have been circulating claiming that Kennedy was "fired" from her position due to the perceived lackluster performance of Indiana Jones 5 at the box office.
These rumors have sparked a wave of questions, amplifying the scrutiny Kennedy has faced throughout her career. From her involvement in the Star Wars sequel trilogy to assumptions made in YouTube videos and social media posts, Kennedy's role in Lucasfilm has frequently been subjected to fan speculation.
In this article, we aim to delve into the Kathleen Kennedy controversy, addressing the recent rumors while also examining the broader context of her tenure at Lucasfilm. By analyzing the facts and separating them from assumptions, we endeavour to shed light on the intricate relationship between Kathleen Kennedy, the films.
Who Is Kathleen Kennedy?
Kathleen Kennedy was born on June 5, 1953, in Berkeley, California. With a career spanning several decades, Kennedy has established herself as one of the most successful and powerful figures in the entertainment industry.
Kennedy began her career working alongside acclaimed filmmaker Steven Spielberg. She co-founded Amblin Entertainment with Spielberg and her husband Frank Marshall, producing many of Spielberg's early films, including "E.T. the Extra-Terrestrial" (1982) and the "Indiana Jones" franchise.
In 2012, Kennedy became the president of Lucasfilm, taking over from George Lucas, the creator of "Star Wars." Under her leadership, Lucasfilm produced a new trilogy of "Star Wars" films, starting with "The Force Awakens" (2015). She has also been involved in various other "Star Wars" projects, such as the standalone films "Rogue One: A Star Wars Story" (2016) and "Solo: A Star Wars Story" (2018).
Throughout her career, Kathleen Kennedy has received numerous accolades for her contributions to the film industry. She has been nominated for eight Academy Awards, with films she produced winning a total of five Oscars. Kennedy's impact on the industry extends beyond her individual accomplishments, as she has been a trailblazer for women in the traditionally male-dominated world of filmmaking.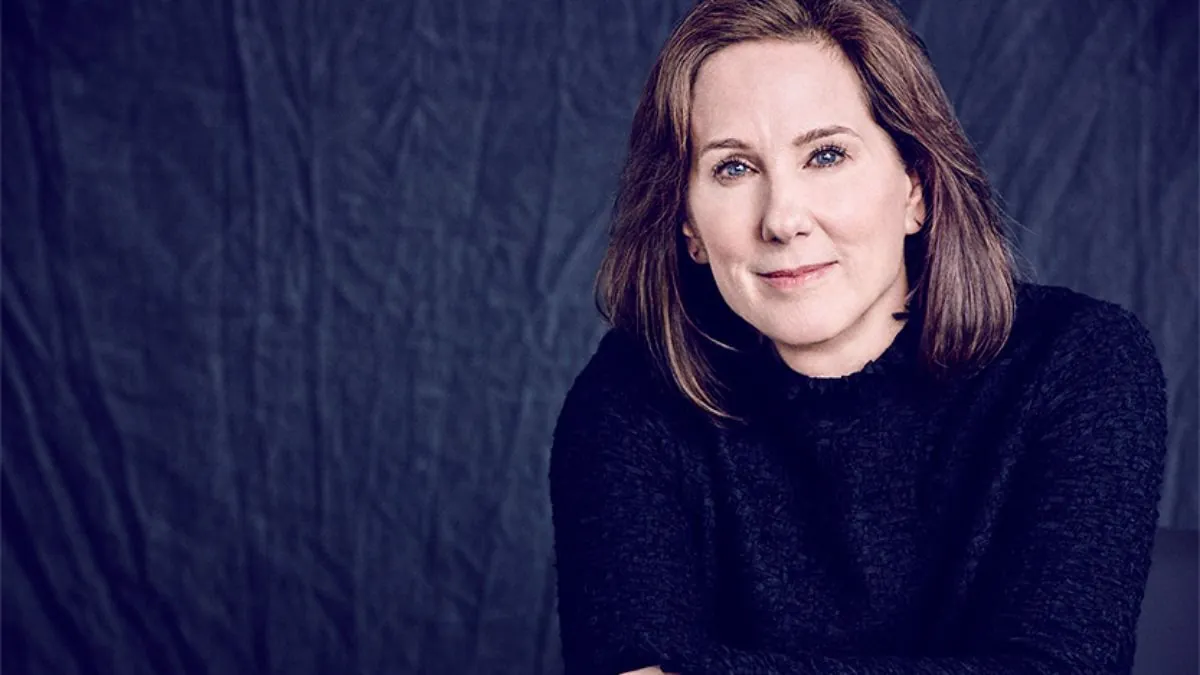 Is Kathleen Kennedy Fired From Lucasfilm?
No, Is Kathleen Kennedy is not fired from lucasfilm. The rumours of Kathleen Kennedy has been "fired" from Lucasfilm. This is because of a tweet from user @Thwipt_, who has a hit-or-miss track record with Disney leaks, but who correctly predicted what would be announced at the D23 Expo 2022.
Thwipt wrote that they had heard "Kathleen Kennedy is now gone from Lucasfilm," which quickly went viral online.
I'm hearing Kathleen Kennedy is now gone from Lucasfilm #Lucasfilm #StarWars #IndianaJones

— ThwipT (@ThwipT_) June 29, 2023
Screenwriter Kamran Pasha added to these reports by saying that his inside source at Disney had also told him about strange things happening with Kennedy.
In an interview on YouTube, Pasha said, Apparently, someone at Disney put a block starting today, of two weeks paid leave … which is bizarre in and of itself, but bizarre happening on the day that Indiana Jones is released."
Kathleen Kennedy Still Working At Lucasfilm!
Kathleen Kennedy still works at Lucasfilm, despite these reports, and the company has not said that she has been "fired" from her job.
Since 2012, Kennedy has been the head of Lucasfilm. George Lucas, who made Star Wars, chose her to run the company after he sold Lucasfilm to The Walt Disney Company in 2012. Kennedy has produced a number of Star Wars movies, including the new Star Wars series. Also, Rogue One: A Star Wars Story and Solo: A Star Wars Story are both separate movies. Under Kennedy's leadership, Lucasfilm made some very popular movies, like Star Wars: The Force Awakens. However, fans have had mixed feelings about most of the new projects.
The Dial of Destiny also gets mixed reviews, which is a shame. After its first weekend in theaters, the movie directed by James Mangold made $154 million at the box office. Overall, the results can't be called good, given how popular Indy is and how much it cost to make the movie. Indiana Jones 5 cost $300 million to make.
You Can Also Take A Look At Other Celebrity Controversy, We Have Covered:
Be Entertained And Informed With The Latest News At Topmovierankings.com!