On Claim to Fame season 2, several A-list celebrity relatives have already been revealed, but Karsyn is still a mystery. So far, four contestants' true identities have been uncovered, including Carly (Tom Hanks' niece), Travis (Neil deGrasse Tyson's son), Jane (Dolly Parton's niece, Jada Star), and Shayne (Eddie Murphy's daughter) and J.R. ( Related to LIL Nas X). The remaining players in the game are Chris, Cole, Gabriel, Hugo, Karsyn, Monay, and Olivia.
Throughout Season 2 of Claim to Fame, Karsyn's famous relative has remained elusive, making it a challenging puzzle for viewers to solve. In the premiere episode on June 26, 2023, the reality star hinted that Karsyn might be connected to a musician, but it seems those assumptions were wrong. In this article, we aim to shed light on Karsyn's background and uncover who she is related to. Stay tuned as we delve into the fascinating revelations surrounding Karsyn's connections on Claim to Fame!
Who Is Karsyn Related To On "Claim To Fame"?
During the second season premiere of Claim to Fame, there was a segment called "Two Truths and a Lie." Karsyn lied and said that her famous cousin was best known for being a musician. At the talent show, she sang "Amazing Grace," but she wasn't the best singer. In episode 3, when Shayne pulled Karsyn's Wine Room hint, the contestants finally discovered that Karsyn's famous relative isn't a singer.
The puzzle clue had a prize, an eraser with a minus sign and the letter "E," the symbol for "who," two records, the number 4, and a mug of beer. In the fourth episode, J.R. learned the clues and told Shayne that Karsyn is connected to a NASCAR driver. He thought the two records and the number 4 might be for Jeff Gordon because he said his number is 24, and he drove for Budweiser. Gabriel noted that Jeff seemed right because he is from the same place as him. J.R. said in the end that Jeff was the right choice.
The big turning wheel and a beer bottle on the Clue Wall prove this. Cole also said that the Mustang on the Clue Wall stood for the car's horsepower. In the statue task for episode 4, the tire also pointed to a racecar driver. But when Olivia found the tire during the race, she told the judges about Dale Earnhardt Jr. After Cole later told Karsyn that everyone thought she was related to Jeff, she told fellow Claim to Fame contestant Chris that they were wrong. Karsyn said what was true.
Karsyn Is Dale Earnhardt Jr.'s Niece & Dale Earnhardt Sr.'s Granddaughter
Karsyn is a part of the Earnhardt family, just like Olivia thought. She is the granddaughter of Dale Earnhardt Sr., and her name is Karsyn Elledge. Karsyn is the daughter of Kelley Earnhardt Miller, which makes her the niece of Dale Earnhardt Jr. Kelley and Karsyn's dad, Jimmy Elledge, are no longer together.
Karsyn is a racer in her own right, according to Player's Bio. She has been racing cars since she was a teen. She first raced go-karts and then moved on to Dirt Midge events. After three years, she returned to the Chili Bowl Nationals in 2023.
Even though Karsyn's fellow contestants on Claim to Fame are right about her, they haven't picked the right NASCAR driver. Time will tell if they figure out that she's not related to Jeff. Chris wasn't sure if Karsyn was telling the truth when she said she wasn't Jeff's relative, so telling the truth could be a plan that helps her get further in the game. If they didn't believe her, someone could still guess Jeff, and that person would go home instead. Karsyn is racing to the top of season 2 of Claim to Fame.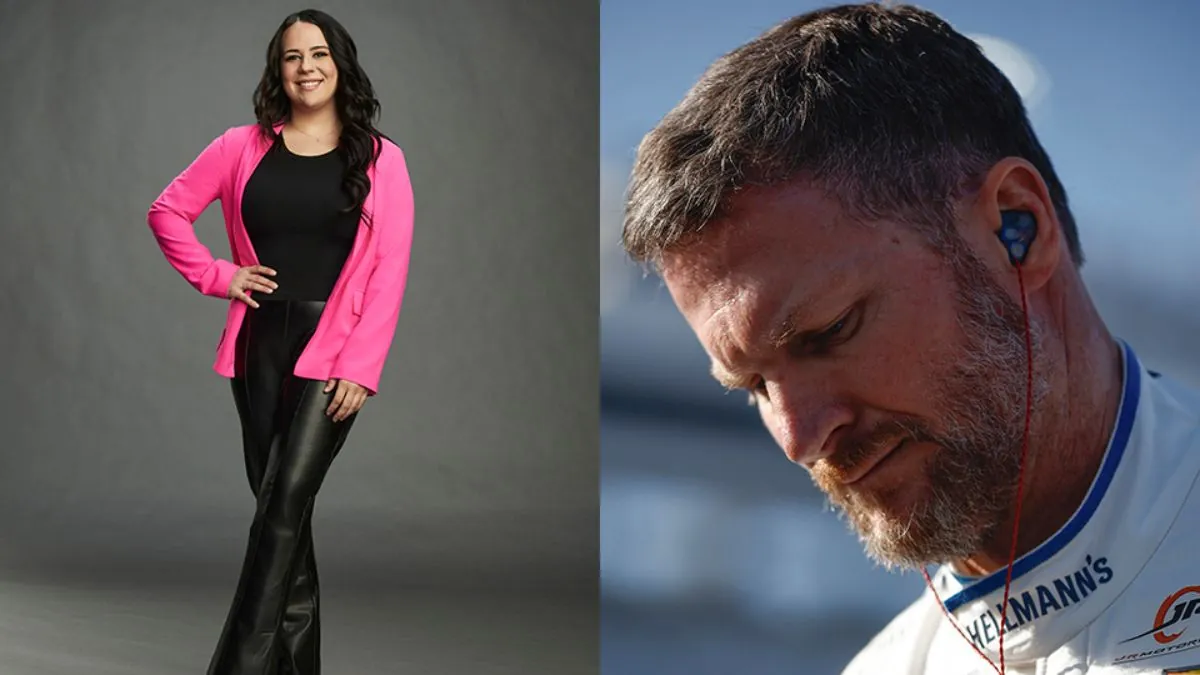 You Can Also Take A Look At Other Claim To Fame Constant Who Is Related To Someone. We Have Covered:
Be Entertained And Informed With The Latest News At Topmovierankings.com!