The Malayalam language cinema industry is a hub of critically-acclaimed and classic movies filled with substance, emotions, and entertainment. Every year, there are so many new releases that it can be challenging to keep up with the best. To help you out, here is our list of the top 10 evergreen Malayalam movies to watch in 2023. This list has been carefully curated to include old classics and recent favorites from the Malayalam film industry.
Top 12 Evergreen Malayalam Movies To Watch In 2023
If you're a fan of Malayalam cinema, then you know there's no shortage of great movies to watch. From heartwarming family dramas to thrilling action films, the Malayalam film industry has something for everyone. But with so many options out there, it can be tough to know where to start. That's why we've compiled this list of the top 12 evergreen Malayalam movies that you should add to your watchlist in 2023.
Namukku Parkkan Munthirithoppukal (1986)
Namuk Parkkan Munthirithoppukal is a timeless love story starring Mohanlal, Shari, Thilakan, and Kaviyoor Ponnamma, among others. This Film was based on K. K. Sudhakaran's novel Namukku Gramangalil Chennu Rapparkkam. The renowned filmmaker P. Padmarajan wrote the screenplay and directed this Film. This Film is accessible via Disney+ Hotstar.
Thoovanathumbikal (1987)
The Film is partially based on the novel Udakappola by Padmarajan. Jayakrishnan (Mohanlal) falls in love with two women: Radha (Parvathy), his distant relative, and Clara (Sumalatha), a local escort.
Mohanlal and Sumalatha's performances, the Film's rich film score, songs, dialogues, characters, and detailed screenplay, have earned it widespread acclaim. Rain is a recurring motif almost portrayed as a character in the movie. In numerous scenes, the Film depicts the typical Malayali bachelor lifestyle. One location, in which Mohanlal invites Ashokan to a lemonade drink and immediately enters a city bar, has become an iconic Malayali call sign for a drink offer.
Chithram (1988)
Priyadarshan wrote and directed the 1988 Indian Malayalam-language screwball comedy film Chithram. Mohanlal, Ranjini, Nedumudi Venu, Lizy, Poornam Viswanathan, Sreenivasan, M. G. Soman, Sukumari, Maniyanpilla Raju, and Shanavas star in the Film, which was produced by P. K. R. Pillai's Shirdi Sai Creations. Thikkurissy Sukumaran Nair makes a cameo appearance. The songs were composed by Kannur Rajan, while the film score was composed by Johnson. This Film earned Mohanlal the Kerala State Film Award – Special Jury Award for his performance.
Vadakkunokkiyantram (1989)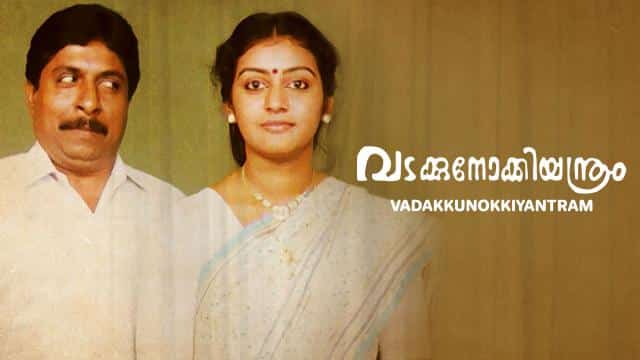 Vadakkunokkiyantram is a 1989 Indian Malayalam-language black comedy film written and directed by Sreenivasan, who co-stars with Parvathy. The Film is about marital discord caused by the Othello syndrome of the husband. The Film received three Kerala State Film Awards, including the award for Best Film. It was dubbed in Telugu as Sandeham and remade in Tamil as Dindigul Sarathy, in Kannada as Nanjangudu Nanjunda, and in Hindi as Main, Meri Patni Aur Woh.
Oru Vadakkan Veeragatha (1989)
Oru Vadakkan Veeragatha is a 1989 Indian Malayalam-language epic historical drama film directed by Hariharan, written by M. T. Vasudevan Nair, and starring Mammootty, Suresh Gopi, Balan K. Nair, Captain Raju, and Madhavi. The Film won eight Kerala State Film Awards in addition to four National Film Awards in 1989 for Best Actor (Mammootty), Best Screenplay (M. T. Vasudevan Nair), Best Production Design (P. Krishnamoorthy), and Best Costume Design (P. Krishnamoorthy).
 Thalayana Manthram (1990)
'Thalayana Manthram' is another blockbuster comedy from the team of Anthikad and Sreenivasan. The Film focuses on Sreenivasan's character's greedy, insecure, and jealous wife, who cunningly creates a rift between her husband and his family. She desires a lavish lifestyle beyond their financial means, causing severe complications. The Film is filled with hilarious scenes and situations. Much of the humor stems from Sreenivasan's helplessness and the difficulties he encounters due to his wife's demands.
Urvashi, who portrays Sreenivasan's wife, was praised for her performance as a greedy and cunning woman, in addition to 'Varavelpu,' 'T. P. Balagopalan M. A.,' and 'Achuvinte Amma,' my favorite Sathyan Anthikad films, include 'T. P. Balagopalan M. A.,' 'Achuvinte Amma,' and 'T. P. Balagopalan M. A.'
Kilukkam  (1991)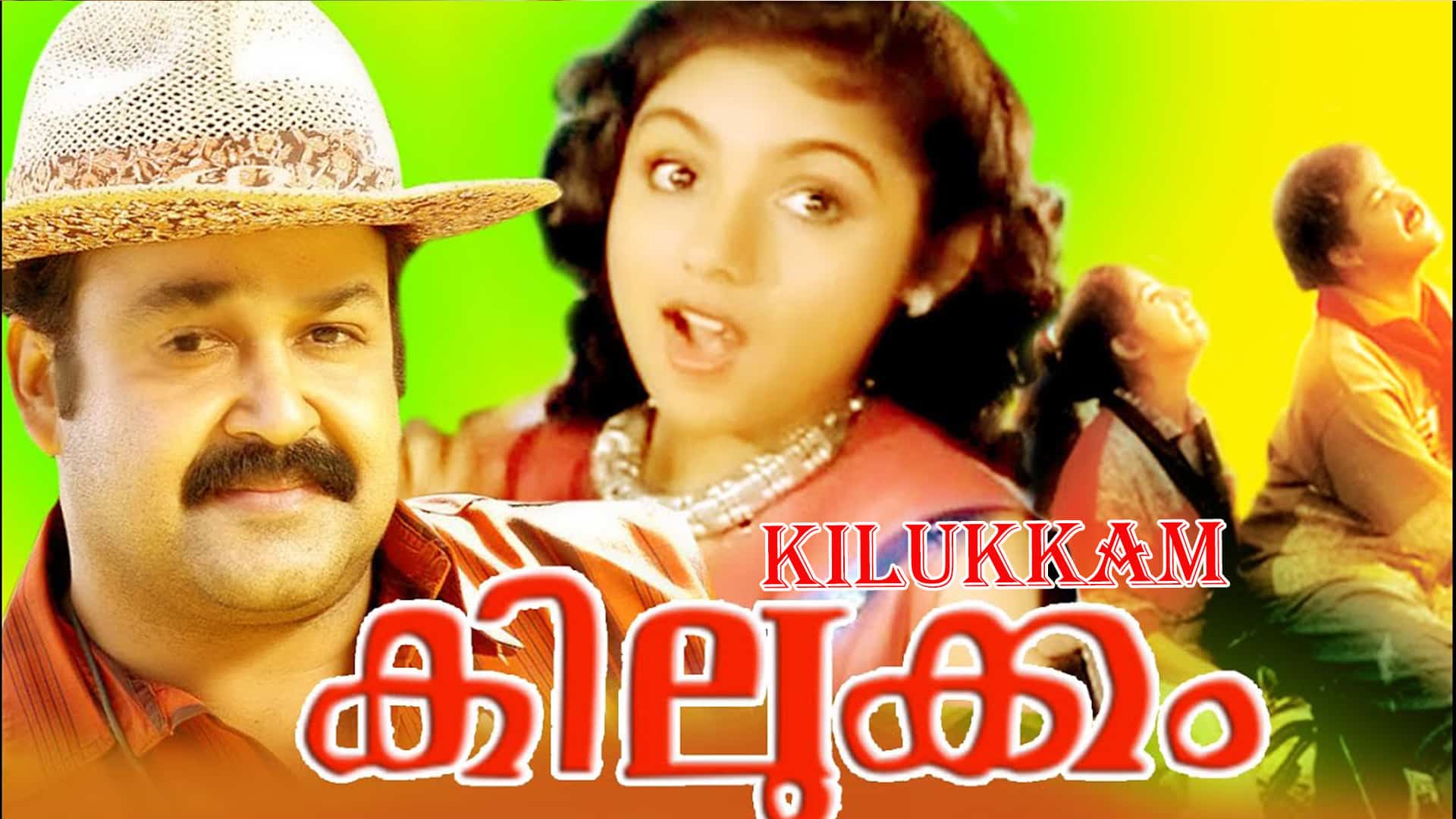 Kilukkam is a 1991 Indian Malayalam-language romantic comedy musical film directed by Priyadarshan and written by Venu Nagavalli. The plot centers on tourist guide Joji (Mohanlal) and photographer Nishchal in Ooty (Jagathy Sreekumar). They meet the wealthy tourist Nandini (Revathi), on whom they wager their fortunes. It also features Thilakan, Innocent, K. B. Ganesh Kumar, Sukumari, and Sharat Saxena and cameos by Murali and Jagadish. The composer of the music was S. P. Venkatesh. Kilukkam was published on August 15, 1991. The Film was the highest-grossing Malayalam film at the time and played in theatres for more than 365 days.
Amaram (1991)
Amaram is an Indian Malayalam drama film from 1991, directed by Bharathan and written by A. K. Lohithadas. Mammootty, Maathu, K. P. A. C. Lalitha, Ashokan, Murali, Chitra, and Kuthiravattam Pappu are in the lead roles. Johnson composed the Film's score, whereas Raveendran wrote its songs.
Bhargavi earned K. P. A. C. Lalitha the National Film Award for Best Supporting Actress. And Mammotty received the Filmfare Award South for Best Actor for his performance. The film was a commercial and critical success and is regarded as a classic of Malayalam cinema. It ran for over 200 days at the Ragam Theater in Thrissur and over 50 days at the Safire Theater in Madras.
Vatsalyam (1993)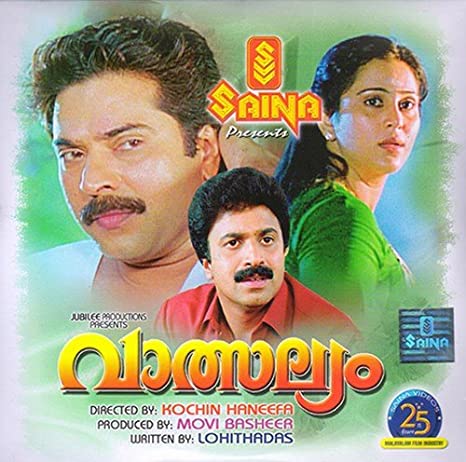 Parental love is the title of a 1993 Indian Malayalam drama film directed by Cochin Haneefa and written by A. K. Lohithadas. Mammootty, Siddique, Geetha, Janardhanan, Sunitha, Ilavarasi, Aboobacker, and Kavioor Ponnamma are featured in the Film. The Film contrasts traditional and contemporary values through the story of two brothers, Meledathu Raghavan Nair (Mammootty) and Vijayakumaran Nair (Sidique).
Manichitrathazhu (1993)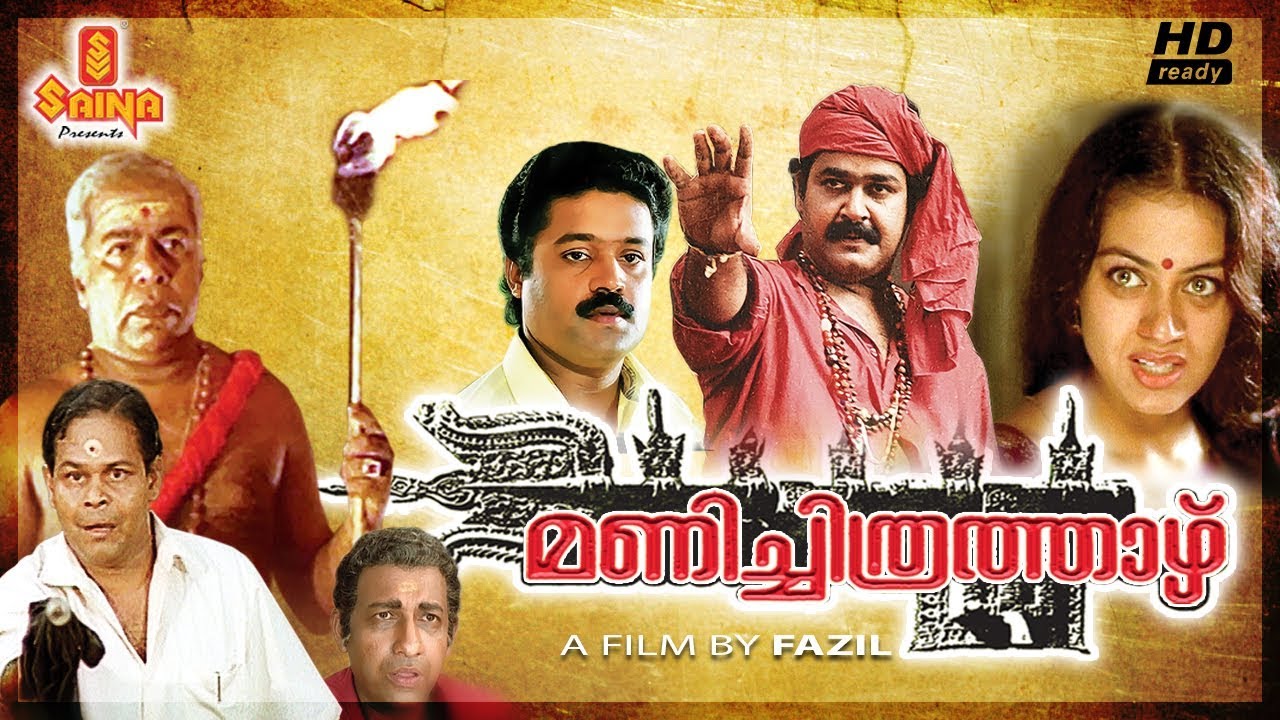 Manichitrathazhu is an Indian Malayalam psychological thriller film from 1993 that was directed by Fazil, written by Madhu Muttam, and produced by Swargachitra Appachan. Mohanlal, Suresh Gopi, and Shobana star in the film, along with Nedumudi Venu, Innocent, Vinaya Prasad, K.P.A.C.Lalitha, Sridhar, K.B. Ganesh Kumar, Sudheesh, and Thilakan.  The story is based on a tragedy in an Ezhava thrived of Alummoottil media, an old (Traditional house) in Muttom (near Haripad) in the 19th century. 
Also Check: Top Malayalam Movies of 2014: Can't-Miss Out These Malayalam Blockbusters!
Vidheyan (1994)
The Film is an adaptation of Malayalam author Paul Zacharia's novel Bhaskara Pattelarum Ente Jeevithavum. Zacharia's novella was inspired by a natural person named Patela Shekhara Gowda, also known as Shiradi Shekhara. "Vidheyan" examines the master-slave relationship in South Karnataka and is a brilliant psychological examination of the subject.
Mammootty and M. R. Gopakumarad's roles of enslaver and enslaved person. Mammootty's portrayal of a villainous character in Indian Film is arguably the best of all time. The actor is frightening and menacing as a ruthless landlord who does as he pleases and owns his slave wholly.
Ennu Ninte Moideen (2015)
Ennu Ninte Moideen is a 2015 Indian Malayalam-language biographical romantic drama film] written and directed by R. S. Vimal, based on the 1960s real-life story of Kanchanamala and B. P. Moideen in Mukkam, Kozhikode. Moideen and Kanchanamala are portrayed by Prithviraj Sukumaran and Parvathy Thiruvothu, while Bala, Tovino Thomas, Sai Kumar, Sashi Kumar, and Lena play supporting roles.