Ariana Madix, known for her role on the reality TV show Vanderpump Rules, has found happiness with her new boyfriend, Daniel Wai. After her split from longtime partner Tom Sandoval, Madix's romance with Wai has been gaining momentum; let's look closer at who Daniel Wai is and how their relationship is evolving.
Ariana Madix and Daniel Wai First Meet
---
Ariana Madix and Daniel Wai first crossed paths at a mutual friend's wedding in Mexico shortly after Madix's breakup with Sandoval. Initially seen as a rebound fling, their connection quickly deepened, and they developed a special bond despite their geographical distance. Despite Wai living in New York City and Madix in Los Angeles, they have managed to make their long-distance relationship work.
The Rapid Progression of their Relationship
---
According to people, Madix relationship with Wai is progressing faster than expected. However, the source emphasizes that Wai treats her well, they have fun together, and Madix is excited to embark on this next chapter of her life with such an incredible guy. The couple has been inseparable since they were first spotted together at Coachella Music and Arts Festival in mid-April, where they were seen kissing and holding hands.
Find gossip and news of some other well-known celebrities:
Wai's Birthday Celebration
---
In early May, Madix celebrated Wai's birthday in New York City. Wai shared highlights of the weekend on his Instagram, including date nights and a trip to a Yankees game. Madix presented him with a thoughtful gift, showcasing the thoughtfulness and affection between the couple.
Public Appearances and Social Media
---
According to USMagazine, Wai has accompanied Madix to various dinners and press events, demonstrating their growing commitment to each other. He even escorted her to NBC Universal's Upfronts and joined her at Radio City Music Hall. The couple has been seen enjoying meals with friends, including The Real Housewives of New Jersey star Margaret Josephs.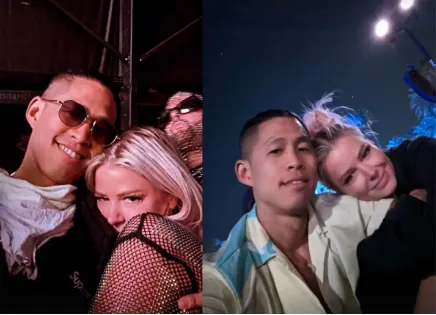 Who is Daniel Wai?
---
New York-based fitness coach Daniel Wai has been in the fitness industry for ten years, assisting clients in achieving their fitness goals most creatively and enjoyably possible. While there is limited information about Daniel Wai, his relationship with Madix has thrust him into the spotlight. Wai's social media presence suggests he enjoys traveling and exploring different cultures. As their relationship progresses, more details about Wai may emerge.
A Fresh Start for Madix
---
After her nine-year relationship with Sandoval ended due to his affair with Vanderpump Rules co-star Raquel Leviss, Madix has embarked on a new chapter in her life. The season finale of Vanderpump Rules is expected to showcase Madix's discovery of the affair, while the reunion episodes will address the aftermath. Madix's new relationship with Wai symbolizes her resilience and determination to move forward.
Conclusion
---
Ariana Madix's newfound happiness with Daniel Wai marks a significant turning point. Despite the challenges of a long-distance relationship, the couple's strong connection and the support of their friends have helped them navigate this new chapter. As Madix continues to embrace her fresh start, fans of Vanderpump Rules are excited to witness her journey of healing and growth.
I hope you like the article. To keep getting the freshest entertainment scoops, follow us on Facebook.