The South Indian film industry is one of the most prominent sources of entertainment, and Malayalam movies are no exception. Netflix has an extensive catalog of Malayalam films that you can stream anytime. Whether you are looking for a light-hearted comedy or an intense drama, there is something for everyone on this list of the ten best Malayalam movies to stream on Netflix. All these films have been carefully chosen based on their IMDB ratings and reviews from expert critics.
12 Best Malayalam Movies To Stream On Netflix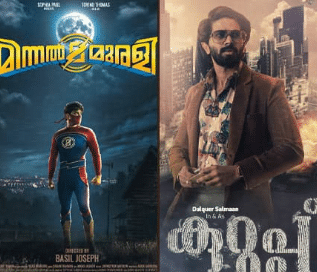 Here is the list of 12 best Malayalam movies on Netflix that will take you on an emotional rollercoaster ride. Malayalam cinema has been known for its unique storytelling and has produced some of the best movies in Indian cinema. With Netflix's increasing library of regional content, it is now easier than ever to explore new cinemas from different parts of India. Check out the list of movies here:
Kurup (2021)
Kurup by Srinath Rajendran is based on the true story of India's most wanted fugitive, Sukumara Kurup. With a running time of 157 minutes, the film explores Kurup's life from the perspectives of those close to him. In the film's second half, when Kurup absconds, the film's tone changes along with the views and becomes a riveting crime drama. Dulquer Salmaan was flawless in the role of 'Kurup,' capturing the various techniques to perfection.
Watch Here: Kurup
 Uyare (2019)
Uyare (English: Up Above) is a 2019 Indian Malayalam-language family drama film directed by Manu Ashokan (in his debut), written by Bobby & Sanjay, and produced by the sister-trio Shenuga, Shegna, and Sherga. In addition to Parvathy Thiruvothu, Asif Ali, and Tovino Thomas, Siddique, Anarkali Marikar, and Prathap Pothen play supporting roles in the film. The plot focuses on Pallavi Raveendran (Parvathy), an aviation student whose career is jeopardized after surviving an acid attack. Undoubtedly, it is one of the best Malayalam films on Netflix.
Watch Here: Uyare
Nayattu (2022)
Shahi Kabir wrote the screenplay for the 2021 Indian political survival thriller Nayattu, which was directed and co-produced by Martin Prakkat. Kunchako Boban, Joju George, and Nimisha Sajayan star in the key roles, with Jaffar Idukki, Anil Nedumangad, and Hakkim Shajahan assisting. Mahesh Narayanan and Rajesh Rajenndrran edit the film, and Shyju Khalid is responsible for the cinematography.
The melody and background score was composed initially by Vishnu Vijay. Ranjith directed the film, produced by P. M. Sasidharan and co-produced by Gold Coin Motion Picture Company and Martin Prakkat Films. On April 8, 2021, the film was released to critical acclaim for its direction and cast performances. It was nominated for India's Best International Film at the 94th Academy Awards in October. It is unquestionably required when compiling a list of the best Malayalam films available on Netflix and beyond.
Watch Here: Naayattu
Vikruthi (2019)
D. Sreekumar, Ganesh Menon, and Lakshmi Warrier produced the 2019 Indian Malayalam comedy-drama film Vikruthi (Mischief), directed by Emcy Joseph and produced by A. D. Sreekumar, Ganesh Menon, and Lakshmi Warrier. Suraj Venjarammoodu and Soubin Shahir play significant roles in the movie. The film is based on events on a Kochi Metro train, where a passenger mistook a sleeping, hearing- and speech-impaired man for a drunk and took a picture of him before posting it online. After the video goes viral, the man and his family are bothered by it. On Thursday, October 4, 2019, the movie was released. Payanigal Gavanikkavum was the film's Tamil remake.
Watch Here: Vikruthi
Comrade In America (2017)
The lead roles in this action thriller are Dulquer Salmaan and Karthika Muralidharan. It follows a communist who illegally travels from Kerala to the United States via the Mexican border to prevent his girlfriend from marrying another man. The film has a novel perspective and was praised for possibly being the first Malayalam film shot in Mexico. The film has a 6.4% rating on IMDb.
Watch Here: CIA
Sudani From Nigeria (2018)
Soubin Shahir and Samuel Abiola Robinson star in the leading roles of this 2018 Indian Malayalam-language sports drama film Sudani from Nigeria, written and directed by Zakariya Mohammed. The plot centers on a local football club manager who allows one of his injured players to stay at his home. This sports film focuses on the relationship they develop over time. The film grossed 30 billion at the box office. IMDb gives it an 8.2 rating.
Watch Here: Sudani from Nigeria
Minnal Murali (2021)
Basil Joseph directs this superhero film Minnal Murali starring Tovino Thomas and Guru Somasundaram in prominent roles. The film follows a young tailor who acquires superpowers after being struck by lightning. The accident transforms him into the superhero the village desperately requires. Consider a superhero film set in an Indian context. The film is refreshing to watch. It has a 7.8 rating on IMDb.
Watch Here: Minnal Murali
Jana Gana Mana (2022)
Prithviraj Sukumaran, Suraj Venjaramoodu, Pasupathi Raj, G. M. Sundar, Mamta Mohandas, and Sri Divy star in this 2022 legal thriller film directed by Dijo Jose Antony. The film follows the events that transpire after the death of a professor, causing a national uproar. However, as the plot develops, a police officer finds himself in trouble. The film's narrative style, cast performances, and technical aspects were praised. IMDb gives it an 8.3 rating.
Watch Here: Jana Gana Mana
Night Drive (2022)
This crime thriller film is directed by Vysakh and stars Indrajith Sukumaran, Anna Ben, Roshan Mathew, and Siddique. The film follows the lives of a young couple who wishes to take a long nighttime drive. Their endeavor fails when they are involved in an accident and punished. However, the situation worsens as the investigation continues. It has a 7.7 rating on IMDb.
Watch Here: Night Drive
Swathandrayam Ardarathriyil (2018)
The plot of Tinu Pappachan's Swathandrayam Ardarathriyil revolves around the incarcerated Jacob Varghese (Antony Varghese), whose plans to escape serve as the film's focus. He solicits the assistance of other prisoners for the daring jailbreak attempt. The thriller about a prison break contains minimal violent scenes and is a worthwhile one-time viewing. Here you can watch Swathandrayam Ardarathriyil on Netflix.
Watch Here:  Swathandryam artharatriyil
The film Lilli, directed by Prasobh Vijayan, tells the story of a courageous and strong woman, Lilli (Samyuktha Menon), kidnapped by three men. Lilli is pregnant then, and her dark past is connected to her abduction. Lilli's survival determines the remainder of the plot—one of the top Malayalam films on Netflix.
Watch Here: Lilli
Forensic, starring Tovino Thomas and Mamta Mohandas, may be one of the best-made thrillers of recent years, as it contains the appropriate amount of forensics (no pun intended) in solving the psychotic crimes of the killer. After the success of Anjaam Pathira in 2020, the thriller genre in the Malayalam film industry entered a golden age with the release of Forensic. A compelling plot and strong performances by Tovino Thomas support the film—one of the finest Malayalam films on Netflix.
Watch Here: Forensic
Final Words
In conclusion, Malayalam movies offer a great mix of storytelling, action, and emotion. Netflix provides an excellent platform to explore some of the best Malayalam films across decades. From comedies like Ramji Rao Speaking to thrillers like Drishyam, there's something for everyone to enjoy. These 12 titles are just a small selection of what's available – why not take some time to explore them yourself?