Ravi Teja, the famous Telugu film actor, is set to enthrall his fans with his upcoming movie "Ravanasura." The movie has already stirred the audience due to its unique storyline and star-studded cast. Directed by Sudheer Varma, Ravanasura has earned positive reviews from critics and fans alike. This article provides an overview of the movie, some plot points, and an overall film assessment.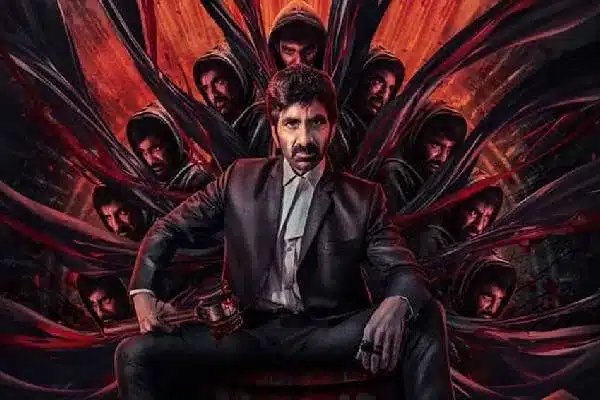 Ravanasura Telugu Movie – A Quick Overview

---
Movie: Ravanasura
Banner:

Abhishek Pictures

Cast:

Ravi Teja, Anu Emmanuel, Megha Akash, Faria Abdullah, Sushanth, Daksha Nagarkar, Jayaram, Hyper Aadi, Sriram, Rao Ramesh, Murali Sharma, Sampath Raj, Harsha Vardhan, Praveen, and others

Story, Dialogue:

Srikanth Vissa

Music:

Harshavardhan Rameshwar, Bheems Ceciroleo

Cinematography:

Vijay Kartik Kannan, G. K. Vishnu

Editor:

Naveen Nooli

Producers:

Abhishek Nama

Screenplay and Direction:

Sudheer Varma

Release Date:

April 07, 2023
Ravanasura Telugu Movie Review By Critics
---
Ratings:2/5  Review By: TIMES OF INDIA
With Ravanasura, Sudheer Varma attempts to make an "entertainer" that begins as your run-of-the-mill commercial drama, phases into a thriller, and ends up being a film that doesn't leave you satisfied either way. The director seems to meander on things that don't need to be explained in depth and rush through critical points of the story, making this film one hot mess. The saving grace? Only Ravi Teja
Check here to know more.
Ratings:2.25/5  Review By: Great Andhra
Ravi Teja gained form after scoring two hit films in recent months. Hence, his new film, "Ravanasura," attracted attention. Furthermore, the director, Sudheer Varma, is known for producing good thrillers, and the production company is well-known.
Check here to know more.
Ratings:2/5  Review By: Indian Express
After his first Rs 100 crore movie in a career spanning over 80 films, Ravanasura carries heavy expectations from Ravi Teja. Incidentally, the actor is also producing the movie, making the burden of expectations even heavier. It is also an essential film for director Sudhir Varma, who is known for stylish and entertaining thrillers.
Check here to know more.
Ratings:2/5  Review By: The Hindu
We are all deficient in someone'story.'' I am not in danger; I am the danger.''Director Sudheer Varma uses these widely popular references to Joker and Breaking Bad to make his leading man, Ravi Teja,as a metaphor for Ravanasura, seem dark and evil. He also juxtaposes a half portrait of Joker with the wickedly grinning face of Ravi Teja. ThThere'sotential in that frame for an unnerving thriller that can also discuss good versus evil beyond the binary. ThThere'scope for plenty of greys. 
Check here to know more.
Ratings:2/5  Review By: India Today
 When a mass hero chooses to do a crime thriller, there are high expectations among the fans. Similarly, there was a lot of hype about Mass Maharaja Ravi TejaTeja'sanasura, written and directed by Sudheer Varma.
Check here to know more.
If you are interested in other review-related articles, check here:
Ratings:2.25/5  Review By: Telugu Bulletin
Ravi Teja is a junior lawyer, working with senior lawyer Faria Abdullah. They are asked to take up a murder case by Megha Akash, in which Sampath Nandi, Megha, is the accused. Several other murders take place following this, all of which are done by various people and in a very gruesome manner.
Check here to know more.
Ratings:2.25/5  Review By: TELUGU360
After delivering two back-to-back super hits like Dhamaka and Waltair Veerayya, Ravi Teja pinned all his hopes on his upcoming thriller Ravanasura. Sudheer Varma is the director of thisexcitingg film. Anu Emmanuel, Megha Akash, Daksha Nagarkar, and Pujita Ponnada are the leading ladies ,and Sushanth, Jayaram, and Murali Sharma played other prominent roles.
Check here to know more.
Ratings:2.75/5  Review By: 123 TELUGU
Mass Maharaja Ravi Teja is back with his new film Ravanasura. Directed by Sudheer Varma, the action thriller has an ensemble cast. The makers assured firmly that the film would shock the audience with its twists & shocking elements and has not revealed anything about the plot. Let's find Let'shether the movie lived up to the hype created or not.
Check here to know more.
Ravanasura Telugu Movie Public Review
---
About Ravanasura Telugu Movie
---
Ravanasura is a forthcoming Indian Telugu-language psychological action thriller directed by Sudheer Varma and based on a screenplay by Srikanth Viswanath. It has an ensemble cast featuring Ravi Teja, Sushanth, Jayaram, Murali Sharma, Anu Emmanuel, Megha Akash, Faria Abdullah, Daksha Nagarkar, and Pujita Ponnada. Harshavardhan Rameswar and Bheems Ceciroleo composed the score for this film. The film was announced on November 5, 2021, and  Principal photography on the film began in January 2022.