Amid ongoing online drama between Selena Gomez and Hailey Bieber, fans have been speculating whether Justin Bieber still has a tattoo dedicated to his former flame, Selena Gomez. The tattoo, featuring Gomez's portrait on his left wrist with added wings, symbolized Bieber's love for her during their on-and-off relationship.
Recent events and social media posts have reignited discussions about the tattoo, prompting fans to question its existence. Let's delve into the topic and explore whether Justin Bieber still bears a tattoo of Selena Gomez.
Justin Bieber Tattoo: A Symbol of Love
---
During their on-and-off relationship, Justin Bieber expressed his affection for Selena Gomez by getting a tattoo. Inspired by an Elle magazine photoshoot featuring Gomez in 2012, Bieber had her portrait inked on his left wrist. He incorporated wings to add a special touch, portraying her as an angel. In April 2013, he expanded his sleeve tattoo, further building upon this symbolic gesture.
What Does Selena Gomez's Tattoo Mean to Justin Bieber?
---
The Selena Gomez tattoo on Justin Bieber's left wrist is a picture of her with wings, making her look like an angel. CNC Tattoo Blog claims that this is a reminder of how well-known their relationship was in the past. Selena got a similar "Justin" tattoo in black script with a heart below it in honour of Justin.
Fans say that Justin is still showing off his Selena tattoo, even though there has been online drama between Selena and Justin's wife, Hailey. He's even said to have shared a picture of the tattoo on Instagram, which made fans go wild. In any case, Justin's tattoo of Selena is a memory of their time together before they broke up in 2018.
How Has The Selena Gomez Tattoo on Justin Bieber Changed Over Time?
The tattoo of Selena Gomez by Justin Bieber is a well-known one. The tattoo of Selena's face on Justin's left wrist was done for the first time in 2012. Justin added wings to the tattoo at a later time. In 2013, there were rumours that Selena had paid back the favour by getting a heart tattoo of "Justin" on her wrist.
Justin was seen showing off his tattoo of Selena after he and Selena broke up. Fans said they saw the tattoo when he had trouble with Hailey, now his wife. The tattoo of Selena Gomez on Justin Bieber's wrist has drawn a lot of attention and speculation over the years, with fans asking what it means and what it says about the singer's past relationships.
Bieber's Previous Attempts to Modify the Tattoo
---
In a 2016 interview with GQ, Justin Bieber revealed that he had tried to cover up the Selena Gomez tattoo by shading her face, but it was still recognizable. However, he also expressed his love for body art, stating that he wouldn't remove any tattoos he had acquired over the years.
Bieber has referred to his body as a canvas and expressed his enjoyment of using it as a form of self-expression. On The Ellen DeGeneres Show, he emphasized that each tattoo tells a story, even if it's not his favourite one.
Why Does Justin Bieber Still Keep His Selena Gomez Tattoo?
---
Justin Bieber married Hailey in 2018, but he still has a sweet tattoo tribute to his ex. Even though the pop star has a lot of money, he hasn't gotten around to lasering off the picture of Selena Gomez, who he used to date. Everyone is curious why Justin Bieber still has a tattoo of Selena on his left wrist.
Bieber hasn't talked much about his tattoo in the past few years. In 2016, the famous musician said in an interview on the cover of GQ, "This is my ex-girlfriend. I tried to hide her face with colouring, but people still know who she is."
The Things states that Bieber might still have his Gomez tattoo for multiple reasons. He is busy, and maybe he hasn't made the time because he didn't want to. In 2022, Bieber also said that he has Ramsay Hunt Syndrome.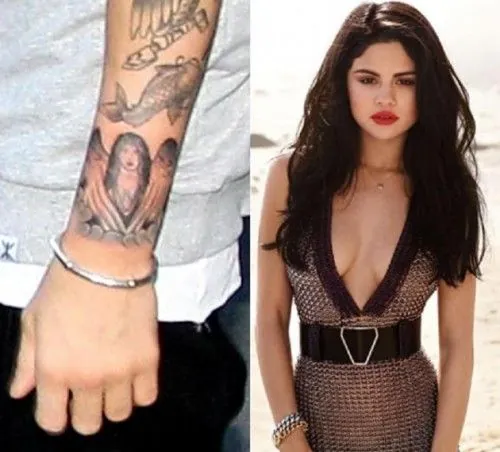 He stopped making music for a while, and it sounded like it was a scary time for him. This would have seemed much more significant than getting rid of his scar. Hailey Bieber had a difficult health problem in March 2022.
She had surgery because a blood clot was found in her brain. Since the couple had been sick for a long time, they focused on getting better and healing, not getting a tattoo.
It's also possible that Bieber still has some connection to the tattoo. He may feel like it reminds him of a time in his life. Fans are always wondering why Bieber chose to keep the tattoo.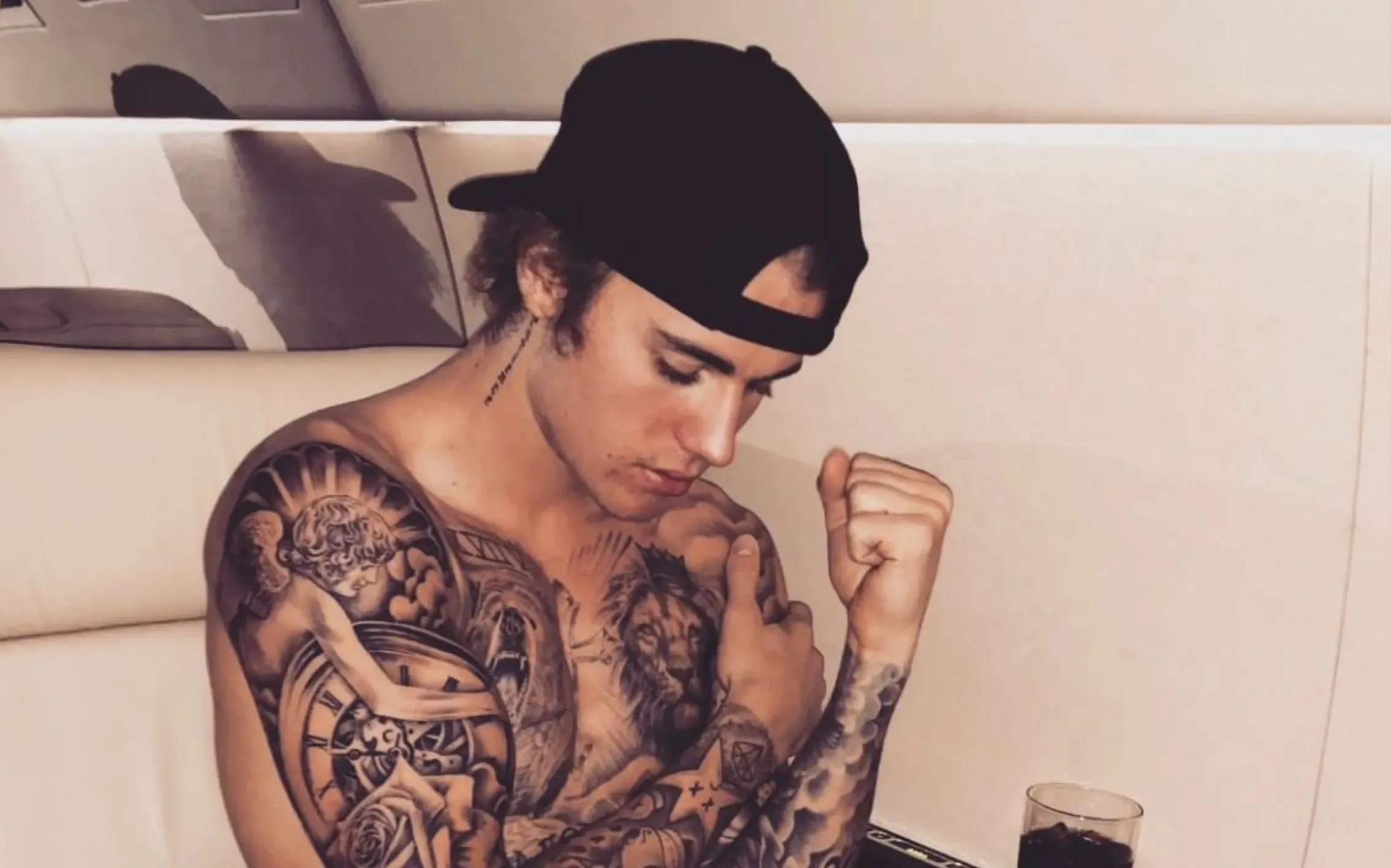 Some people wonder if this means he is still in love with Gomez. And everyone wants to know if it makes Hailey sad. Justin and Hailey Bieber may have talked about his Selena Gomez tattoo and come to terms with it.
Maybe Hailey doesn't think about it at all. Justin and Hailey have always seemed safe and happy together. And they've been together for a few years. Hailey knows for sure what her husband thinks of her.
Find gossip and news of some other well-known celebrities:
Justin Bieber's Extensive Tattoo Collection
---
According to The Sun, Justin Bieber's fascination with tattoos began at 16 and has continued to grow. With over 60 tattoos covering his body, the pop star has created a diverse collection of inked art. While he has chosen to keep his hands tattoo-free to maintain a bright appearance in suits, the rest of his body features various symbolic designs.
Pinkvilla states that Justin's tattoos include tributes to his faith, such as praying hands and Bible verses. Justin also has a selection of animals, including an eagle, a lion, and a bear, each representing different aspects of his personality and experiences. Other notable tattoos include a portrait of Jesus, roses, crosses, and the word "Purpose" as a nod to his 2015 album.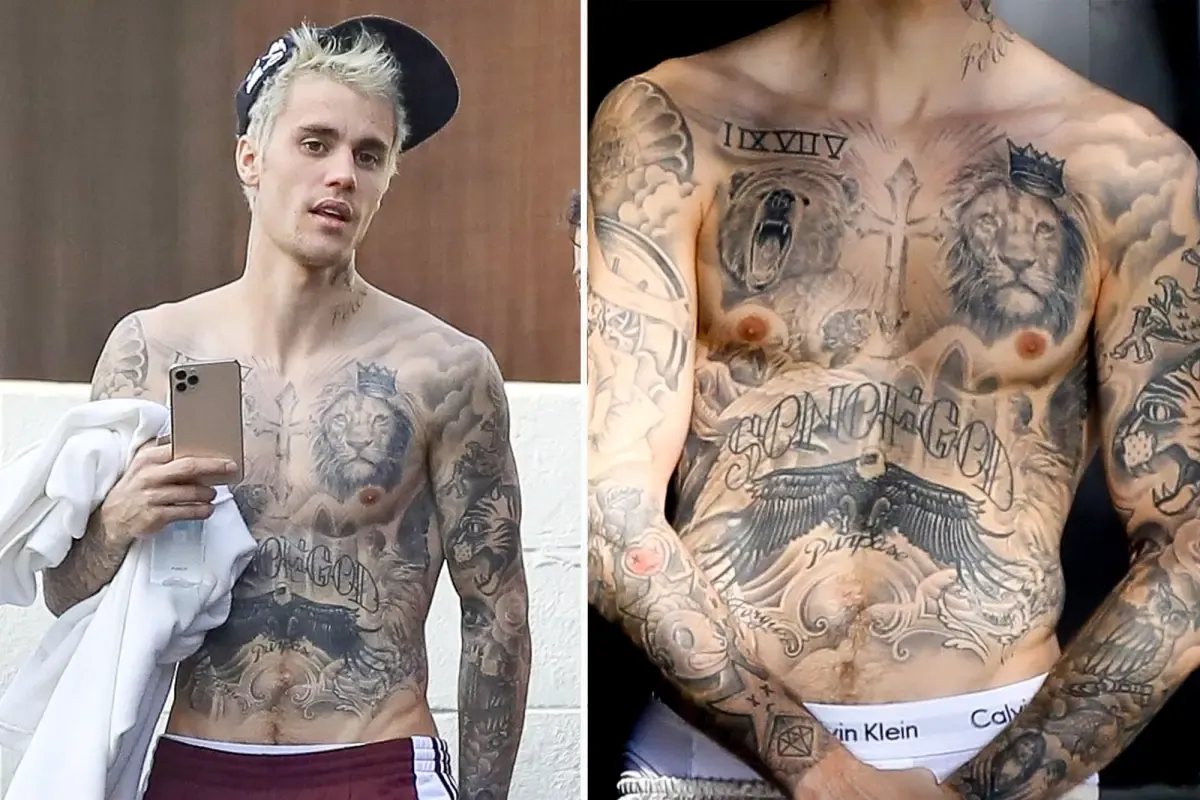 The singer also has two tattoos of his mom: the Roman numbers of her birth year over his collarbone and an image of her watching over him on his arm. Justin has an eagle, a proud lion, and a bear on his chest. He also has a cross, several Biblical scenes, and the word "Purpose," which references his 2015 album. His arms are also fully covered in tattoos.
There are more Bible scenes, a tiger, a knight, and the cross where Jesus was crucified. The roses are said to be fillers for his sleeve tattoos.
The famous actor told Vogue that he loves the animal tattoos he has gotten over the years. Justin said, "The bear is a symbol of rest. I got it in New Zealand."Even though bears are solid and rigid, they always sleep, which is very important.
We, people, keep going and going without stopping, which can leave us tired and worn out. He has the words "patience" and "love" and a dove, among other tattoos on his neck.
Conclusion
---
As of now, the status of Justin Bieber's tattoo dedicated to Selena Gomez remains unconfirmed. While fans have noticed what they believe to be a neck tattoo related to Gomez, there has been no official confirmation or statement from Bieber himself.
It is essential to separate speculation from verified information and avoid drawing definitive conclusions without concrete evidence. The topic continues to spark interest among fans, adding to the ongoing discussions surrounding Justin Bieber, Selena Gomez, and Hailey Bieber.
Stay on the cutting edge of entertainment news with Topmovierankings.com! Connect with our lively social media community and have your ideas and opinions heard.